Kavanaugh Pals Portray Him As Heavy Drinker
@FAWFULFAN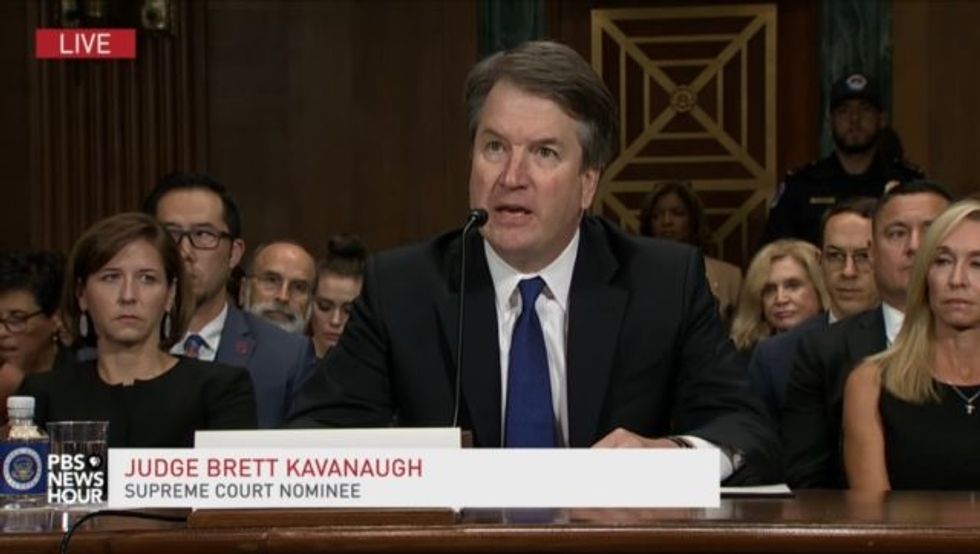 Reprinted with permission from AlterNet.
Although the reopened FBI background investigation into Supreme Court nominee Brett Kavanaugh has been criticized for its apparently narrow scope, several people have already sought to get in touch with federal agents and give them information.
One such person, according to a report in the Washington Post, is Chris Ludington, a former varsity basketball player and University of North Carolina associate professor who knew Kavanaugh at Yale. Per the Post, Ludington, who will be delivering a statement to the FBI field office in Raleigh on Monday, accuses Kavanaugh of being violent under the influence of alcohol — and that he lied to the Senate about it in his testimony:
Ludington says in one instance, Kavanaugh initiated a fight that led to the arrest of a mutual friend: "When Brett got drunk, he was often belligerent and aggressive. On one of the last occasions I purposely socialized with Brett, I witnessed him respond to a semi-hostile remark, not by defusing the situation, but by throwing his beer in the man's face and starting a fight that ended with one of our mutual friends in jail."

Ludington says he was deeply troubled by Kavanaugh appearing to blatantly mischaracterize his drinking in Senate testimony.

"I do not believe that the heavy drinking or even loutish behavior of an 18 or even 21 year old should condemn a person for the rest of his life," Ludington wrote. "However … if he lied about his past actions on national television, and more especially while speaking under oath in front of the United States Senate, I believe those lies should have consequences."
In Kavanaugh's testimony before the Senate Judiciary Committee, he told senators that, while he did occasionally drink "too many" beers in his youth, he did not ever "drink to the point of blacking out," which was how he knew he had never sexually assaulted Dr. Christine Blasey Ford.
Kavanaugh dodged the question when asked what he considers to be "too many" beers. And at least one other student who knew him at Yale said she finds it "very hard to imagine" he never blacked out.
In reopening the FBI investigation to examine allegations of sexual assault, the Trump administration has reportedly ordered the FBI to interview only a short list of approved witnesses which does not include Dr. Ford, third accuser Julie Swetnick, or Kavanaugh himself. Reports also indicate the FBI was told not to investigate Kavanaugh's drinking, even though it is a significant aspect of the accusations of both Dr. Ford and Deborah Ramirez.