Keep Your Shirt On, Maracana Stadium Tells Fans
@AFP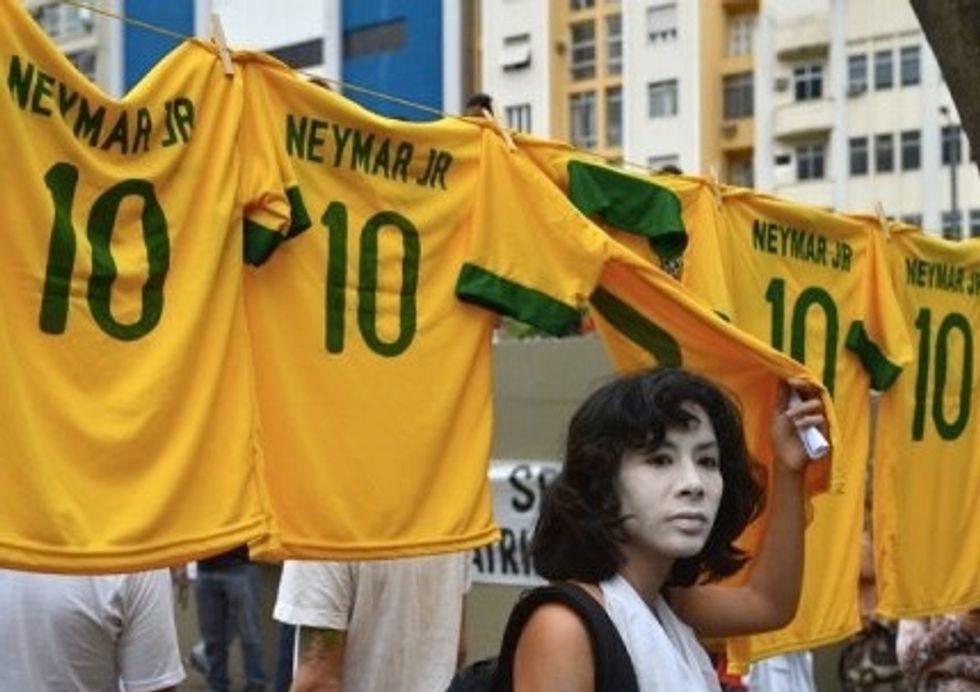 RIO DE JANEIRO (AFP) – Brazil's Maracana football stadium, one of the sport's most hallowed and raucous grounds, has some new rules of etiquette — remain seated during games and please wear a shirt.
Another bars the use of musical instruments such as drums or bamboo poles to wave flags.
The code of good conduct at South America's largest stadium in Rio de Janeiro was devised after the home team Fluminense signed a contract to play there another 35 years, stadium officials said Thursday.
It is a common sight at Maracana to see throngs of young male fans shirtless in the steamy South American heat, standing and screaming throughout games, and occasionally fighting with each other in spats with rival team supporters or rival Fluminense fan clubs.
Now, fences will be set up to separate them this season starting later this month. The barriers will be removed when Brazil hosts the World Cup next year. During that period, football's world governing body FIFA will essentially be in charge of the stadium
"We are going to talk to the teams to change habits," said Joao Borba, president of the consortium that runs the legendary arena.
Not everyone likes the segregation.
"It is a shame to put up bars at Maracana to separate fans. They have to live together in harmony," said former Brazilian star Bebeto on Twitter. He is on the World Cup organizing committee.
Sports journalist Edgar Catoira said the "FIFA pattern" does not take into account "carioca patterns." Carioca is the local word for people or things from Rio."
The stadium has undergone a $536 million overhaul with an eye to being the centerpiece of the World Cup.
That kind of spending was one of the sparks for massive protests last month by people complaining that funding for things like education and health care are getting short shrift while Brazil spends heavily to get ready for the World Cup and its hosting of the Olympic Games in 2016.
Photo Credit: AFP/Yasuyoshi Chiba