Ken Buck Is Back, And This Time He Says He Doesn't Hate Women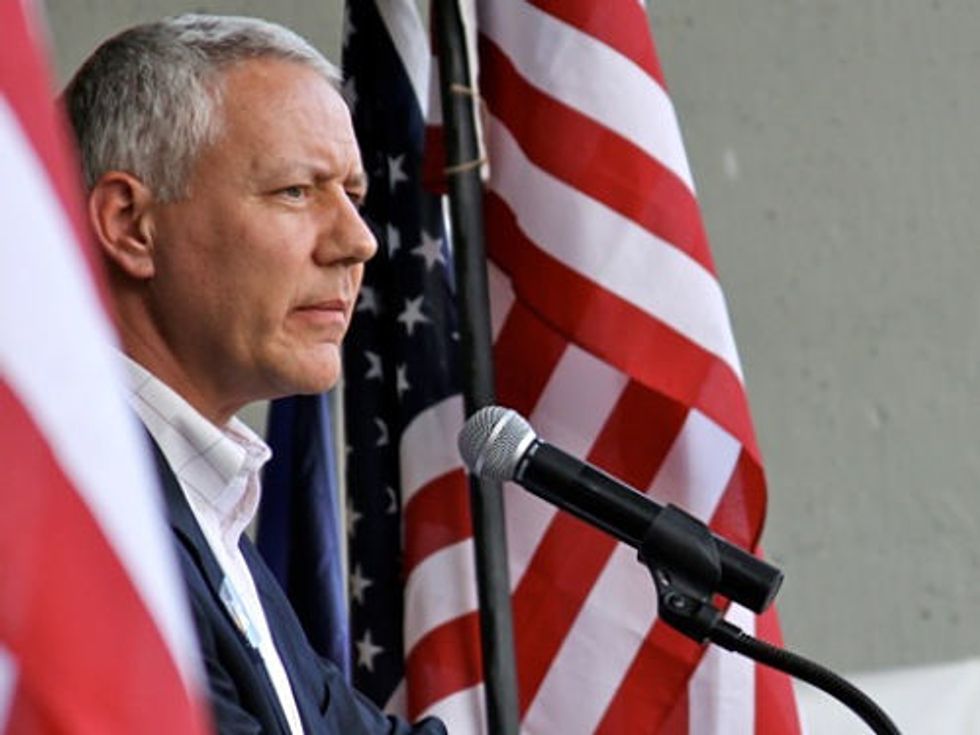 Failed 2010 Senate candidate Ken Buck (R) is ramping up another run, and he's determined to overcome the gender gap that destroyed his previous attempt to join Congress.
Buck, who has served as Weld County district attorney since 2004, is widely considered to be the frontrunner for the Republican nomination to oppose incumbent Senator Mark Udall (D-CO) in Colorado's 2014 midterm elections. The thought makes some Republicans cringe, given Buck's disastrous failure four years ago.
In 2010, Buck rode a wave of Tea Party support to the Republican nomination opposing Senator Michael Bennet (D-CO), who was among the most vulnerable incumbents on the ballot. Throughout the campaign, Democrats eagerly turned Buck into an avatar for the far-right's war on women. Buck himself provided the ammunition for these attacks; among other gaffes, he urged women to vote for him over primary opponent Jane Norton because "I do not wear high heels," and suggested to a local newspaper that he declined to prosecute a suspected rape because it was merely "a case of buyer's remorse." Although Buck led Bennet in the polls for most of the race, on election night the Democrat scored a narrow victory. Bennet defeated Buck by less than 1 percent overall — but he ran up the score among women voters, winning them 56 to 40 percent according to exit polls.
Now Buck is running again, and with early polling finding him within striking distance of Udall, he hopes to avoid making the same mistakes twice.
"I ran in 2010 and the liberals — the progressives — did a masterful job of lying to the public about who I am," Buck told the right-wing Daily Caller in a recent interview. "I've been a prosecutor for 25 years, I've helped people — rape victims, domestic violence victims, victims of senior fraud, in every way. I have spent my free time volunteering to help at-risk kids so they don't choose a life of crime."
"I decided if I was going to run again, I was going to make sure that I portrayed myself [in a way] that was honest and allowed people to make a judgment — hopefully on the issues — and not on some personality that the Democrats create," Buck added.
To that end, Buck has released a new ad presenting a different side of him. In "Ken Cares: Stephanie's Story," Buck is not the misogynist Democrats successfully presented in 2010, but a crusading district attorney who went out of his way to protect Stephanie Drobny and her two young children from her abusive husband.
The web video is the first in a planned series of roughly 10, Buck told the Daily Caller. Unfortunately for the would-be senator, however, it will likely take more than a few touching ads to repair his image with women voters.
A softer touch will not change Buck's unapologetically hardline positions on issues such as reproductive rights. Buck opposes abortion rights even in cases of rape and incest, and his wife — state representative Perry Buck — is at the forefront of legislative efforts to criminalize abortion in the state.
Buck also hasn't stopped committing unforced errors that let Democratic attack ads pretty much write themselves. Most recently, he compared his past battle against lymphoma to being pregnant, saying, "It's certainly the feeling that I had when I was a cancer patient, I wanted to be in control of the decisions that were made concerning my body." (Note that this sympathy did not moderate his position on a woman's right to choose.)
Ultimately, the biggest roadblock on Buck's path to the Senate may not be women voters; instead, it could be money. Buck raised just $154,109 in the fourth quarter of 2013, leaving him with $262,347 in cash on hand. By contrast, Udall raised over $1 million in each quarter last year, and sits on a war chest of nearly $5 million as he awaits his general election opponent. In other words, for every ad Buck airs portraying his kinder, gentler side, Udall can afford to air several more reminding Coloradans of why they rejected Buck four years ago.
Photo via Wikimedia Commons