Kentucky Clerk's Office Issues Marriage License To Gay Couple, Ending Ban
@reuters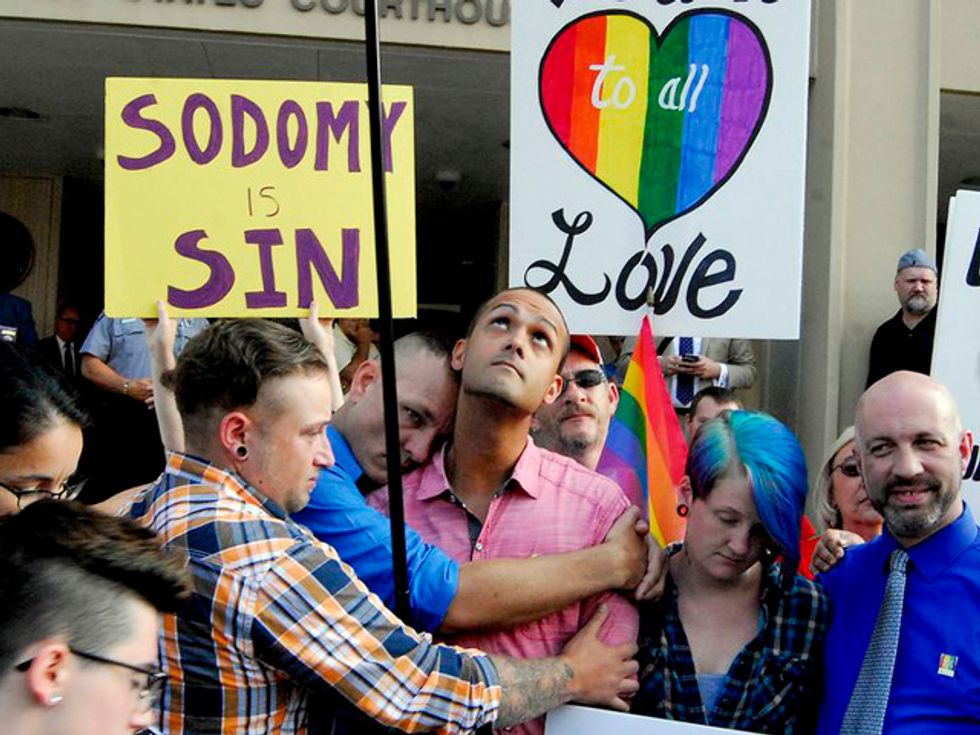 By Steve Bittenbender
MOREHEAD, Ky. (Reuters) — A county clerk's office in rural Kentucky issued a marriage license to a gay couple on Friday morning after defying a federal judge's orders for months.
While Rowan County Clerk Kim Davis was jailed on Thursday for refusing to follow the orders of U.S. District Judge David Bunning, her deputies processed a license for James Yates and William Smith, who had previously been denied five times, after the clerk's office doors opened on Friday.
The issuance of the license followed months of legal wrangling between Davis and the courts that drew global attention and protests from supporters and opponents of gay marriage.
Davis, who has become a darling of social conservatives, had refused to issue any marriage licenses under an office policy she created after the U.S. Supreme Court in June made gay marriage legal across the United States. She cited her beliefs as an Apostolic Christian that a marriage can only be between a man and a woman.
Yates and Smith, who held hands entering and exiting the building, paid $35.50 in cash for the license. Deputy clerk Brian Mason, who had a sign in the office reading "marriage license deputy," shook their hands and congratulated them.
As Yates and Smith exited the building, supporters chanted "Love has won!" Yates said all he wanted to do was hug his parents.
"We were more optimistic today," Yates said, when asked if the couple had been nervous about their sixth attempt to get a license. They now have 30 days to get married, and he said they had two dates picked out, depending on when guests can attend.
Off to the side, a Davis backer holding a bible preached against homosexuality.
It was the 100th marriage license issued by the clerk's office this year and the first one since the Supreme Court ruling. Last year, the clerk's office issued 214 marriage licenses.
Emotions have run high on all sides as Davis and an attorney for one of the four couples who sued the county clerk said they had received death threats. A Kentucky legal trade publication reported the judge had also received a death threat.
Outside the Morehead, Kentucky, courthouse where the clerk's office is located, there were about 40 demonstrators, far fewer than the 200 or so who showed up on Thursday in Ashland, the site of the federal courthouse where Davis was found in contempt and jailed. Morehead is about 90 miles from the state capital of Frankfort.
Davis' husband stood outside the courthouse on Friday morning, holding a sign that read, "Welcome to Sodom and Gomorrah." He said his wife was in good spirits after her first night in jail at a county detention center, adding she had no plans to resign and was prepared to remain in jail for as long as she felt necessary.
"We don't hate these people," he told reporters. "That's the furthest thing from our hearts. We don't hate nobody. We just want to have the same rights that they have."
Describing himself as an "old country hillbilly" with an 11th grade education, Davis said he knew more about the law than most because he worked in corrections. He said he disagreed with the Supreme Court's June ruling.
On Thursday, Bunning ordered Davis jailed, saying he did not think a fine would be effective. He also got pledges from five of Davis' six deputy clerks that they would issue licenses to anyone, including same-sex couples, in her absence. The judge told them they would be ordered to return to the U.S. District Court in Ashland, Kentucky, if they did not.
Some reluctantly agreed, saying they were balancing personal convictions and family responsibilities, and faith. The sixth deputy clerk, Davis' son Nathan, would not agree to issue licenses, but he was not jailed.
Davis' stance and whether she should be forced to issue marriage licenses has split Republican presidential candidates.
(Reporting by Steve Bittenbender in Kentucky; Writing by David Bailey and Ben Klayman; Editing by Ken Wills and Jeffrey Benkoe)
Photo: Demonstrators stand on the front steps of the federal building waving a rainbow flag in protest of Rowan County clerk Kim Davis' arrival to attend a contempt of court hearing for her refusal to issue marriage certificates to same-sex couples at the United States District Court in Ashland, Kentucky, September 3, 2015. REUTERS/Chris Tilley