Kerry Mounts Furious Defense Of Iran Nuclear Deal
@reuters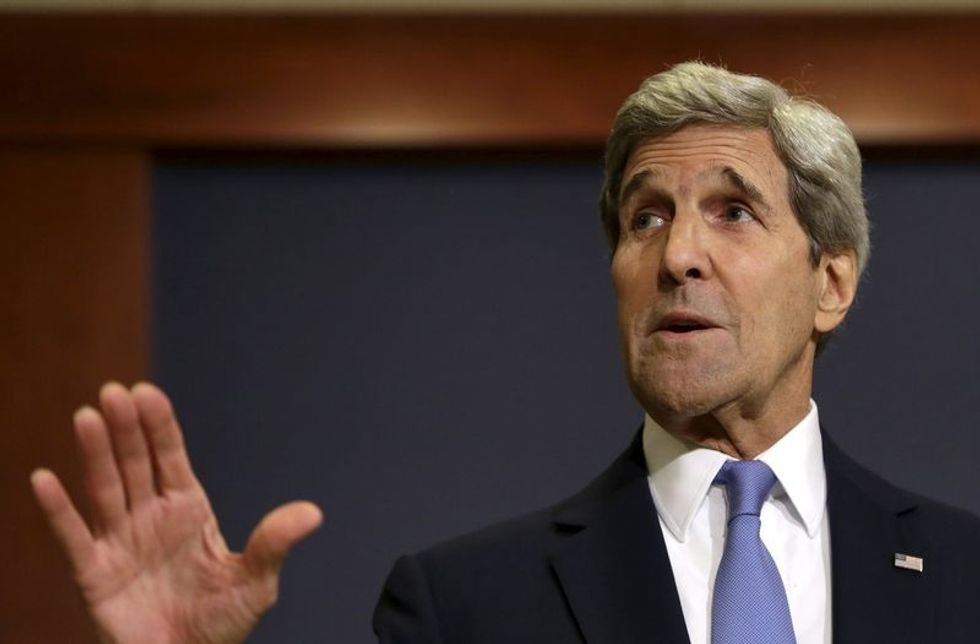 By Patricia Zengerle and Doina Chiacu
WASHINGTON (Reuters) — U.S. Secretary of State John Kerry mounted a furious counterattack against critics of the Iran nuclear deal on Thursday, telling skeptical lawmakers that rejection of the accord would give Tehran "a great big green light" to swiftly accelerate its atomic program.
Testifying before Congress for the first time since Iran and world powers reached the deal last week, Kerry fought back against accusations by a senior Republican that America's top diplomat was "fleeced" by Iranian negotiators in the final round of the Vienna talks.
He insisted that those who oppose the deal, which curbs Iran's nuclear program in return for sanctions relief, are pushing an unrealistic alternative that he dismissed as a "sort of unicorn arrangement involving Iran's complete capitulation."
"The fact is that Iran now has extensive experience with nuclear fuel cycle technology," Kerry told the Senate Foreign Relations Committee. "We can't bomb that knowledge away. Nor can we sanction that knowledge away."
Kerry said that if Congress turns thumbs down on the deal, "the result will be the United States of America walking away from every one of the restrictions we have achieved."
"We will have squandered the best chance we have to solve this problem through peaceful means," he said as Congress began a 60-day review of the deal to decide whether to support or reject it.
Opening the hearing, the committee's Republican chairman, Bob Corker, offered scathing criticism of Kerry for the terms he secured in negotiating the deal. "Not unlike a hotel guest that leaves only with a hotel bathrobe on his back, I believe that you've been fleeced," he said.
Corker chided Kerry and other administration officials for their line of argument that the only alternative to the Iran deal would be more war in the Middle East, saying that the real alternative would be a better deal.
U.S. Senator Ben Cardin, the top Democrat on the committee, said he has not yet decided how he would vote but said he felt U.S. negotiators had made significant progress.
"Our negotiators got an awful lot, particularly on the nuclear front," Cardin said.
Under a bill President Barack Obama signed into law in May, Congress has until Sept. 17 to approve or reject the agreement.
Republicans control majorities in both houses of Congress. Many have come out strongly against the pact, which they say will empower Iran and threaten U.S. ally Israel.
Obama, who could gain a legacy boost from his diplomatic outreach to U.S. foe Iran, needs to convince as many of his fellow Democrats as possible to back the deal.
If a disapproval resolution passes Congress and survives a veto, Obama would be unable to waive most of the U.S. sanctions imposed on Iran, which could cripple the nuclear pact.
(Additional reporting by Idrees Ali and David Brunnstrom; Writing by Matt Spetalnick; Editing by James Dalgleish)
Photo: U.S. Secretary of State John Kerry makes a statement to the media before a closed door briefing with House members on the recent Iran nuclear deal in Washington July 22, 2015. REUTERS/Gary Cameron