Kerry Pledges $1 Billion For Ukraine
@AFP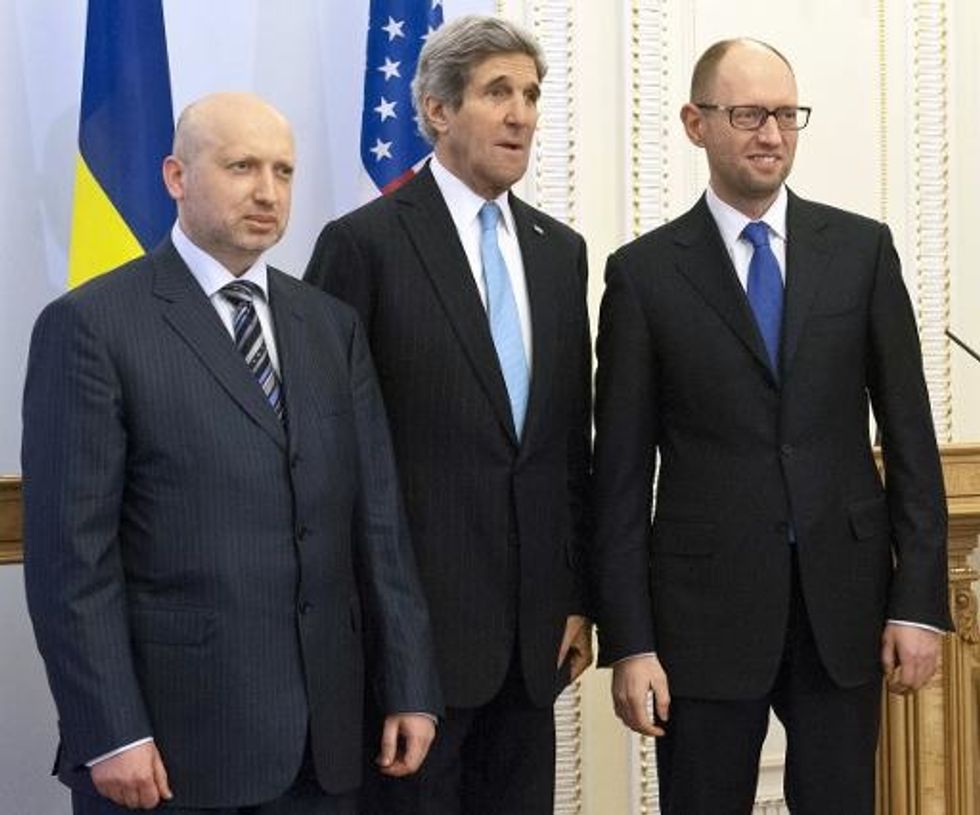 Kiev (AFP) – U.S. Secretary of State John Kerry on Tuesday became the highest-profile foreign diplomat to visit Ukraine's interim government, offering a $1 billion support package in the face of an escalating crisis with Russia.
Both the visit and the announcement highlighted Washington's determination to support the authorities in Kiev against Russia as the West grapples with the most serious crisis in the region since the Cold War.
On a grey, foggy day, Kerry looked somber as he visited Kiev's Shrine of the Fallen, the flower-laden memorial honoring the nearly 100 people killed during last month's Independence Square protests.
Surrounded by a large crowd, he said: "We are going to help you. We are helping you. President Obama is planning for more assistance."
He later met leading politicians including former world heavyweight boxing champion Vitaly Klitschko, who is set to run for president in May's election.
During his brief stopover, Kerry was also expected to meet Ukraine's interim president Oleksandr Turchynov and new Prime Minister Arseniy Yatsenyuk.
Russian-backed president Viktor Yanukovych was ousted after the bloodshed in Independence Square, where protesters massed last year to demonstrate against his failure to ratify a trade pact with the European Union.
His toppling and flight to Russia prompted the deployment of thousands of pro-Moscow forces in the autonomous territory of Crimea, where they remain in de facto control.
Shortly before Kerry arrived in Kiev, President Vladimir Putin insisted at a press conference Russia had the right to use "all means" to protect its citizens in Ukraine but denied he had already deployed troops.
But the announcement of assistance signaled the U.S. determination not to yield in the battle for influence in Ukraine.
"The new government of Ukraine has said publicly and committed privately that it has the political will to meet its urgent challenges," U.S. Secretary Jacob Lew said in a statement.
"The United States is prepared to work with its bilateral and multilateral partners to provide as much support as Ukraine needs to restore financial stability and return to economic growth, if the new government implements the necessary reforms."
He said the U.S. offer of $1 billion in loan guarantees aimed to protect "the most vulnerable Ukrainian households from the impact of the needed economic adjustment."
Russian state-controlled energy giant Gazprom said Tuesday it would end a discount it gives to Ukraine on gas prices from April but proposed a loan of up to $3 billion to cover its debt.
Moscow is often accused of using its gas exports as a diplomatic weapon aimed at influencing decisions of ex-Soviet nations that contemplate closer relations with the West.
Ukraine relies on imports for about three-quarters of its oil and natural gas supplies.
U.S. officials travelling with Kerry also said Moscow could face sanctions within days.
"I think there will be movement on sanctions very likely later in this week and there is a whole spectrum of sanctions," one said, speaking on condition of anonymity.
AFP Photo/Anastasiya Sirotkina