Kerry Pushes Mideast Security Plan On New Peace Trip
@AFP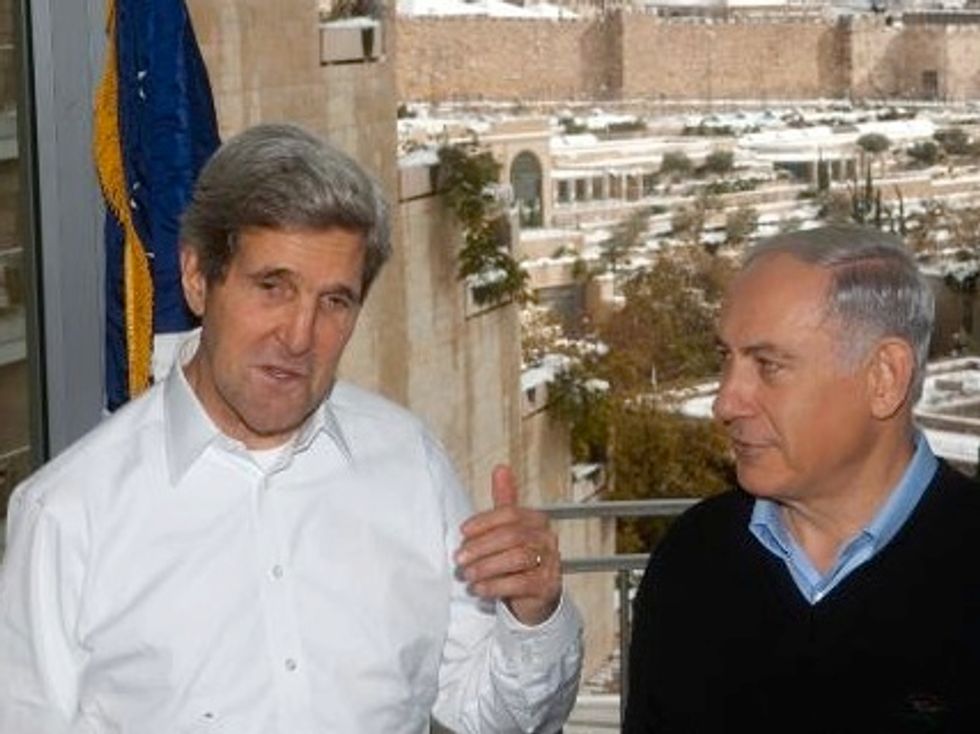 Jerusalem (AFP) – U.S. Secretary of State John Kerry sought Friday to promote his security plans for a future Palestinian state, after president Mahmud Abbas rejected an Israeli presence under any deal.
Kerry was in Jerusalem for talks with Israeli Prime Minister Benjamin Netanyahu, who was accompanied by Defence Minister Moshe Yaalon, media reported.
Kerry had to amend his plans to travel from Jerusalem to Jordan amid fierce snowfall and rain storms, opting instead to head later straight to his next stop, Vietnam.
"I'm delighted to be here. I'm on my way to Asia, heading to Vietnam and the Philippines, which is a long-promised trip," Kerry told reporters as he went into his talks with Netanyahu.
"But I wanted to come through here in an effort to try to continue our important discussions.
"It's been constructive. It's always complicated. And I look forward to having some good talks this morning after meeting with president Abbas last night. We have a lot to talk about, and we will continue this process."
After meeting Kerry in the West Bank city of Ramallah, the Palestinian political capital, Abbas rejected U.S. proposals for Israel to keep troops in a future Palestinian state along its strategic border with Jordan.
"President Abbas has rejected the ideas presented by the secretary of state," a Palestinian source said on Friday.
Abbas also handed Kerry a letter laying down "Palestinian red lines", the source added, singling out "the refusal to recognize Israel as a Jewish state".
Abbas "rejected the ideas on security because there is not a third party."
This refers to a plan by former U.S. national security adviser James Jones under which a third party would deploy along the Palestinian-Jordanian border.
The Palestinian source said that "all disputed issues must be settled".
Israeli and Arab media reports say the plan envisaged by Washington would see Israel maintain a military presence on the border after a peace agreement with the Palestinians.
An international force would be acceptable to the Palestinians, but Israel opposes such a solution.
Israel has always insisted that a continued military presence on the frontier would be vital for its security for some 10-15 years after Palestinian statehood.
In Tel Aviv daily Yediot Aharonot on Thursday, former Israeli national security adviser Giora Eiland wrote that Israel saw a potential threat as not coming necessarily from the Palestinians, but from "other enemies" in the region.
"Israel insists on having contiguous control along the Jordan River, and it seems like the Americans accept this," he wrote.
"The argument is not how long, but how deep. For Israel, in order for control to be effective, a strip five kilometres (three miles) wide is necessary," he added.
It is Kerry's ninth trip to Israel and the West Bank since March — and his second in less than a week.
State Department spokeswoman Jen Psaki said this week the U.S. was "focused on a final deal" rather than an interim agreement between Israel and the Palestinians.
Nine-month direct talks were launched between the sides by Kerry in July, and last week he said "we are closer than we have been in years" to reaching a deal.
But the Palestinians said Kerry's ideas on future security arrangements, which were presented to their leadership last week, had provoked a "real crisis."
AFP Photo/Lior Mizrahi