Kerry Pushes Truce Efforts As Gaza Toll Tops 740
@AFP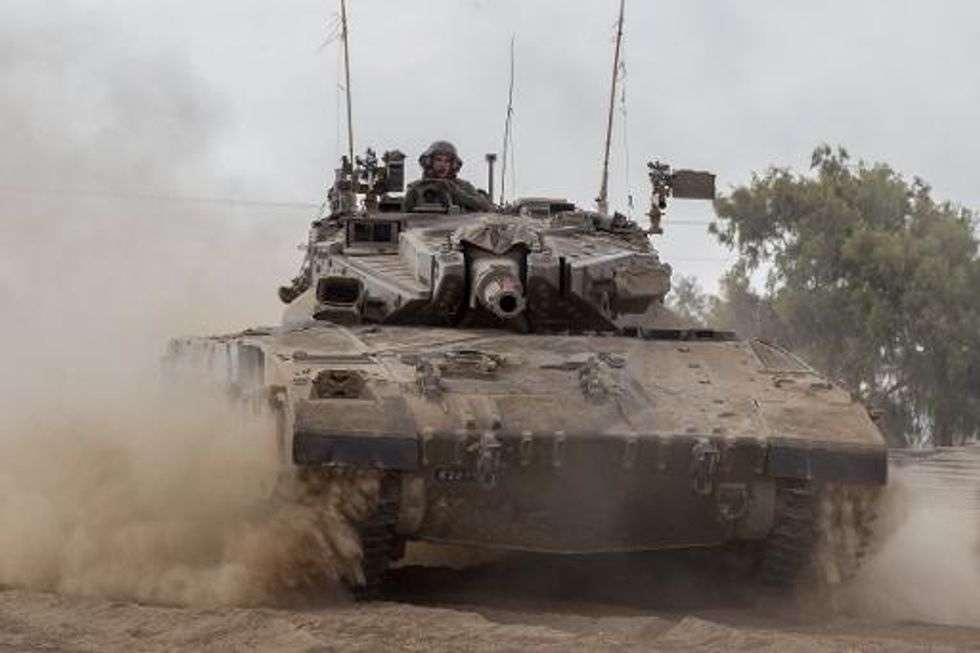 Jerusalem (AFP) – Washington's top diplomat John Kerry Thursday pressed efforts to end bloodshed in Gaza, reaching out to allies of Hamas as the Islamist movement's war with Israel raged into a 17th day.
Medics reported more than 50 people killed in Gaza Thursday, mostly in the south, hiking the overall Palestinian toll to 746 since Israel launched a military operation to halt rocket fire from the besieged territory on July 8.
Earlier Thursday, U.S. airlines lifted a flight ban to Israel, with other international airlines expected to follow suit.
The U.S. national aviation agency had imposed the restriction on Tuesday after a rocket hit a house very close to the runways, in a move mirrored by Europe.
It was renewed late on Wednesday, prompting Hamas, the de facto power in Gaza, to hail the suspension of Tel Aviv flights as a "great victory for the resistance."
Shortly afterwards, the U.S. agency rescinded the move.
Kerry — who is in Egypt, which has drafted a truce proposal for the Israel-Hamas conflict — spoke by phone with the foreign ministers of Qatar and Turkey, a U.S. official said.
Hamas chief Khaled Meshaal is based in Qatar, while Turkey's Islamist-oriented Prime Minister Recep Tayyip Erdogan has harshly criticized Israel's assault on Hamas-ruled Gaza as well as Egypt's role in trying to clinch a ceasefire.
A U.S. official said Kerry was hoping Qatar and Turkey would use their influence to encourage Hamas to accept a ceasefire plan, which the Islamist group has so far rejected.
Meshaal vowed late on Wednesday there would be no end to the fighting without the lifting of Israel's eight-year blockade on Gaza.
Despite Hamas's intransigence, the skies over southern Israel remained quiet for seven hours, the army said, in what was the calmest night since the Israeli operation began on July 8.
Since 5:00 am (0200 GMT), just six projectiles struck the south, while another three were intercepted, a spokeswoman said.
There was no let-up to the violence in Gaza, however, with most of Thursday's 51 victims killed in and around Khuzaa, a flashpoint area east of Khan Yunis which has been the site of intensive fighting since Tuesday.
Gaza's health ministry issued a call for international protection for civilians in the area, saying anyone leaving home was being targeted by Israeli fire.
On Wednesday, the Red Cross and Palestinian ambulances managed to evacuate 150 people from the area following negotiations with both sides, and another convoy of 10 ambulances entered the area early on Thursday, an ICRC spokeswoman told AFP.
In Jabaliya refugee camp, residents gathered at first light to examine the damage after an air strike destroyed houses and a mosque.
"The blast was strong and it destroyed houses and the mosque, it was an F16," Faeq Hussein told AFP as two men struggled over piles of rubble and twisted metal to try to salvage a red armchair.
"All this area is a refugee camp, the houses are very close together and everyone was affected. We are all civilians and this mosque had nothing to do with the rocket fire," he said, the buildings around him peppered with shrapnel.
The Gaza-based Palestinian Centre for Human Rights has said more than 80 percent of the casualties were civilians, and a quarter of them children, triggering growing international alarm over the civilian body count.
"We are gravely concerned by the ongoing heavy level of civilian causalities," British Foreign Secretary Philip Hammond said at a press conference in Jerusalem with Israeli Prime Minister Benjamin Netanyahu, at which he also defended Israel's right to self-defense in the face of a conflict triggered by Hamas rocket fire.
Netanyahu said Israel was doing everything it could to minimize casualties, pinning the blame on Hamas for its "grotesque (and) inhuman" use of civilians as human shields.
Hammond then flew to Cairo where he was due to hold talks with Egyptian President Abdel Fattah al-Sisi.
UN chief Ban Ki-moon was also in Egypt and Israel earlier this week, in the hope of hammering out a regional truce deal, with Kerry acknowledging there had been "some progress in moving toward that goal."
On a whirlwind visit, Kerry on Wednesday met Palestinian president Mahmud Abbas in the West Bank city of Ramallah then held a two-hour meeting in Tel Aviv with Netanyahu before flying back to the Egyptian capital.
So far, 32 Israeli soldiers and three civilians have died in the fighting, one of whom was a Thai farm laborer who was killed when a rocket struck the greenhouse where he was working in southern Israel.
Following his death, Bangkok demanded Israel "immediately" relocate 4,000 Thai nationals working near the Gaza Strip to areas safe from the fighting, a foreign ministry spokesman said.
AFP Photo/Jack Guez