Kerry Pushes Truce As Gaza Conflict Hits Israel Air Traffic
@AFP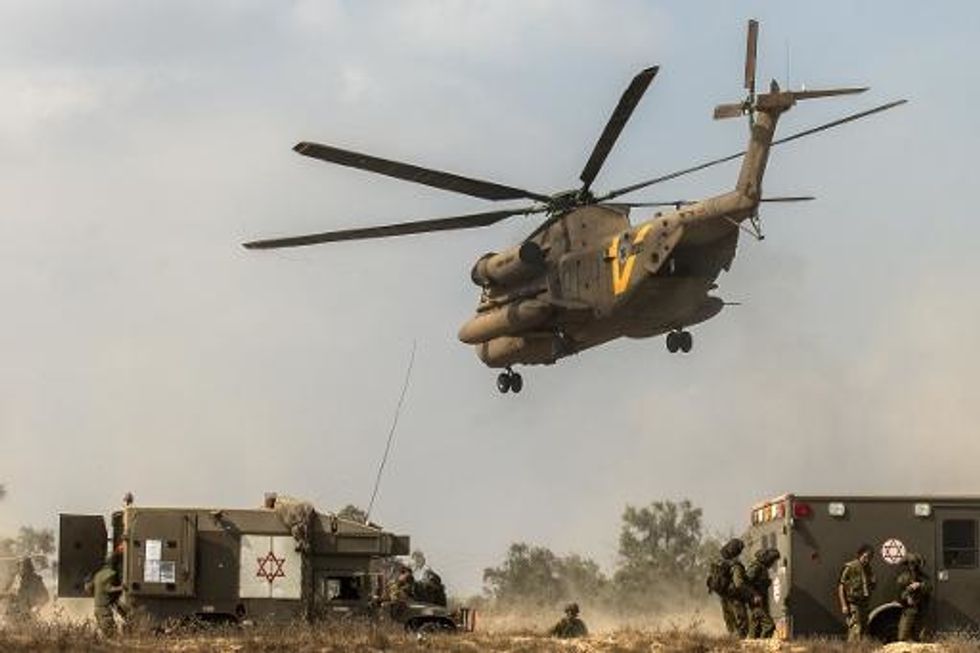 Jerusalem (AFP) – U.S. Secretary of State John Kerry took his truce mission to Israel Wednesday as the conflict in Gaza entered its 16th day and world airlines suspended flights over rocket fears.
As air traffic thinned over Tel Aviv airport, Kerry flew in from Cairo for whirlwind talks in Jerusalem and Ramallah, despite a U.S. aviation warning on flights into Israel after a rocket struck near the runway a day earlier.
And there was no let-up in the violence, with neither Israel nor Hamas showing willingness to end hostilities, despite days of diplomatic efforts to coax them into a truce.
Gaza's emergency services said that at least 21 people were killed Wednesday, hiking the Palestinian death toll to 652, while the army announced another two soldiers had been killed in fighting a day earlier, raising the number of Israeli dead to 31, including 29 soldiers.
And a foreign worker in southern Israel died on Wednesday after being hit by mortar fire from the Gaza Strip, police said.
On the ground, Saint Prophyrios Greek Orthodox church in Gaza City was packed to overflowing as hundreds of people, mostly women and children, sought shelter after escaping the inferno of neighboring areas like Shejaiya.
"Many of them, their houses are destroyed. Many people have been injured or killed. So we try to help these people," said Archbishop Alexios, one of Gaza's 1,500 Christians.
At the start of a flying visit to Israel, Kerry said that regional diplomacy efforts had made some progress but said more time was needed.
"We have certainly made some steps forward, but there is still work to be done," Kerry said in Jerusalem at the start of a meeting with UN Secretary-General Ban Ki-moon whom he also met in Cairo on Monday.
The UN chief warned there was no time to lose.
"We are now joining our forces in strength to make a ceasefire as soon as possible," he said.
Kerry then went to the West Bank city of Ramallah for talks with Palestinian president Mahmud Abbas, and was later return to Tel Aviv for talks with Israeli Prime Minister Benjamin Netanyahu. He was expected to return to Cairo in the evening.
In Geneva, UN rights chief Navi Pillay condemned both Israel and Hamas at an emergency session of the UN Human Rights Council, saying Israeli attacks which had killed civilians, among them children, could amount to war crimes.
"There seems to be a strong possibility that international law has been violated, in a manner that could amount to war crimes," Pillay told an emergency session of the UN Human Rights Council referring to attacks that have killed civilians, among them children.
But she also denounced Hamas for its "indiscriminate attacks" on Israeli civilians.
Kerry's arrival in Tel Aviv came a day after a Gaza rocket struck close to the airport, prompting the U.S. Federal Aviation Authority to ban commercial flights to and from Israel for at least 24 hours.
And its European counterpart advised all carriers to avoid Tel Aviv "until further notice" in a warning just days after a Malaysian flight was allegedly shot down over strife-torn eastern Ukraine.
On Wednesday, Royal Jordanian and Turkish Airlines also said they would suspend flights to Tel Aviv for security reasons.
Netanyahu appealed to Kerry to lift the ban, the first since the 1990-1991 Gulf war, with the U.S. diplomat assuring him it would be reviewed within a day.
Kerry began his regional mission in Cairo, discussing ceasefire proposals with Egypt's President Abdel Fattah al-Sisi, saying he backed an Egyptian truce initiative as a "framework" to end the fighting.
UN chief Ban was also in Jerusalem for ceasefire talks after several days in Cairo and elsewhere in a bid to drive forward regional efforts to halt the bloodshed.
On the eve of Kerry's visit, Palestinian president Mahmud Abbas pledged Israel would be held accountable for the bloodshed in Gaza.
Abbas who has been holding truce talks in Doha with Hamas's exiled leader Khaled Meshaal, called for "widespread popular protest" in solidarity with Gaza.
Later in the evening, Israeli troops in the West Bank forces shot dead a Palestinian in clashes near the southern city of Bethlehem, sources on both sides said.
There has been a growing wave of protest across the West Bank and in Arab towns in Israel, with police saying they had arrested 800 Arab Israelis and another 295 from east Jerusalem in the past three weeks in protests which began before the July 8 start of Israel's Gaza campaign.
AFP Photo/Jack Guez