Kerry Warns Of 'Authoritarian Populism,' Takes Jab At Trump Tweets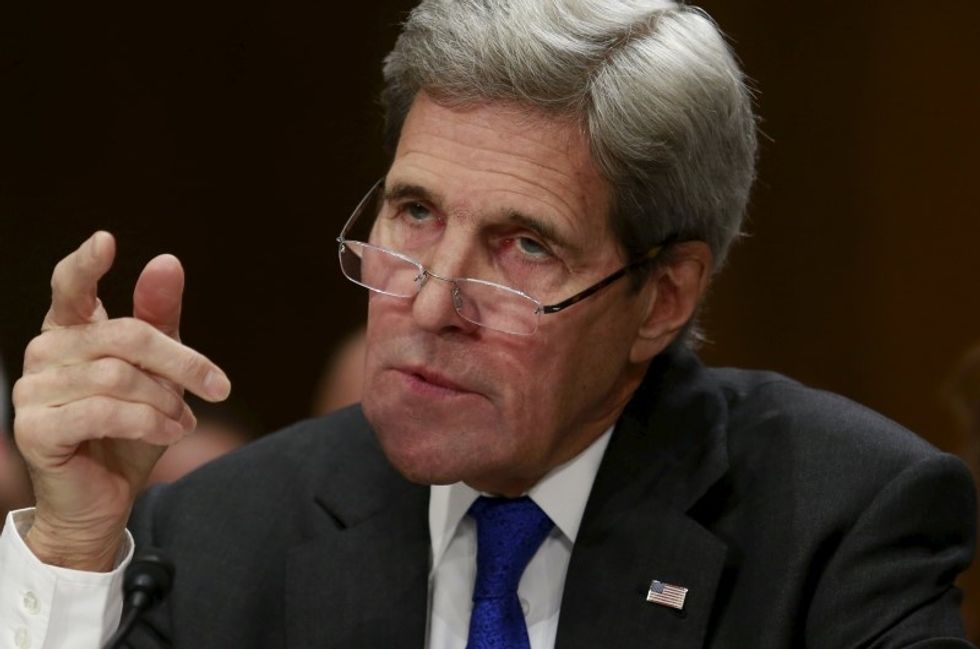 WASHINGTON (Reuters) – U.S. Secretary of State John Kerry on Tuesday warned of the dangers of authoritarian populism and offered a thinly veiled critique of Donald Trump's prolific use of Twitter, saying it allowed the president-elect to avoid accountability.
In his most pointed public comments about Trump since the Nov. 8 presidential election, Kerry also suggested that the president-elect's Cabinet nominees were getting a free pass from Congress for failing to submit tax returns and other documentation before their Senate confirmation hearings.
"Every country in the world better … start worrying about authoritarian populism and the absence of substance in our dialogue," Kerry told a Washington forum.
"If policies are going to be made in 140 characters on Twitter, and every reasonable measurement of accountability is being bypassed, and people don't care about it, we have a problem," Kerry said.
As an example of the absence of substance in the political debate, he said climate change was given short shrift during the campaign between Trump and Democratic nominee Hillary Clinton.
He contrasted his own vetting for secretary of state and the paperwork he had to provide with exceptions he said are being made for Trump Cabinet nominees before their confirmation hearings.
In December, Senate Foreign Relations Committee chairman Bob Corker said the panel had not asked Rex Tillerson, Trump's choice for secretary of state, to provide his tax returns, which Corker said was in accordance with precedent.
Tillerson, the former chairman and chief executive of ExxonMobil Corp, has not submitted tax returns, but his financial disclosure and ethics agreement has been made public.
Kerry, a former senator and 2004 Democratic presidential nominee who became President Barack Obama's secretary of state in 2013, said it is "quite amazing when you think the hoops I had to jump through with respect to papers submitted, documentation submitted and tax returns. … Suddenly that's not as important."
Asked if he believed Trump's nominees were getting "a free pass," Kerry chuckled and dodged the question.
Walter Shaub, director of the federal Office of Government Ethics, said in a letter to senators last week that he had "great concern" about the hearing schedule for Trump nominees who had not completed the ethics review process, and said it would be "cause for alarm if the Senate were to go forward with hearings on nominees whose reports OGE has not certified."
With 10 days to go before Trump takes office, Kerry said there had been few high-level contacts between current State Department officials and Trump's transition team.
Asked about the transition at a forum at the nonpartisan U.S. Institute of Peace, Kerry said, "It's going pretty smoothly because there's not an enormous amount of it."
"There are some people who have been in the building for a period of time, but you know quite candidly, I think there has not been a lot of high-level exchange at this point in time," Kerry said.
Kerry said he had not yet met with Tillerson, but expected to do so soon. Kerry and Tillerson spoke last month by telephone, according to the State Department.
A spokeswoman for the Trump transition team said she had no comment on Kerry's remarks.
Tillerson's Senate confirmation hearing is scheduled for Wednesday, and will be closely watched in part due to concerns about his relationship with Russia as ExxonMobil's top executive.
Trump has called for better ties with Russia, while some fellow Republicans in Congress are pushing for a harsher response to what American intelligence agencies have concluded was Kremlin meddling in the presidential election.
(Reporting by Lesley Wroughton and Yeganeh Torbati; Editing by Will Dunham)
IMAGE: U.S. Secretary of State John Kerry testifies before a Senate Foreign Relations Committee hearing on the FY2017 State Department Budget Request on Capitol Hill in Washington, February 23, 2016. REUTERS/Yuri Gripas