Kerry Warns U.S. Congress Scrapping Iran Deal Would Mean Path To Nuclear Weapon
@reuters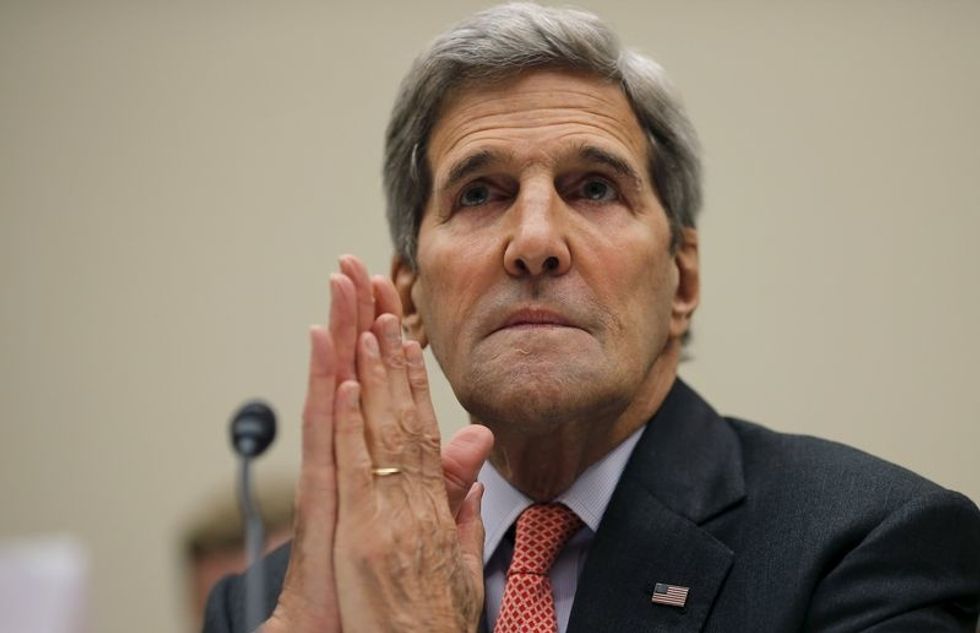 By Patricia Zengerle and Doina Chiacu
WASHINGTON (Reuters) – Secretary of State John Kerry intensified efforts on Tuesday to beat back criticism of the Iran nuclear deal and convince U.S. lawmakers that rejecting it would give Tehran a fast track to a weapon and unlock billions of dollars from collapsed sanctions.
Battle-hardened from years of negotiations with Iranians, Kerry sharpened his response to U.S. congressional criticism that the deal's provisions were temporary and would not prevent Iran from obtaining a nuclear weapon in the long run.
"Iran has agreed to refrain from producing or acquiring highly enriched uranium and weapons-grade plutonium for nuclear weapons forever," he told the House of Representatives Foreign Affairs Committee.
"When it comes to verification and monitoring, there is absolutely no sunset in this agreement. Not in 10 years, not in 15 years, not in 20 years, not in 25 years; no sunset ever."
"If you kill the deal, you are not making America safer," he said.
Joined by Treasury Secretary Jack Lew and Energy Secretary Ernest Moniz, two other members of President Barack Obama's Cabinet, Kerry was part of the administration's blitz to coax skeptical lawmakers into supporting the nuclear deal.
The Republican-controlled Congress has until Sept. 17 either to endorse or reject the agreement. Rejection would prevent Obama from waiving most U.S.-imposed sanctions on Tehran, a key component of the deal.
Under the July 14 pact, world powers agreed to lift sanctions on Tehran in return for curbs on a nuclear program the West suspects was aimed at creating an atomic bomb, but which Tehran says is peaceful.
The four-hour hearing turned testy. Some Republican House members shouted at Kerry, days after Senate Republicans accused him of having been "bamboozled" or "fleeced" during the talks.
'WE WALK AWAY ALONE'
Kerry visibly lost patience at times. He said he was hearing many complaints about what the agreement doesn't do, while opponents offered no alternative.
"What this agreement is supposed to do is stop them from having a nuclear weapon. Now I want to hear somebody tell me how they're going to do that without this agreement," he said.
Kerry insisted walking away would isolate the United States.
"If we walk away, we walk away alone. Our partners are not going to be with us. Instead, they'll walk away from the tough multilateral sanctions that brought Iran to the negotiating table in the first place," Kerry said.
House members signaled the difficulties the administration will face getting Congress on board.
Representative Ed Royce, the committee's Republican chairman, said the deal would provide Iran with a "cash bonanza," while weakening Washington's ability to pressure Tehran.
Representative Eliot Engel, the top Democrat, said he saw a number of troublesome issues in the agreement.
Both Republicans and Democrats expressed concern about Americans held in Iranian prisons. Kerry said he was in "direct talks" with Tehran about the detainees.
Others worried about Iran's support for militants fighting U.S. allies. "They support Hamas, Hezbollah and Houthi, and those are just the organizations that begin with the letter 'H,'" said Representative Brad Sherman, a Democrat.
Many Democrats say they have not decided how they would vote, when Congress returns in September from a five-week recess. But a few have come out in favor.
Kerry noted during the hearing that Representative Sander Levin, the longest serving Jewish member of the House, issued a statement on Tuesday saying he backed the deal.
Kerry, Lew and Moniz also testified in the Senate on Thursday, and Defense Secretary Ash Carter is among officials due to speak to lawmakers later this week.
(Reporting by Patricia Zengerle; editing by Howard Goller, G Crosse and Andrew Hay)
Photo: U.S. Secretary of State John Kerry testifies before a House Foreign Affairs Committee hearing on the Iran nuclear agreement in Washington, July 28, 2015.  REUTERS/Carlos Barria