Kim Davis And The Iowa-Or-Bust Syndrome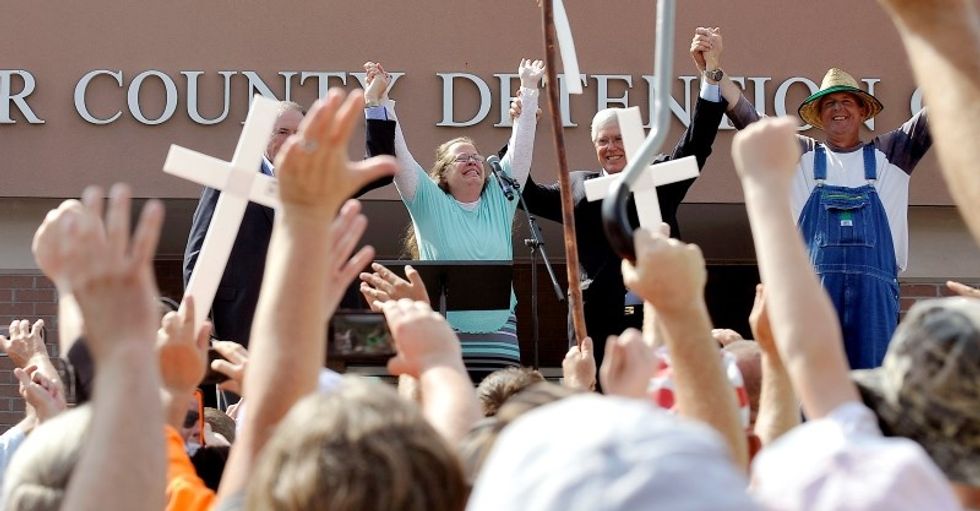 Watching Mike Huckabee and Ted Cruz compete to make a martyr out of Kim Davis makes me wonder if it's finally time to send Iowa toward the back of the line in the presidential nominating process. And while we're at it, maybe South Carolina should head in that direction, too.
Huckabee won the leadoff Iowa caucuses in 2008, the last time he ran. If he doesn't win them this year, his quest for the Republican presidential nomination will be finished practically before it starts. What does he have to do to win? Christian conservatives are the most dominant group in Iowa's GOP caucuses. Thus, the crazy contest to champion the Kentucky county clerk who, adhering to "God's authority" rather than a Supreme Court ruling and a federal judge's order, went to jail rather than issue marriage licenses to same-sex couples.
The unquestioned victor of this round was Huckabee. Upon her release from jail, he not only walked Davis from the jailhouse to the waiting crowd, she stood between Huckabee and Mat Staver, her lawyer, as Staver addressed the media at length. You know what that meant. Huckabee was "in the shot." With his arm around her. While he spoke his piece to the cameras.
Christian conservatives could watch Huckabee thank "this incredibly brave lady" next to him for challenging "the tyranny of judicial action that takes people's freedoms away." He praised her willingness "to go to jail for what she believed." He even said that he'd be willing to go to jail in her place, because "we cannot criminalize the Christian faith or anybody's faith in this country."
That's a ready-made TV ad for Iowa and South Carolina, maybe with the lawyer cropped out of the picture.
Meanwhile, according to both The New York Times and The Washington Post, a Huckabee aide physically blocked an "incredulous" Cruz from approaching Davis and the assembled cameras. Poor guy. The Texas firebrand went all the way to Kentucky and all he got was a rope line to work. There were no visuals of him with Davis, and only a few quote snippets in the media. Bested by Huckabee just a day before he would be sharing the spotlight with Donald Trump at a Capitol rally against the Iran nuclear deal. Good luck wresting those headlines away from The Donald.
By embracing Davis's cause, Huckabee and Cruz did their party no favors on the big-tent front. According to media reports, signs at the rally called homosexuality an "abomination" and the Supreme Court "the new ISIS," and posed the question, "AIDS: Judgment or Cure?" The GOP should, and usually does, go with candidates more like Ohio Gov. John Kasich, a self-described supporter of "traditional marriage." "The court has spoken," he said on ABC's This Week. "I respect the fact that this lady doesn't agree, but she's also a government employee. She's not running a church. I wouldn't force this on a church, but in terms of her responsibility I think she has to comply."
Nate Cohn of the New York Times did an interesting analysis of the influence of blue states on the GOP primary process. They have ensured relatively moderate, mainstream nominees in the last two contests. So how about putting Illinois, California, or New York at the start of the primary lineup? How about Massachusetts, where only 16 percent of 2012 GOP primary voters said in exit polls that they were born-again or evangelical Christians, and only 15 percent said they were "very conservative"?
In the 2012 exit poll of Iowa caucusgoers, 57 percent said they were born-again or evangelical Christians, and 47 percent described their political philosophy as "very conservative." A new Des Moines Register/Bloomberg Politics poll of likely Iowa caucus participants found that 39 percent were Christian conservatives. That's nearly double the size of the Tea Party and business groups.
South Carolina is, meanwhile, the fifth most religious state in the nation, according to Gallup. That goes in spades for Republicans. In a Winthrop University poll of likely GOP primary voters in April, more than 80 percent said religion was very important in their lives; 60 percent said they considered themselves born-again; 44 percent said evangelical Christians have too little influence on the Republican Party, and 69 percent opposed same-sex marriage.
It's time to shake things up, for Democrats as well as Republicans.
Let demographically diverse Nevada stay toward the front if it switches from a caucus to a primary. Maybe even keep quirky New Hampshire as one of the first few contests as well. But let's give blue states — and some different purple and red states — their moments in the sun. What would the candidates be talking about if faced with a new set of crucial early contests? Let's find out.
Follow Jill Lawrence on Twitter @JillDLawrence. To find out more about Jill Lawrence and read features by other Creators Syndicate writers and cartoonists, visit the Creators Syndicate website at www.creators.com.
Photo: Rowan County Clerk Kim Davis, flanked by Republican presidential candidate Mike Huckabee (left), attorney Mathew Staver (second from right) and her husband Joe Davis (right) celebrates her release from the Carter County Detention center in Grayson, Kentucky on September 8, 2015. REUTERS/Chris Tilley