Kim Gordon's Kool New Thing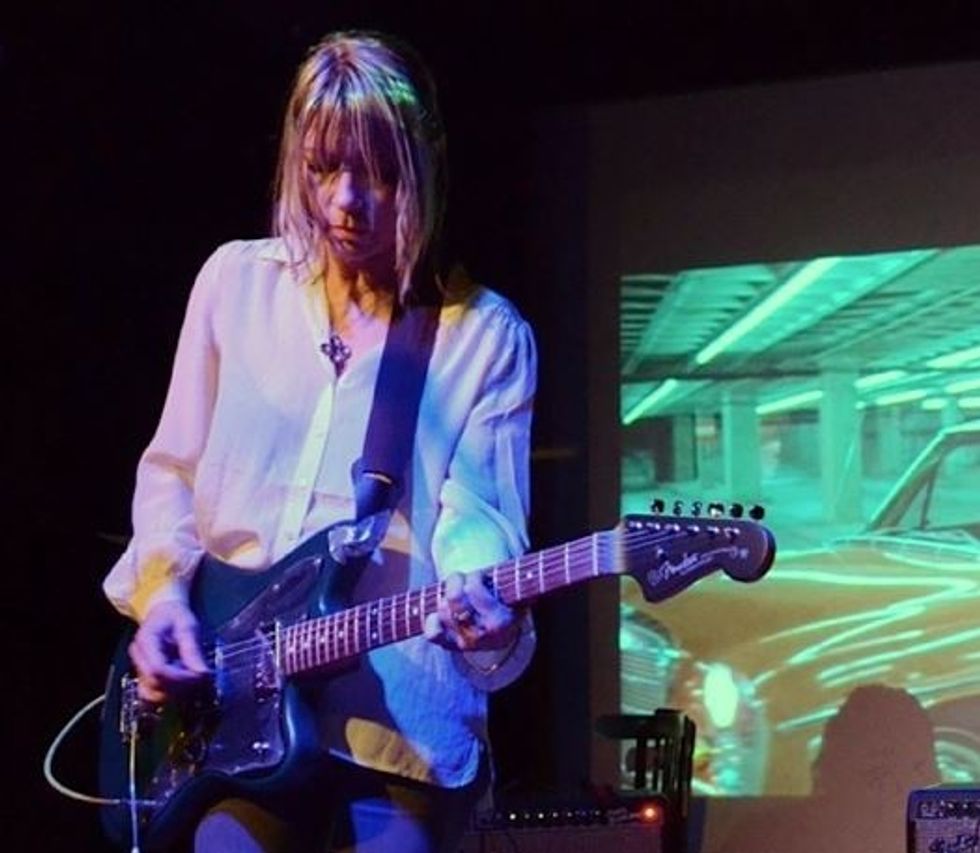 By Chris Riemenschneider, Star Tribune (Minneapolis)
MINNEAPOLIS — Not long after forming in 1981 on its way to indie-rock domination, Sonic Youth played one of its first shows outside New York City at Walker Art Center in Minneapolis. How fitting, then, that the band's iconic bassist/singer Kim Gordon has also booked a museum gig for her first post-S.Y. trip to Minnesota with her new music venture, Body/Head — even if it's a gig at the other big museum in town.
"I was actually a little confused by that, too," Gordon said by phone interview, referring to the fact that this week's performance will be at the Minneapolis Institute of Arts, where Sonic Youth also headlined the second Rock the Garden concert in 2000.
"I've always thought of Minneapolis as a city steeped in the arts, so it's no surprise to wind up someplace else."
A semi-improvisational, noise-caressing guitar duo she formed with a friend from her adopted hometown of Northampton, Mass. — "the most liberal corner of America," Gordon proudly noted — Body/Head was picked to kick off an adventurous series called Sound.Art.MIA.
Gordon, 60, said she especially prefers to perform in museums nowadays "because it changes people's expectations, and lets them know they're not going to see a conventional rock 'n' roll show." Her duo has also performed at New York's Museum of Modern Art and Detroit's Museum of Contemporary Art, to name two.
In a separate conversation, her new bandmate, Bill Nace, explained further: "At rock clubs, people are always there for different reasons, and that's great, but what we're doing maybe requires a little more attention than usual."
Nace and Gordon first bonded over film (he worked at the indie theater in Northampton). They started playing music together in 2012 after she was asked to cover Peggy Lee's "Fever" for a compilation disc by the Belgian label Ultra Eczema. That progressed into some basement jam sessions, which led to a European tour and an album, "Coming Apart," released in September via Matador Records.
"I didn't have any huge desire to start another band, or do any kind of solo thing under my own name," said Gordon, who laughed off the notion she would've had an all-star cast of musicians lined up to perform with her. "If I did anything like that, it'd probably be to do a jazz record or something weird like that."
With the relatively unknown Nace as her lone bandmate, "it's more about what we can create together," she said.

"Bill's a really great guitarist — 'tasteful' is probably a good word, but also very innovative," Gordon said, offering the term "scripted improvisation" to describe their approach. "We have certain lyrics and a little song structure that carries over from show to show, but there's a lot of freedom involved."
More freedom, she noted, than even the experimental, improv-prone Sonic Youth offered. "Not having any sort of strict song structure is really liberating and interesting," she said. "I've never thought of myself as having a 'singer' kind of voice, so in a lot of ways this is a better fit for me."
Despite her renown as a bassist, she likes playing guitar, which she also did toward the end of Sonic Youth. "It's better on my tendinitis," she quipped.
Gordon said she was freed up in more ways by the abrupt end of her old band in 2011. While the details of the breakup remain gossip-blog fodder — her ex-husband/bandmate Thurston Moore was having an affair — she has been making the most of her time away from Sonic Youth's heavy tour schedule. Likewise, her and Moore's daughter, Coco, has since gone off to college.
An art student before joining a band, Gordon put together an exhibit of recent paintings and other visual art work last year for the White Columns gallery in New York City. What's more, she is writing an autobiography, which she hesitated to talk about except to say, "It's not really going to be the story of Sonic Youth, but more about my personal evolution."
Both Gordon and Nace noted that fans of her old band have been receptive to Body/Head, which just finished a new 7-inch single and has more tour plans this year.
"No one's been shouting out 'Kool Thing' or anything like that," Nace said. "I think it speaks to how much people respect Kim."
For her part, Gordon said simply, "Sonic Youth couldn't go on forever."
Photo: Kelly Chambers via Flickr