Klinsmann In Letter To U.S. Bosses: Give World Cup Time-Off
@AFP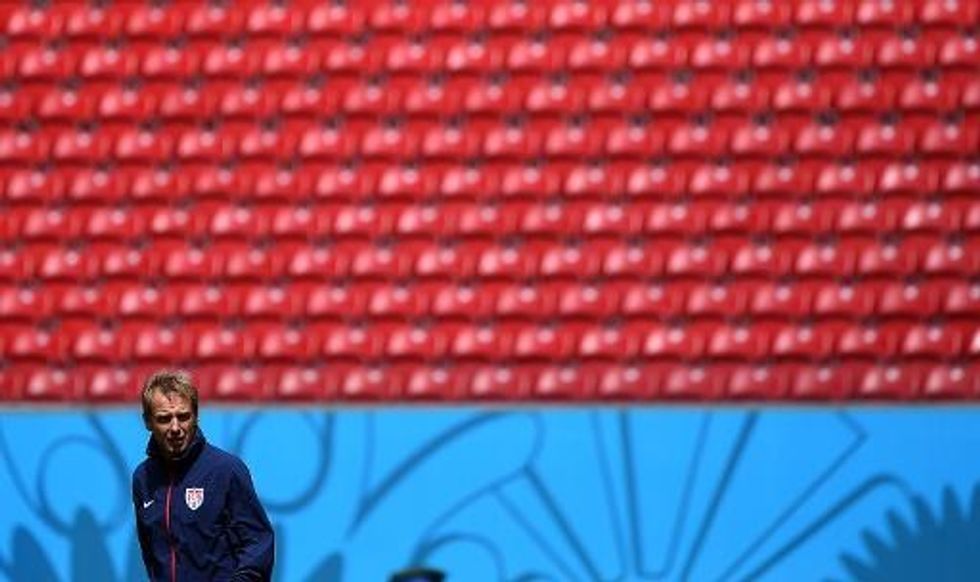 Washington (AFP) – Team USA have gone to unusual lengths to get the soccer-skeptical country behind their World Cup campaign.
Ahead of the United States' make-or-break clash with the mighty Germany in Brazil on Thursday, the official U.S. Soccer Twitter feed sent out to its more than one million followers a letter ostensibly from coach Jurgen Klinsmann for fans to fill in and give to their bosses.
The letter, complete with the U.S. Soccer letterhead, reads: "To whom it may concern: Please excuse (insert name) from work on Thursday, June 26th.
"I understand that this absence may reduce the productivity of your workplace, but I can assure you that it is for an important cause.
"The #USMNT has a critical World Cup game vs. Germany and we will need the full support of the nation if we are to advance to the next round.
"By the way, you should act like a good leader and take the day off as well. Go USA!"
It is signed: "Jurgen Klinsmann, Head Coach, U.S. Men's National Team."
U.S. Soccer also encourages fans to take pictures of their bosses signing the letter granting the time off for the Germany showdown, which will see the U.S. into the knockout round of the World Cup with a win or draw.
The letter had been retweeted more than 5,200 times as of an hour before the big game, although at least one supporter — who wrote on the letter the name "Alex" — was left disappointed.
"Alex" tweeted a picture with a large red X in the space designated "signature of approval", along with the words — seemingly from a superior — reading: "AS OUR NEWEST FULL-TIME EMPLOYEE YOU HAVE BEEN DESIGNATED OUR STAY-IN-THE-OFFICE GUY, WHILE THE REST OF US WATCH."
AFP Photo/Patrick Stollarz