Kobach Tied To White Nationalists — So Trump Endorses Him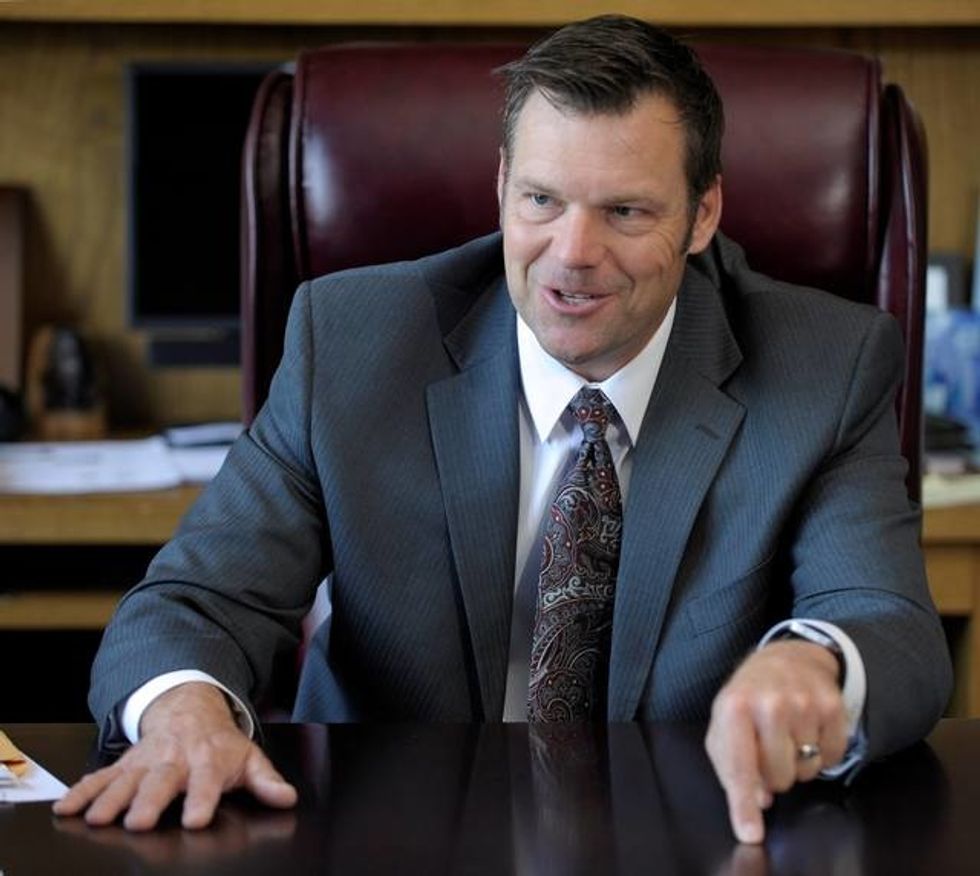 Reprinted with permission from Shareblue.
Trump took time out of his vacation in New Jersey to endorse Kansas Secretary of State Kris Kobach for governor — just days after Republican consultants publicly outed Kobach for employing alleged white supremacists on his campaign.
Trump tweeted from his Bedminster, New Jersey golf resort Monday morning that Kobach "is a fantastic guy" who "will be a GREAT Governor and has my full & total Endorsement!"
A few days earlier on Friday, however, the Topeka Capitol Journal broke the news that Kobach's campaign has been accused of employing three white supremacists, that we know of:
Kris Kobach's gubernatorial campaign employs three men identified as members of a white nationalist group by two political consultants who have worked with Republicans in Kansas.

[…] The consultants in early July independently named the three men, all in their early 20s, as members of American Heritage Initiative, a splinter of Identity Evropa, which the Southern Poverty Law Center describes as as a campus-based white supremacy group that builds community from shared racial identity.
Kobach himself has a history of associating with white supremacists, and is a paid columnist at Breitbart, a right-wing website that has become a major platform for white nationalists.
Kobach also headed Trump's failed voter suppression commission, which has been working to systematically disenfranchise minority voters.
Trump aides had previously warned him against endorsing Kobach. They worried that such an endorsement would alienate supporters of current Kansas Governor Jeff Colyer, whom Kobach is challenging in Tuesday's Republican primary.
Given Trump's own track record of praising, not to mention hiring, white supremacists, it's worth asking whether the news about Kobach's campaign actually helped solidify Trump's decision to endorse.
After a year and a half of Trump's failures, Republicans have little other than racism to run on in November.
Endorsing Kobach does carry some risk for Trump. Colyer has a slight lead over Kobach in the latest primary poll, and Kobach's approval is underwater.
Trump may look weak if he ends up endorsing a loser — but he won't lose an ounce of his base support for endorsing a candidate with ties to white supremacists.