Kobe Confident Lakers Have Money For Free Agents
@AFP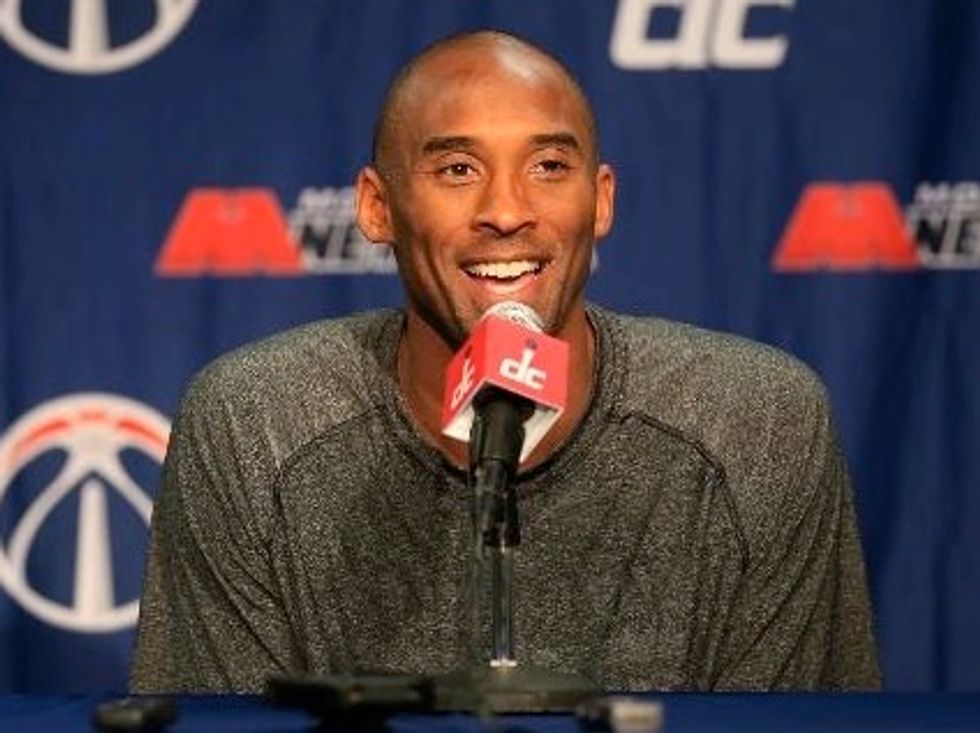 Washington (AFP) – Kobe Bryant says his NBA return from left Achilles tendon surgery is likely weeks away but the Los Angeles Lakers guard is improving and regaining the explosiveness that made him a superstar.
And the 35-year-old American, who signed a two-year deal worth $48.5 million with the Lakers on Monday, says that his new deal does leave the Lakers room to sign new talent and become a title contender again as well as silence critics who doubt his worthiness for such a contract.
"It makes me want to run through a wall for them," Bryant said Tuesday before the Lakers played at Washington. "It adds more fuel to the fire. It makes me want to come out and prove they were right and everybody else was wrong.
"We have the ability to do something special. We'll have to see what happens."
Bryant has not played since being injured last April but has practiced with the Lakers, who split their first 12 games of the new season, and says his return could come in December.
"Much closer. I feel good," Bryant said. "I'm feeling much stronger, ready to come back."
Bryant wants to have the same pep in his steps that helped the Lakers win five NBA titles between 2000 and 2010 and helped the U.S. Olympic squad claim gold in 2008 and 2012.
"If it's not there then I'm ready to adapt to whatever my body is telling me," Bryant said. "I just want to come out and do what I do best and help this organization get back to where it belongs.
"The goal is to put ourselves in position to win a championship."
Bryant took less than he could have sought from the Lakers and the difference could be enough to allow Los Angeles to land a top free agent next year such as New York star Carmelo Anthony.
"There was really no negotiation. The Lakers came up with a structure that they thought was a win-win for everyone involved," Bryant said. "From my perspective it was easy to say yes. It was pretty quick. We had no conversation whatsoever. The only number I saw was the one I agreed to."

Bryant, whose 31,617 career points rank fourth on the NBA all-time list, dismissed those who say the Lakers overspent on Bryant and will be hurt in bidding for free agents in 2014.
"I don't think they understand the cap, and what the Lakers are trying to do, better than the Lakers did," Bryant said. "I think we'll be fine."
Bryant has dubbed himself "a Laker for life" and said that after an unprecedented 20 NBA seasons with the same club he would likely call it quits — "probably. That's a long time."
Former Lakers owner Jerry Buss said Bryant was worth $60 million to $70 million a season for the team and thus his latest deal might well have been a nod to his past achievements as well as what might be yet to come.
"They stepped up to the plate and took care of me," Bryant said. "Some of it is from things I had previously done. Some of it was a business decision. Some of it was for what they expect from me when I return."
Bryant said the new contract gave him "some additional motivation — I've got to prove to myself I can do this thing, and to everybody else as well.
"To see what I have left, the drive and competitiveness, to see if I'm still one of the top players in the league, to see if I have any gas in the tank — that's a challenge I readily accept."
AFP Photo/ Rob Carr