Kris Kobach Stuns Kansas Parade Viewers With Machine-Gun Float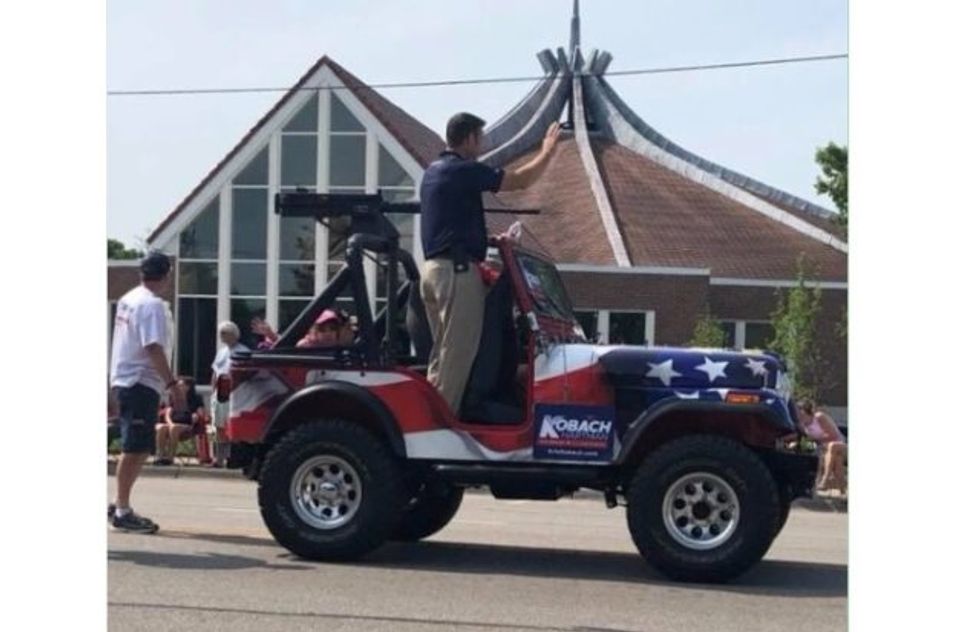 Reprinted with permission from Shareblue.com
Most people wouldn't consider using a .50 caliber machine gun to adorn a parade float. But most people are not Kansas Republican Secretary of State Kris Kobach, who apparently thought it was a great idea.
The city of Shawnee didn't agree, though, issuing a written apology on social media for the shocking scene.
"In no way does this or any parade entry or float directly reflect the views and values of the City, the Old Shawnee Days Board or the Old Shawnee Days Society," the post read.
Kobach, who is running for governor, was riding in the parade on a Jeep painted with an American flag. And mounted on the vehicle next to the grinning and waving Kobach was "what appeared to be a .50 caliber machine gun."
This was the scene from this morning during the Old Settler's Day parade Sec of State/Gubernatorial candidate #KrisKobach was in the parade in a souped up Jeep with a replica gun
On a day when thousands are dressed in orange to plea for an end to gun violence #ksleg@CJOnlinepic.twitter.com/SxdIId8nXF

— MichaelLoBurgio (@MikeLoBurgio) June 2, 2018
His spokesperson Danedri Herbert told the Kansas City Star that the gun was "a replica." But that was hardly the only concern among the people along the parade route.
"It was pretty shocking," said Pastor Johnny Lewis of Shawnee Community Christian Church. He added that there were "audible gasps" from the crowd.
And Jo Ella Hoye, leader of the Kansas chapter of gun safety organization Moms Demand Action, noted that "some people might have been afraid to see" the weapon.
And Kobach's move was especially crass, given that the parade came the day after National Gun Violence Awareness Day. The whole weekend is in fact Wear Orange weekend, during which thousands across the nation were trying to raise awareness of the need for common sense gun safety reforms.
Yet Kobach deemed it the appropriate time to honor firearms rather than victims of gun violence. His spokesperson even trotted out the tired NRA cliché in response to criticism.
"We need to stand up for our Second Amendment rights and recognize the only thing that stops a bad guy with a gun is a good guy with a gun," she said.
Of course, since Kobach's gun was a replica, it wasn't there to stop any potential "bad guys."
And it's sadly in character for him to pull such a stunt. Kobach is happily under the NRA's thumb. And during the National School Walkout, in which thousands of teenagers walked out of class to demand action on gun violence, Kobach had nothing but snide criticism for them.
When students from Topeka High School headed to the state Capitol, they were greeted by Kobach and a crowd of armed protesters. And while the young people spoke and chanted for their rights and their lives, Kobach took to the microphone to attack them.
"I have an idea. Instead of walking out of class, why don't you stay in class and spend that half hour studying the history of the Second Amendment?" he sneered.
Kobach may have thought the parade would be a nice break from getting humiliated by judges over his "voter fraud" crusade and being forced to shell out to cover the ACLU's legal fees.
But by toting along a massive firearm — even a "replica" — during what ought to have been a family-friendly parade, Kris Kobach showed the people of Shawnee exactly who he is: An NRA stooge who cares more about making a scene than about making life better for the people he claims to want as his constituents.