At An L.A. Bakery, Joe Biden Makes His Pitch For The Middle Class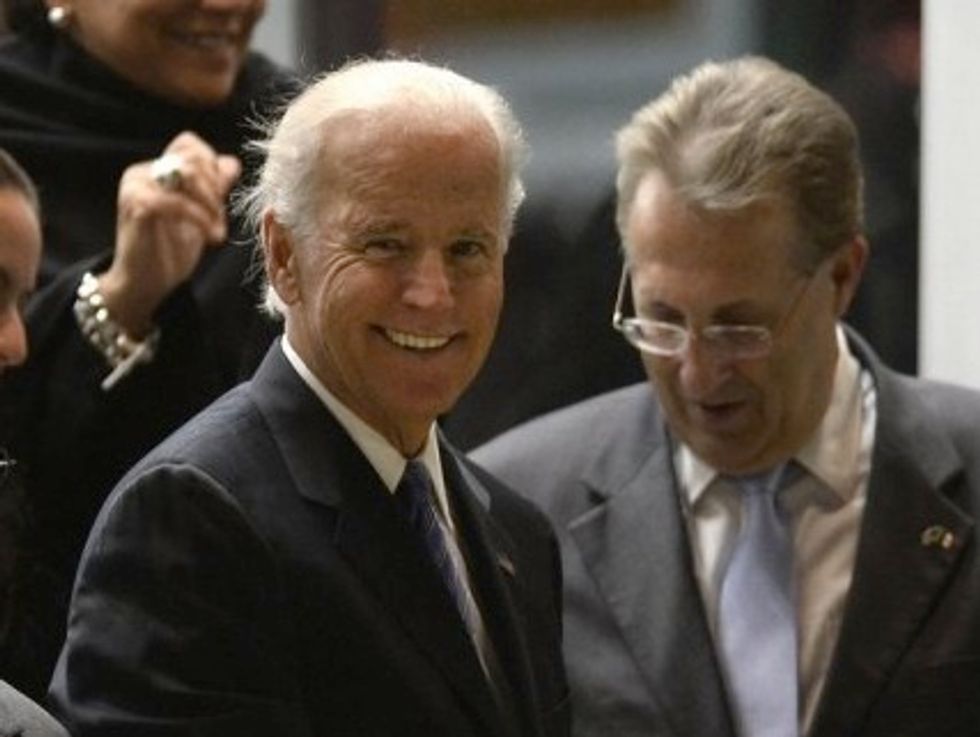 By Cathleen Decker, Los Angeles Times
LOS ANGELES — If there is a common theme for Democrats these days — particularly those with upward ambitions — it is a familiar one: the salvaging of the middle class.
Hillary Rodham Clinton, the far-and-away front-runner for the Democratic nomination at this early stage of the 2016 race, comes at it from the vantage of boosting the fortunes of women, underscoring her own potential reach for history. Elizabeth Warren, the Massachusetts senator who says she is not running even as liberal hearts ping for her, has made her entree a denunciation of Wall Street's excesses.
Even Maryland's data-driven governor, Martin O'Malley, weaves the plight of the struggling middle class into his long-shot, if unofficial, run.
But the emotive Joe Biden brings to it the full Scranton, brushing aside the decades to recall the kid born into scruffy circumstances in the coal turf of Pennsylvania, the one whose father sold used cars to customers whose hold on the mobility ladder was just as tenuous as his own.
"My dad used to say: A job is about a lot more than a paycheck," Biden said Tuesday, to nods from a gaggle of small-business owners and local officials gathered at a Los Angeles bakery. "It's about your dignity. It's about your pride. It's about your sense of who you are."
There are many reasons why Joe Biden will probably never reach the White House despite his multiple tries. He's spent much of the last week on an apology tour, having offended various U.S. allies with statements critical of their handling of terrorist threats abroad. (Not that those were his first gaffes.)
He's 71 years old now, and will be 74 shortly after the 2016 general election. He's saddled with the presently negative image of the Obama administration. And then there's Clinton, already the dominant force in the 2016 sweepstakes even though her last campaign, in 2008, didn't cover her in glory. (Then again, she did place better than Biden.)
But if luck and circumstance were to turn his way, the pitch he would make was the one heard on his two-day swing through California.
Most of the local journey was conducted behind closed doors, in fundraisers benefiting the Democratic Congressional Campaign Committee and two California candidates, Central Valley congressional hopeful Amanda Renteria and California secretary of state nominee Alex Padilla.
But then there was the gathering with the business owners in Lincoln Heights. Biden's stated goal was to push for a hike in the minimum wage, as President Obama has sought nationally and Mayor Eric Garcetti, who appeared with Biden on Tuesday, is seeking locally.
Typically, discussion of a wage increase centers on how it would benefit the poorest workers. Biden laid out that case but extended it to argue that wages across the spectrum would rise as a result, in what he termed a "virtuous cycle" boosting the middle class.
"Although in a macroeconomic sense the economy is roaring — everything is going great — the truth of the matter is a lot of folks are hurting," he said. "A lot of middle-class folks are in this stagnant position and it kind of puts a lid on" growth.
It is a touchy admission to make, particularly when your administration has been in charge for nearly six years. But Biden plowed ahead and revived the Bill Clinton-era argument that people who had "worked hard and played by the rules" had been forsaken.
"There used to be a bargain and the bargain was that … if you contributed to the productivity of the operation you worked for, you got to share the benefits," Biden said. "That was the bargain. Democrats and Republicans agreed on that, and for the last 60 years that's what's grown the middle class. That bargain is not being kept anymore. That bargain's not being kept.
"People are being left behind, and we've got to go back and we've got to restore the middle class…. It all starts with putting the minimum wage back."
The vice presidency can be a cruel job, so close to power yet seeming so dispensable much of the time. It may be particularly cruel to Biden, who after playing Robin to Obama's Batman now has to watch as Democrats demand another superhero to save the day in 2016, perhaps in the form of Hillary Clinton.
But just in case things don't turn out that way, there was Biden on Tuesday, talking empathetically into the TV cameras.
Garcetti lauded him as a "truly great American" and a "fighter for the middle class." He did it in English, and then again for Spanish-language audiences. And all the while Biden beamed.
AFP Photo/Alfredo Estrella
Want more political news and analysis? Sign up for our daily email newsletter!