Would An L.A. Minimum Wage Hike Push Businesses To Nearby Cities?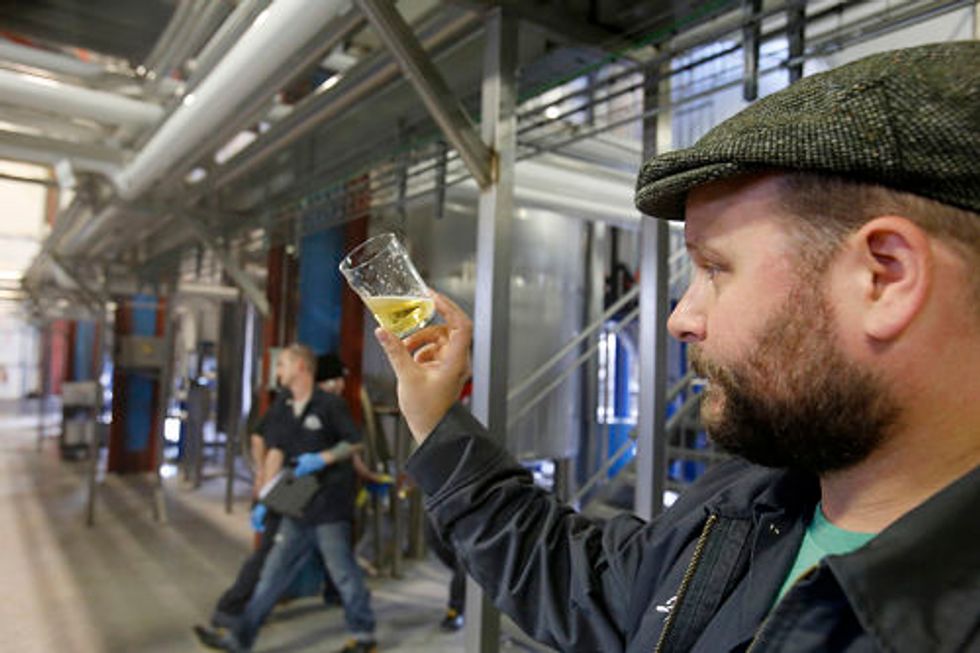 By Chris Kirkham and Tiffany Hsu, Los Angeles Times (TNS)
LOS ANGELES — In less than four years, Tony Yanow has boosted Golden Road Brewing's production nearly sixfold, making beers from the Atwater Village brewery a mainstay in supermarkets across California.
He employs 300 workers in Los Angeles at the brewery and his Mohawk Bend restaurant. As part of a planned expansion, he expects to hire at least 100 more — but most of them may not be in the city.
As lawmakers consider potential minimum wage increases to as high as $15.25 an hour by 2019, Yanow is planning to expand into Orange County and is considering a new project in Glendale.
"I love LA, but that doesn't mean it's my best bet," he said. "Do you want to go somewhere where you can make money, or do you want to go somewhere where they're stacking the cards against you?"
Los Angeles' minimum wage would apply only within city limits. So the city's unique geography — stretching from the northern reaches of the San Fernando Valley down to the port in San Pedro — provides plenty of options for business owners looking to avoid higher labor costs.
Dozens of municipalities directly border the city, but only two — Santa Monica and West Hollywood — are pondering raising their minimum wages.
Business owners also worry about losing customers if they raise prices to cover higher costs. Why not just buy that cheaper car wash, hamburger or piece of clothing in a neighboring city? While minimum wage advocates argue that higher pay for workers would translate into more spending, opponents worry the economic boost would migrate across the LA border.
Neighboring cities such as Burbank have a history of making aggressive plays to attract new businesses.
"There's at least 40 jurisdictions that'll be happy to pick our pocket," said Ruben Gonzalez, senior vice president at the Los Angeles Area Chamber of Commerce. "Everywhere in the city, you can point to people who can move down the road and serve the same clientele."
Los Angeles' geography differs widely from that of other cities that have passed minimum wage increases, such as Seattle and San Francisco, which have more contiguous borders and compact city centers. That means there has been little if any research that would apply to the wage hike being considered in Los Angeles.
"We really don't know what we're dealing with," said Christopher Thornberg, an expert on the California economy who is the founding partner of Beacon Economics. "This is a very aggressive hike they're talking about, in the context of a very convoluted geographic area."
Other economists argue that little evidence suggests that LA will see any large-scale exodus of businesses. Los Angeles Mayor Eric Garcetti has cited academic work showing minimal economic disruption in nearby counties with differing minimum wages.
"I understand the feeling," he said in an interview, "but on balance, it actually creates much more business activity."
Garcetti said he believes neighboring municipalities would follow Los Angeles' lead. Their leaders wouldn't want their cities to become "poverty pockets," he said.
"Are people going to want to set up, live or be in places where there's a lower income? I don't think that they will," he said. "They're going to wait and see. And I think once we do it, they'll say, 'Oh, OK, the sky didn't fall.'"
Chris Tilly, director of the University of California, Los Angeles Institute for Research on Labor and Employment, acknowledged that any citywide push remains "an experiment." But he argued that the overall benefits would outweigh any displacement.
Any hit the city takes from businesses locating elsewhere probably would be offset by growth in higher-paying jobs and increased spending, Tilly said.
Whether existing companies leave depends on the reasons for locating in Los Angeles in the first place — such as proximity to ports and other infrastructure, economists said.
High-end hotels and restaurants, which are among the top minimum wage employers, tend to serve a clientele that congregates in urban areas, said Alan Berube, deputy director of the Metropolitan Policy Program at the Brookings Institution.
But the city could well lose jobs that are less tied to their location, such as entry-level posts in marketing, design or human resources.
Matt Lynch doesn't have a lot of wiggle room when it comes to wages.
He's president of Build Rehabilitation Industries, a nonprofit based in San Fernando Valley's Sylmar neighborhood that works with mentally disabled workers, giving them job training and an income performing low-skilled work.
He has to compete with other firms by offering companies the best price to perform certain jobs, such as packaging candy or boxing screws and washers.
If the minimum wage is raised in Los Angeles, he could lose out to companies in Burbank and Santa Clarita that have lower wages, he said.
"This just makes us totally uncompetitive with any organization that does something similar," said Lynch, who said his workers make an average of $10 an hour.
Jennifer Freund faces a similar problem. She's president of Corporate Impressions LA, a printing and packaging company in North Hollywood that produces books, jackets for vinyl records and customized retail packaging.
She's operated throughout the San Fernando Valley since 1982, but she isn't sure how she can swallow a 40 percent increase in labor costs for nearly half of her 30 employees. Moving outside the city would be expensive, she acknowledged, but she believes the long-term benefits could be worth it.
"If it's going to cost me that much more in labor, it becomes a very easy business decision," she said.
Yanow, of Golden Road Brewing, said he is "beyond sympathetic" to the plight of low-wage workers. But he thinks raising the minimum wage on a citywide basis isn't helpful to them. They'll pay higher prices and struggle more to find work.
And his business couldn't stay competitive.
"I'm not going to be able to sell beer made in LA to Angelenos for a price that will compete with beer made in other places," he said. "How is that fair to me as an Angeleno?"
Golden Road and Mohawk Bend are staying put in Los Angeles, and Yanow is developing another project in the city. But he had been planning a separate mixed-use site with a restaurant, brewery and space for other tenants in a 40,000-square-foot building near the brewery in Atwater Village. Already frustrated with city permitting, Yanow began rethinking the venture in September, when Garcetti announced his wage proposal.
Officials in Glendale, meanwhile, have been courting Yanow to expand there, sending gift baskets and offering a "concierge service" to help navigate municipal hurdles. He's considering taking the bait.
He expects to set up another, larger brewery project in Orange County.
"I don't have much of a choice, do I?" he asked. "It's not because I'm being greedy. It's because I want my business to survive."
Photo: John Dunne checks a lager for clarity and carbonation at Golden Road Brewing, which would be hit with higher labor costs if Los Angeles were to raise its minimum wage, on December 12, 2014. (Gary Friedman/Los Angeles Times/TNS)