LA Fans Celebrate Kings' Stanley Cup Crown
@AFP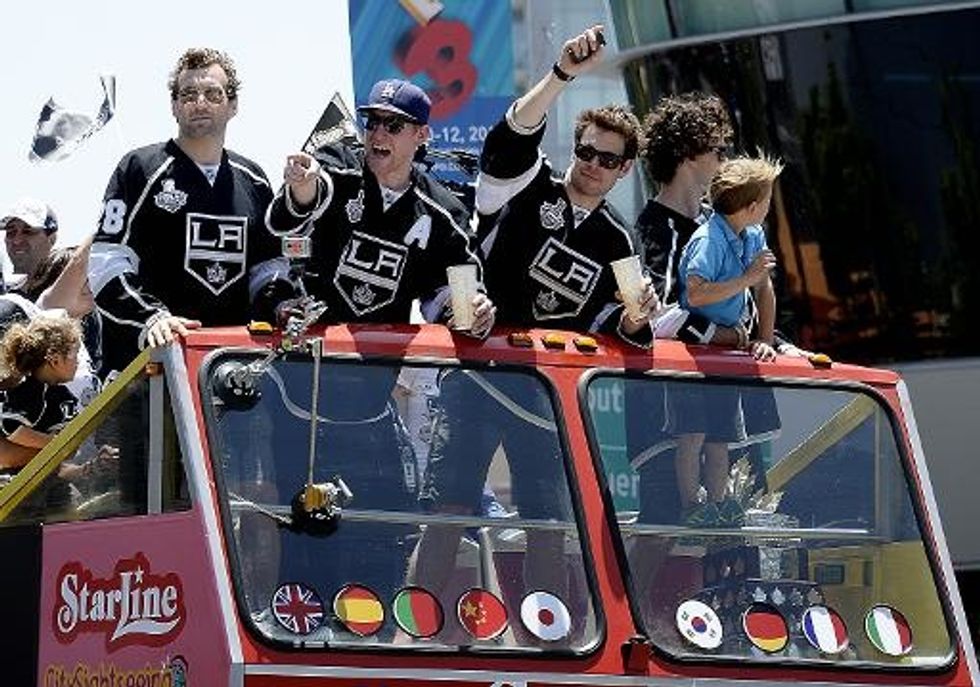 Los Angeles (AFP) – Thousands of Kings fans turned out in downtown Los Angeles on Monday to celebrate the team's Stanley Cup triumph, the Kings' second NHL title in three years.
The Kings wrapped up the title on their home ice on Friday with a double-overtime victory over the New York Rangers that gave them a four-games-to-one win in the best-of-seven championship series.
On Monday, players and their families along with coaches and staff celebrated aboard double-decker buses and flat-bed trucks in a parade that ended in front of their Staples Center arena.
The Stanley Cup itself came along for the ride, and as the participants pulled within sight of the arena, confetti rained down and the team and fans moved inside for a celebratory rally.
"It's hard to kind of explain what we go through as players," Kings captain Dustin Brown told the crowd, trying to put into words how the team felt about a triumph that came after they fought back from the brink of elimination in earlier playoff rounds.
The Kings became the fourth team in NHL history to overcome a 3-0 deficit to win a playoff series and went on to become the first team in league history to reach the Stanley Cup finals with game-seven victories on the road.
They sealed the unlikely title on Alec Martinez's goal late in the second overtime of Friday's game five against the Rangers.
"I think when we look back on this team in 10 or 20, or 30 years, everyone, even from a fan's perspective, they're going to talk about how we came back from 3-nothing, how we came back from 3-2, how we had all these comebacks throughout.
"All those things are possible because of the relationships we have bonded together," Brown said. "I just want to say to all my teammates: 'I love all you guys.'"
Photo: Kevork Djansezian via AFP