Landscape Shifts: Democrats Could Take Control Of Senate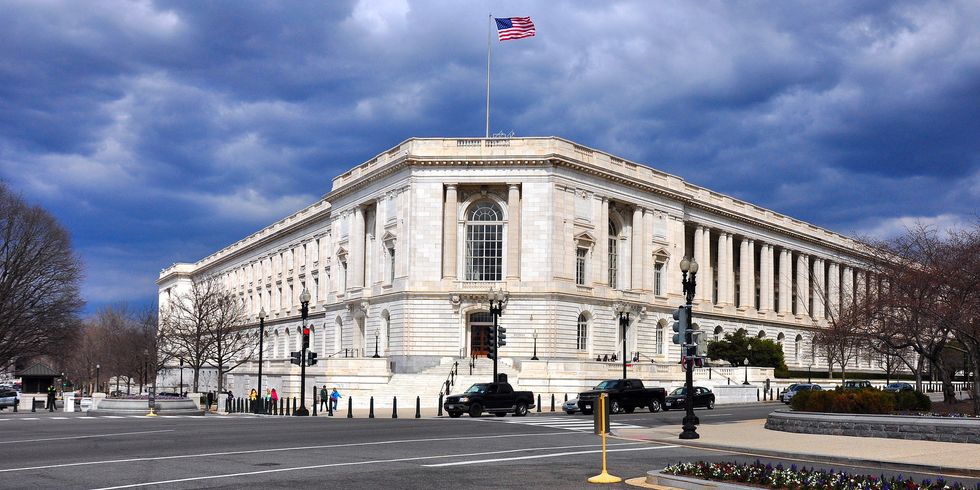 By David Lightman, McClatchy Washington Bureau (TNS)
WASHINGTON — There's another pivotal election next year besides the White House. The Senate is up for grabs, and the landscape a year out suggests the Democrats could win control away from the Republicans.
The party needs a net gain of four seats to gain control if a Democrat wins the White House, five if a Republican wins. Those are better odds than gaining a majority in the House of Representatives, which is expected to remain under Republican control, and winning the presidency, which right now is impossible to predict.
But the Senate has a special allure. Republicans have to defend 24 Senate seats next year, offices they won in 2010, when so much went right for them. Democrats only have to retain 10, and virtually all seem sure bets.
Not on the Republican side. The party swept to big 2010 victories as the tea party movement mobilized grass-roots conservative voters. Republican fury over Obamacare, which had become law eight months before the election, was peaking. The economy was officially coming out of the Great Recession, but barely.
Now Democrats could get even.
Seven Republican-held seats will be contested next year in states President Barack Obama won in 2012; all but Iowa have potential to be Democratic gains. The party's also due for a boost because Democratic voters tend to turn out in bigger numbers in presidential years.
"Coattails will be a gigantic factor," said Geoffrey Skelley, associate editor at Sabato's Crystal Ball, a respected Virginia-based political analysis group. If the Democratic presidential nominee wins by more than 5 percentage points in a particular state, that usually sweeps others into office.
The only Democratic-held seat in jeopardy is Nevada, where Minority Leader Harry Reid is retiring.
States Obama carried where Republican incumbents face challenges are Florida, Wisconsin, Illinois, Ohio, New Hampshire and Pennsylvania. Democrats have a unifying theme. Obama also carried Iowa, but Republican Sen. Charles Grassley is a strong favorite to win re-election.
"All you've got to do is look how they (Republicans) fouled this whole government system up and how they take responsibility for nothing that they do," said Sen. Jon Tester, D-Mont., chairman of the Democratic Senatorial Campaign Committee, the campaign operation for Democratic Senate candidates.
Bring it on, counter Republicans.
"We can't predict the future, but at this point last cycle a lot of folks were only talking about gasoline prices. On Election Day, the conversation was entirely different," said Kevin McLaughlin, deputy executive director of the National Republican Senatorial Committee.
"Democrats have a record of terrible leadership that has made the economy and national security the top two issues with voters. We'll take that," he said.
Key battlegrounds:
WISCONSIN
Sen. Ron Johnson, Republican
Johnson upset veteran incumbent Russ Feingold in 2010, and they're due for a rematch next year. Johnson, a political unknown at the time, "hit the race at just the right moment," said Charles Franklin, director of the Marquette Law School poll.
"He was a guy who had never run for office who cared about the deficit and was against Obamacare," Franklin said. The state's electorate is highly polarized, but turnout usually jumps sharply during presidential years.
PENNSYLVANIA
Sen. Pat Toomey, Republican
Toomey had a well-developed reputation in the House as a hard-liner against wasteful spending before his election to the Senate. And he's been a reliable conservative vote in the Senate.
That might be a problem in Pennsylvania, which has voted Democrat for president every election since 1992. But recent polls have shown Toomey comfortably ahead of potential Democratic challengers.
"Toomey's going to be tougher to beat that people think," said Terry Madonna, director of the Franklin and Marshall College Poll. "He's conservative but not hot-blooded or provocative." And he has been pushing stronger background checks for gun purchasers.
ILLINOIS
Sen. Mark Kirk, Republican
Democratic presidential candidates have rolled up double-digit victories in Illinois every four years beginning in 1992. Every Illinois Democrat who's run for Senate in one of those years won. The likely nominee is Rep. Tammy Duckworth, an Iraq War veteran and a savvy campaigner.
Kirk was first elected to the Senate in the tea party year — winning the seat Obama had held — but is regarded as more of a center-right senator. Kirk was one of the first Republican senators to back same-sex marriage and has been an advocate for strong gun control measures.
NEW HAMPSHIRE
Sen. Kelly Ayotte, Republican
The race between Ayotte and Gov. Maggie Hassan, a Democrat, is likely to come down to who voters like best. People get to know the candidates well, and thanks to New Hampshire's status as the first presidential primary state, voters are tuning in early and campaigning already is fiercely under way.
It's a tough race to call. Both candidates are personable and neither is seen as extreme. Ayotte got 60 percent of the 2010 vote. Hassan won a tough race in a tough year in 2014 by 6 percentage points. Polls show the race is a virtual tie.
FLORIDA
Open Republican seat
Sen. Mario Rubio is running for president, leaving the nation's premier swing state with a wide-open race. Democratic regulars are pushing Rep. Patrick Murphy, but outspoken Rep. Alan Grayson is challenging him. Among Republicans, candidates include businessman Todd Wilcox, Reps. Ron DeSantis and David Jolly and Lt. Gov. Carlos Lopez-Cantera.
Thanks to the anticipated big presidential turnout, "Democrats have a better chance of taking back some of the statewide offices," said Lance deHaven-Smith, a professor of public administration and policy at Florida State University. Florida's such an ever-changing, diverse state, its Senate races are historically hard to predict.
OHIO
Sen. Rob Portman, Republican
The genial Portman has long been a stalwart of the party establishment, which maintains considerable clout in Ohio. He has maintained a center-right image but could face stiff competition if former Gov. Ted Strickland is the Democratic nominee. A Sept. 25-Oct. 5 Quinnipiac poll had Strickland up by 3 percentage points.
Presidential coattails will matter here, but just how is uncertain. Gov. John Kasich, a Republican, is making a bid for the White House, and his presence on the ticket could swing the race toward Portman. Portman also could do well because "he's not rough around the edges. He's a low-key guy," said Stuart Rothenberg, a political analyst who follows Senate races.
NEVADA
Open Democratic seat
Reid had to fight hard to retain his seat in 2010 and got a break when Sharron Angle, boasting "I am the tea party," won a bitterly contested Republican primary and was a weak general election opponent. The GOP is expected to go more mainstream this time, with Rep. Joe Heck the favorite to become the nominee.
Democrats are buoyed by the prospect of former state Attorney General Catherine Cortez Masto as their nominee. If elected, she'd be the first Latina U.S. senator, a prospect that could spur a big turnout from the increasingly influential Hispanic community.
©2015 McClatchy Washington Bureau. Distributed by Tribune Content Agency, LLC.
Photo: US Senate Building, Larry Lamsa via Flickr