In Landslide 61 Percent To 39 Percent Vote, Greece Says 'No' To Bailout Deal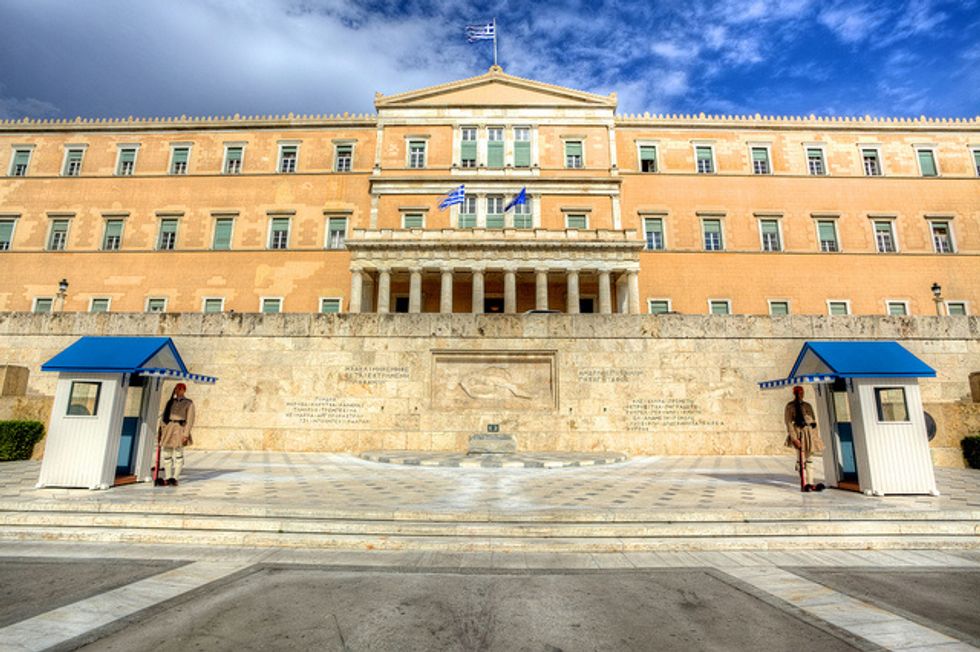 By Henry Chu, Los Angeles Times (TNS)
ATHENS, Greece — The resounding rejection of an international bailout deal by voters in Greece raised fears Sunday of the collapse of the country's banking system, a catastrophic government default, an eventual exit from the euro and potential social unrest.
In a surprising 61 percent to 39 percent result, Greeks said "no" in a referendum on a rescue package that would have kept their debt-ridden country afloat but subjected it to additional austerity measures.
The landslide delivered a sharp rebuke to European Union leaders who had warned that the plebiscite was, in effect, a vote on whether Greece wanted to remain a member of the eurozone, the group of 19 nations with the euro as their common currency.
The EU is now confronted with one of the gravest challenges to its mission of "ever closer union" between member states.
Jubilant crowds of "no" voters thronged Athens' main square into the early hours of Monday to celebrate what they said was a chance for Greece to reassert itself and achieve a better deal from creditors. Motorists honked their horns, and triumphant chants of "Oxi! Oxi! Oxi!" — "No! No! No!" in Greek — rose in the balmy Mediterranean air.
But there were already signs of a backlash from angry European officials that could make any new bailout agreement even more difficult. If a deal is not struck quickly, Athens could find itself broke, forcing it to default on its debts and triggering a slide out of the Eurozone.
The left-wing government of Prime Minister Alexis Tsipras, which campaigned for a "no" victory, had "demolished the last bridge on which Europe and Greece could approach a compromise," Sigmar Gabriel, the German economy minister, told the Tagesspiegel newspaper.
Jeroen Dijsselbloem, the leader of the eurozone's finance ministers, described the poll result as "very regrettable for the future of Greece. For recovery of the Greek economy, difficult measures and reforms are inevitable."
An emergency summit of eurozone leaders is to be held Tuesday.
More urgently, officials at the European Central Bank are to meet Monday to review the emergency aid that has propped up Greece's nearly depleted financial system for the last few months.
If the ECB decides to cut off that lifeline or make it costlier, Greek banks are likely to run out of cash within days. Business would grind to a halt, shops could run short of basic supplies and increasingly agitated residents could find it hard to buy fuel and medicine.
Greek banks have been closed since June 29 on order of the government, and customers limited to 60 euros (about $67) a day in ATM withdrawals. Officials insist that the banks will reopen Tuesday, but analysts doubt this can happen unless the ECB maintains or increases its assistance.
"Our immediate priority is the rapid restoration of the functioning of our banking system and the restoration of our economic stability," Tsipras said in a nationally televised address Sunday night. "I am certain that the ECB fully understands not only the general economic situation but also the humanitarian dimension which the crisis has taken in the country."
Tsipras also said the referendum result had given him a mandate to press international lenders — mostly other eurozone countries — for a "sustainable" bailout package for the Greek government that would address its staggering debt load and free the country "from the vicious cycle of austerity."
The Greek economy has contracted by a breathtaking 25 percent since Athens began accepting emergency loans in exchange for brutal spending cuts in 2010. Tsipras' radical-left Syriza party swept to power in January on an aggressive anti-austerity platform, setting up the current standoff with Greece's creditors.
Tsipras said Athens was prepared to return to the negotiating table immediately. But with relations at an all-time low, it was unclear whether any of Greece's European partners would show up and, even if so, whether an agreement could be hashed out before the Greek government runs out of money.
A major debt to the ECB falls due July 20. If Athens fails to pay — as it already did with a loan from the International Monetary Fund last week — and bank coffers are empty, Greece could be forced to introduce a parallel currency and eventually quit the eurozone.
Financial analysts say this is not a threat in the next few days, but warn that the probability of a "Grexit" down the line has increased dramatically because of Sunday's vote.
Before the ballots were cast, a parade of European leaders, including German Chancellor Angela Merkel and French President Francois Hollande, said they would interpret a win for the "no" side as an expression of Greece's desire to quit using the euro.
But Tsipras insisted that the vote "did not answer the question 'in or out of the euro.' That question must be removed definitively from the discussion."
Polls consistently show that an overwhelming majority of Greeks want their country to remain in the eurozone and, by extension, the 28-nation European Union.
Merkel and other European leaders must now ponder whether to let Greece go bust and drop out of the eurozone or whether such a course would inflict irreparable damage to the credibility of the euro and to the project of greater European unity. The Greek debt crisis is the severest test the euro has faced since it was introduced more than a decade ago.
To try to entice his eurozone partners back to the bargaining table, Tsipras is apparently considering shuffling his negotiating team to include a broader spectrum of members. Several European officials have said openly that they no longer trust Tsipras or his Syriza party; a Greek delegation with some members drawn from other parties could be more palatable.
"That will show that Greece does not want a conflict," said political commentator George Papageorgiou. "If there is a consensual approach from the Greek part, that could facilitate a consensual approach from the other part."
Dijsselbloem, the eurozone finance ministers' chief, said the first move was Athens'. "We will now wait for the initiatives of the Greek authorities," he said.
The size of the victory for the "no" campaign came as a surprise both inside and outside Greece after a flurry of opinion polls showed voters to be split down the middle. Bitter disagreement over the significance and possible impact of the plebiscite cleaved living rooms and workplaces across the country.
Just over 62 percent of the country's 9.9 million voters cast a ballot, easily surpassing the mandatory threshold of 40 percent for a referendum to be considered valid.
Surveys suggested that young people voted "no" in droves. Many agreed with Tsipras' contention that the bailout proposals on offer from Greece's lenders demanded too much austerity on top of years of brutal spending cuts and would hit the poor and elderly disproportionately hard.
"These measures would worsen the situation," said teacher Paula Andriotaki, 33, after casting her vote in a local school on a bright and warm afternoon. "We try to see light, but we get worse and worse."
"Yes" supporters had urged Greeks to join them in order to guarantee Athens' continued place in the eurozone. They said that membership in the wider European Union could also be at risk and that Greece could not afford to be isolated.
A 40-year-old man named Giorgos, who declined to give his surname, blamed Tsipras for passing the buck.
"I would have preferred the referendum not to have happened," he said. "I believe it is a political alibi. We are being asked to take a decision that should have been taken by someone else."
The ballot paper was the subject of some criticism, because the question it asked was wordy and couched in jargon and the check box for "no" was above that for "yes."
Moreover, the bailout deal referred to was technically moot. The offer from Greece's creditors expired Tuesday night, after talks with Athens collapsed over Tsipras' surprise decision to call a referendum. Creditors say that negotiations on a new agreement must start from scratch.
Because of the convoluted ballot question, and the conflicting claims of whether the real issue at stake was the future of Greece as a member of the Eurozone, many Greeks complained of confusion over just what was being asked of them.
"I don't know what result I would like to see," said a 19-year-old voter named Dimitris, who was still undecided as he prepared to enter a voting booth. "It would be a disaster to leave the euro, but it would also be disastrous to accept more austerity measures. 'Yes' is a bad choice, but 'no' is also suicidal."
Sunday's referendum was Greece's first in 41 years. In 1974, Greeks were asked to decide whether their country should retain its monarchy.
The answer then: also a resounding "no."
(Special correspondent Pavlos Zafiropoulos contributed to this report.)
(c)2015 Los Angeles Times. Distributed by Tribune Content Agency, LLC.
Photo: TheLastMinute via Flickr