Lane Closures Were 'Idiotic,' Christie Spokesman Testifies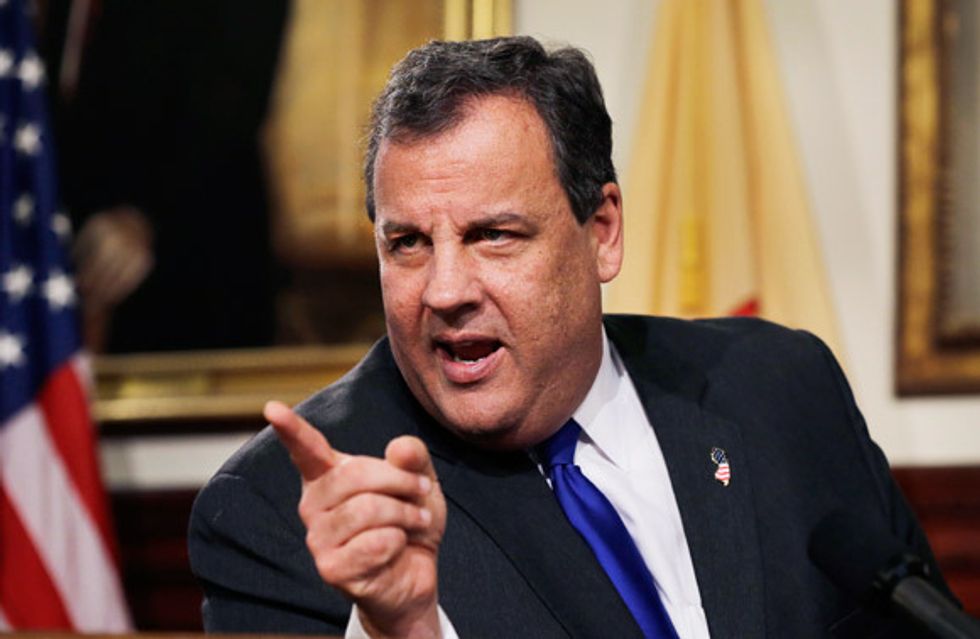 By Shawn Boburg and Melissa Hayes, The Record (Hackensack, N.J.)
TRENTON, N.J. — The Christie administration was slow to acknowledge the true motive behind the lane closures at the George Washington Bridge because of a betrayal by a Port Authority executive who repeatedly claimed that a legitimate traffic study was the reason Fort Lee was gridlocked for five days last September, according to testimony given by New Jersey Gov. Chris Christie's spokesman on Tuesday.
Michael Drewniak, who testified for seven hours on Tuesday before a legislative committee probing the closures, also said that he informed a senior official in Christie's office in late October of allegations that a deputy chief of staff in the governor's office and Christie's campaign manager had prior knowledge of the lane closures. Drewniak brought those allegations — made by the same Port Authority executive, David Wildstein — to the governor again in early December after a one-on-one dinner meeting during which Wildstein also claimed that he had told the governor about the lane closures as they were happening in September.
About a week later, on Dec. 13, Christie said publicly that his senior staff had assured him that they had no knowledge of the lane closures.
Drewniak's account, described in detail, provided fodder for a grueling full-day hearing in Trenton during which Democrats pushed him on how the administration missed several warning signs. Drewniak, in turn, portrayed the lane closures as an "idiotic" and misguided idea that was convincingly justified for months by Wildstein, his onetime friend, and former Port Authority Deputy Executive Director Bill Baroni.
Drewniak, who is known for his combative style, was exceedingly polite on Tuesday, addressing committee members as "sir" and "ma'am." And although Drewniak's testimony was colorful, it echoed statements already provided in a report on the lane closures commissioned by Christie that concluded the governor had no involvement. That report said there was an ulterior motive behind the lane closures, but did not identify what that motive was. The governor has said that the closures appeared to be politically motivated.
Republicans claimed that very little significant new information was provided during Drewniak's testimony.
Drewniak is the second member of Christie's administration to testify under oath before the legislative panel as a concurrent investigation is being conducted by the U.S. Attorney's Office in Newark. Drewniak has acknowledged appearing before a grand jury.
On Tuesday, Drewniak defended the office's initial response to the lane closure controversy, described his growing concern after the Dec. 5 dinner meeting with Wildstein, and expressed confidence that the remaining members of Christie's office had no involvement.
"I can say with complete confidence and comfort that none of these people — starting with Governor Christie — had any involvement whatsoever in this reckless and perplexing episode," Drewniak said. He called the lane closure scandal "one of the strangest things I've ever witnessed," adding that the motive is still a mystery to him and asserting that he played no "knowing role in any actual or perceived 'coverup.' "
Wildstein, he said, acknowledged during the dinner at a steakhouse that the traffic study was his idea and insisted that it was legitimate. But Drewniak said his concern grew because Wildstein also appeared to be "offering up people" during the dinner meeting, mentioning that he had gotten approval from two Christie confidants and that he had mentioned the study to the governor.
Democratic lawmakers zeroed in on the administration's missed opportunities to look into the bridge allegations, building off Drewniak's testimony that he had conversations with top staff members in late October and raised concerns again after the Dec. 5 dinner meeting.
Drewniak said sometime between mid-October and mid-November, when he left on vacation, Wildstein told him that Christie's former campaign manager, Bill Stepien, and his deputy chief of staff, Bridget Anne Kelly, had knowledge of the lanes being closed as part of a purported traffic study.
Drewniak said he took that information to his boss, Maria Comella, a deputy chief of staff, who dismissed the matter as a Port Authority issue that was being hyped up for political reasons during the governor's re-election campaign. He also raised the issue with Charles McKenna, Christie's chief counsel, who told him he would look into it.
Drewniak raised the issue again in early December, the morning after his dinner with Wildstein. This time, Drewniak addressed it with Kevin O'Dowd, the governor's chief of staff, and Christie himself. Wildstein claimed at that dinner that in addition to Kelly and Stepien's having knowledge of the lane closures, he had told Christie about it during a 9/11 memorial event. Drewniak said Wildstein maintained that the lane closures were part of a traffic study, which was his idea.
Drewniak said Christie was "incredulous" and questioned how he would be expected to know what Wildstein was talking about if he mentioned a traffic study in passing at an event. But he also said Christie had concerns about Stepien.
"He said one thing to me," Drewniak said. "He said, 'I always wondered if Stepien knew more about this.' "
State Sen. Loretta Weinberg, a Teaneck Democrat and co-chairwomen of the legislative panel, said the administration went into "damage control mode" instead of working hard to find out what had happened.
"Why didn't somebody — the commissioner in the Port Authority, a chief counsel to the governor, the governor's press secretary, the governor's chief of staff — why didn't one of them actually find out and ask the questions, what happened here?" she said.
Drewniak described Wildstein as "someone I trusted, someone I considered a friend and someone who I knew worked very hard and long hours."
Drewniak spoke about the "personal betrayal" he felt when he learned of Wildstein's role in the lane closures.
"I now know how badly, regrettably, even naively, I misplaced that trust," he said.
Until The Record published Kelly's email, "Time for some traffic problems in Fort Lee," on Jan. 8, Drewniak assumed no one in the governor's office was involved in the lane closures because "there is no value in something this asinine."
Drewniak had been informed of a statement the Port Authority issued during the week of the lane closings, saying they were part of a traffic study — a claim that has since been discredited. He also was sent copies of emails about media inquiries to the Port Authority, and in other emails he used expletives to describe reporters who were looking into the lane closures, according to documents released by the legislative committee.
Drewniak's appearance before the committee comes a week after Christina Renna, a former supervisor in the governor's Office of Intergovernmental Affairs, responded to questions about her staff's involvement in securing Democratic endorsements for Christie's campaign. Renna worked for Kelly.
Christie and some Republican members of the committee said the hearing was not as productive as it was costly. A special counsel advising the committee is charging $350 an hour.
"We spent seven hours and another, I would say conservatively speaking, $15,000 to $16,000 to be told what we already knew, which is that David Wildstein was responsible for what happened and that it was his idea, which apparently he took pains to trumpet to people who he viewed as important," said Assemblywoman Amy Handlin, R-Monmouth. "We certainly learned nothing that is going to help us reform the Port Authority, absolutely nothing."
Christie, speaking during his monthly radio show on NJ 101.5, said he spent little time on Tuesday listening to Drewniak's testimony, but is confident nothing new emerged.
"Absolutely nothing new has come out of this," he said.
Photo: Peter Stevens via Flickr