WATCH: Larry Wilmore Kicks Off Last Week By Blasting 'Dangerous' Trump And 'Spokesgoblin' Pierson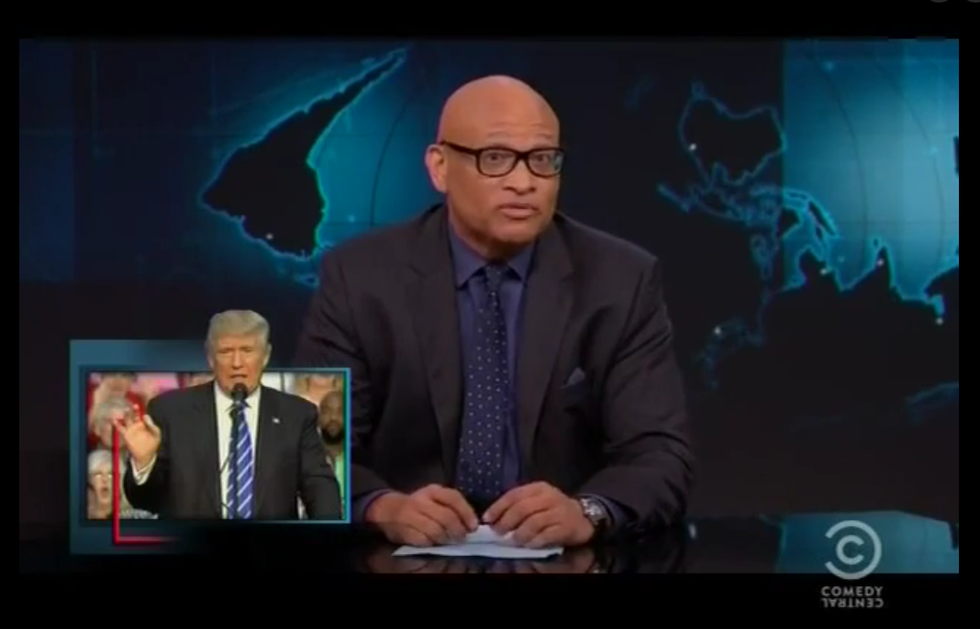 Larry Wilmore, heading into his last week on The Nightly Show, took the opportunity to engage in a no-holds-barred tongue lashing of GOP nominee Donald Trump and his team.
According to Wilmore, Trump "stopped being funny" a long time ago.
"He's stopped being outrageous," Wilmore continued. "He's stopped being politically incorrect. He's just downright dangerous."
Wilmore's show was cancelled by Comedy Central on Monday, and while he thanked the network, Wilmore said he regretted that he "won't be around to cover this truly insane election season."
Wilmore appears to be fitting as much election coverage in as possible, calling Hillary Clinton "a very smart and capable politician, who many people don't trust because she spends too much time lawyering her words so she doesn't lose votes instead of telling us what she actually f*cking thinks," but stated Trump wasn't even comparable and that he was, instead, "a psychopathic narcissist who not only has the hands of an infant, he has the mind of one."
Katrina Pierson, Trump's campaign spokesperson, didn't escape unscathed. Wilmore started by calling her a "spokesgoblin" — and went from there.
After playing footage of Pierson (incorrectly) calling President Obama the initiator of United States' military campaign in Afghanistan, Wilmore felt the need to correct her history: "There was a horrible hurricane — which, thanks to [Pierson], is no longer the first thing that comes up when you google the words 'Katrina' and 'Total f*cking sh*tshow.'"
Watch the entire clip, via Comedy Central, below:
Screenshot via Comedy Central