Las Vegas Rampage Leaves Five Dead, Including Two Officers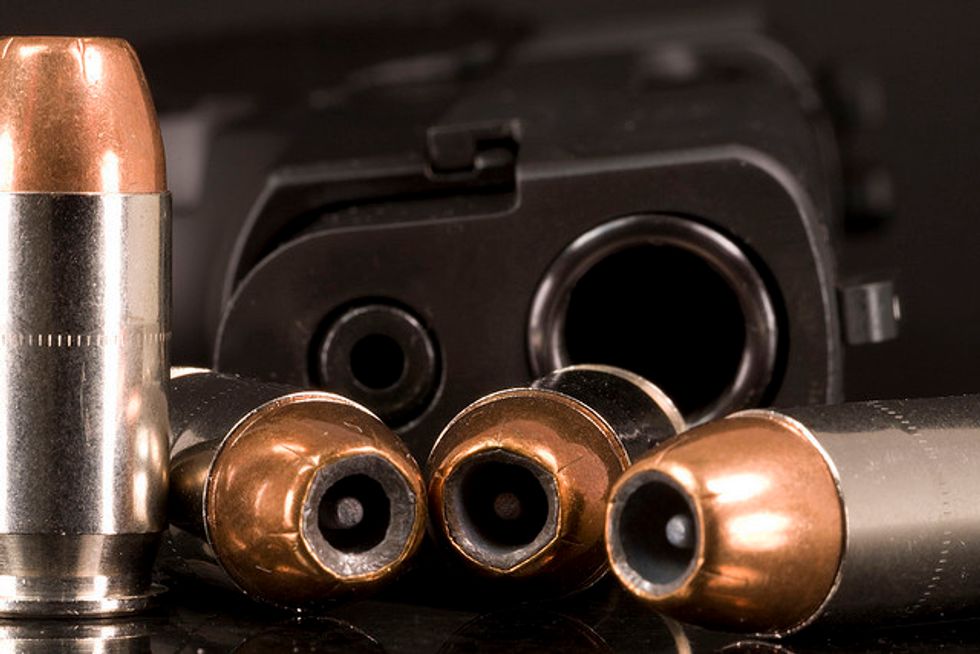 By John M. Glionna and Matt Pearce, Los Angeles Times
LAS VEGAS — Two killers — a man and a woman — walked into a pizzeria here at midday, launching a bloody Sunday rampage that eventually left five people dead, including two on-duty Metropolitan police officers ambushed as they were having lunch.
"The revolution is about to start," the killers shouted, after grabbing the officers' weapons and ammunition and storming into a nearby Wal-Mart. An unidentified woman was shot and killed just inside the entryway, police said. As frantic shoppers scrambled and fell to the floor while trying to reach the store's back exits, the pair stalked the aisles, exchanging fire with arriving officers.
And then, in a bizarre final chapter, the two staged a murder-suicide as waves of armed officers moved in: Authorities say the woman shot her male accomplice and then turned the gun on herself.
In a late-afternoon news conference, a devastated Clark County Sheriff Doug Gillespie, his voice breaking, told reporters that his investigators were baffled by the day's convulsion of violence. As they sought to identify the shooters, detectives had little idea why the pair had launched the attack, or whether they were part of an organized anti-government group.
"What precipitated this event? We do not know. Our officers were simply having lunch when this started," said Gillespie, who stood on a podium next to an easel holding pictures of the dead officers: 13-year department veteran Alyn Beck, 41, and Igor Soldo, 31, who had been with the agency since 2006. Both had worked the neighborhood on patrol.
"They are both family men," Gillespie added, "and they're leaving behind loved ones."
Beck leaves a wife and three children. Soldo and his wife had a baby. "They're devastated," Gillespie said of the families. "In a moment's notice they lost their loved ones."
Nevada Governor Brian Sandoval said in a statement that he was "devastated" by the "senseless violence." Las Vegas Mayor Carolyn Goodman, meanwhile, directed that flags at city buildings be flown at half-staff Monday to honor "three innocent people, two who dedicated their lives to protecting all of us in our community and one who was innocently going about her daily life," she said in a statement.
The ambush occurred on an oppressive day where temperatures hemorrhaged to 100 degrees by late morning. The shooters opened fire inside a CiCi's Pizza shop on North Nellis Boulevard, a few miles east of downtown. One of the officers returned fire but it wasn't clear whether the pair was hit, police said.
The shooters fled, making their way to the Wal-Mart just across the street.
Monse Galindo, 19, said she was near the registers when she saw a tall, thin, middle-aged man in military-style clothing with a small gun in his hand. "He came in, shouting, 'The revolution is about to start,' something about a war, and that the cops were on their way," she said.
Galindo hid behind a register as the man fired a shot. When he fired a second time, she fled out the front door.
Witnesses described the pandemonium as shoppers heard the gunfire. Many fought their instincts to bolt toward the front door, not knowing precisely where the shots were coming from.
Jesus Bustamante, 27, was at the Wal-Mart with his cousin, Emmanuel Flores, 26, to buy an Xbox when the shooting began. "Should we run?" Flores asked his cousin as the shots rang out. "Hell yes, we should run!" Bustamante replied.
The pair then joined other shoppers and Wal-Mart employees flooding out the back of the store. Children fell and mothers grabbed their arms and kept running. Flores said he helped break open an emergency door as the stampede moved into the sun and heat.
Outside, police swarmed the store. Bustamante saw one officer dump his motorcycle in his haste to get inside. Another bolted inside, then stormed back out, ordering everyone outside to get away from the building. "If you know the cops are scared, then you know it's dangerous," Bustamante said.
Inside the store, police exchanged fire with the two shooters. A short time later, the officers heard more gunshots — the woman had apparently turned the gun on her partner before shooting herself, Gillespie said.
For hours after the shooting, police cordoned off an entire city block outside the Wal-Mart as they corralled witnesses into a nearby clothing store to take statements.
Wal-Mart was working with police, said spokeswoman Brooke Buchanan in a statement.
A Facebook tribute page for Soldo included the post: "God bless you for everything you gave up to protect us and god bless your family. An amazing man and i am proud to say that i know you and had the honor of being your friend and co-worker. May your family find the strength to get through this terrible loss."
A Facebook page under the name of Alyn Beck featured a photo of him posing with a woman and two young children. The profile said he was from Green River, Wyoming, and attended the University of Wyoming from 1994 to 1998, where he studied international studies and economics.
A year ago, Beck's profile featured a black-banded Las Vegas police badge, a tribute for a friend killed in a fall during a helicopter rescue. After Beck's death Sunday, many of his Facebook friends adopted the same image in tribute to him and to Soldo.
For the time being, Gillespie said, officers will patrol in pairs for their safety. "It's a very difficult day, but we still have a community to police, we still have a community to protect," he said. "We'll be out there doing it with our heads held high, but an emptiness in our hearts."
Photo: KcdsTM via Flickr