On The Last Frontier, A Democrat Fights A Rising GOP Tide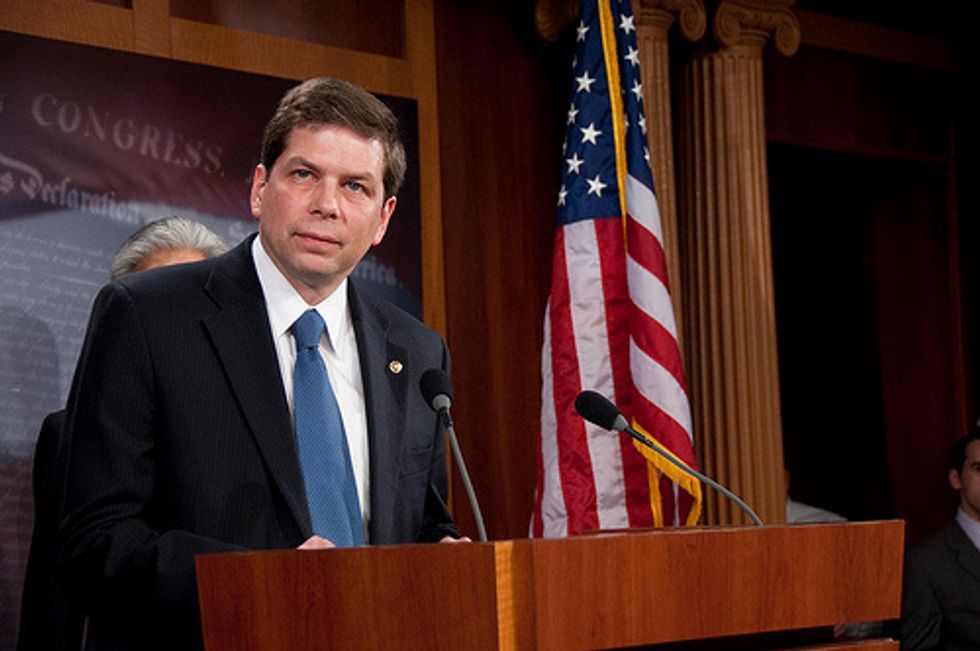 By Sean Cockerham, McClatchy Washington Bureau
ANCHORAGE, Alaska — Control of the U.S. Senate might be decided by a race in which the campaigns fight over snowmobiling skills and where an endorsement from the nominee of a secessionist party who went to federal prison for corruption could help to sway the outcome.
Sen. Mark Begich (D-AK) is battling for his political life in a state that votes Republican and hasn't elected another Democrat to statewide office in 16 years, a state where Mitt Romney trounced President Barack Obama two years ago.
Republicans need to pick up six seats to take control of the Senate, and with GOP candidates looking strong in states such as Montana, South Dakota, West Virginia, Arkansas and Louisiana, Alaska could make the difference.
While the race has long been considered a tossup, the latest polling suggests that Republican challenger Dan Sullivan, who entered Alaska public life when then-Gov. Sarah Palin named him attorney general in 2009, has seized a narrow lead with a relentless effort to tie Begich to Obama.
The latest average of recent polls on the website Real Clear Politics shows Sullivan ahead by just under 5 percentage points.
"You've got the Sullivan campaign saying with every breath that Begich votes with Obama 97 percent of the time," said Ivan Moore, a pollster and political consultant in Anchorage. "And you've got Begich asserting his independence from Obama with every breath."
The race, and potentially control of the Senate, will be decided by voters such as Wendy Loya and Eland Conway. On a golden fall day in Alaska's stunning Chugach Mountains, with a bite in the air promising the long subarctic winter to come, they hiked a trail accompanied by a husky and a malamute.
Loya, an ecologist, is voting for Begich, even though she thinks he veers too far to the right. Conway is going for Sullivan. Like many other Alaska voters McClatchy interviewed, he said his support for the Republican was less about Sullivan himself than tossing out the Democrat.
"It's not necessarily what I like about Sullivan, it's what I don't like about Begich," said Conway, operations officer at the Ted Stevens Anchorage International Airport.
Republicans have been eyeing Begich for defeat since 2008, when he unseated Stevens, the airport's namesake and a legendary figure in Alaska who spent 40 years in the Senate. Stevens had been convicted of corruption a week before the election — a conviction tossed out a year later — but Begich still beat him by only about 1 percent of the vote.
Since that election, Begich has broken with the president on some big issues, including helping to stop a proposal that would have required background checks for anyone who buys a firearm at a gun show or over the Internet. But his vote in favor of the Affordable Care Act is a sore point with Alaskans such as Lidiya Zyatitsky. She backed Begich in his last election, but said she'd now support the Republican.
Steve Rollins, who plans to vote for Begich, said he'd expected the senator to be drawing more support and was getting worried.
"He has to distance himself away from Obama's track record," said Rollins, the dean of the library for the University of Alaska Anchorage and Alaska Pacific University.
Begich is trying to do exactly that. One of his TV ads shows him snowmobiling — in Alaska it's called snow machining — at 21 degrees below zero on the icebound Arctic Ocean. "I'm Mark Begich. I fought for five years to get the permits so we could drill under this ice, and we won," he says to the camera.
Sullivan fired back with an ad featuring X Games medalist Cory Davis of Soldotna, Alaska, accusing Begich of "pretending to ride" a snow machine. "I'm tired of the phony politicians and Mark Begich's laaaame tricks," Davis says. Begich says he was really riding, and that he in fact got frostbite.
The race also includes the figure of Victor Kohring, a former Republican legislator and notorious moocher — known for begging hamburgers from a corrupt oilman at McDonald's — who in 2011 pleaded guilty in a bribery case. In August he won the U.S. Senate nomination of the Alaskan Independence Party, which advocates a vote on the state seceding and becoming an independent nation.
Kohring then abruptly dropped out — leaving the independence party without a candidate — and endorsed Sullivan.
Kohring had just a few percentage points of support at the most, but in such a close race it could make a difference if those votes swing to Sullivan. Begich's campaign manager, Susanne Fleek-Green, said it "reeks of an orchestrated attempt to deliver Alaska's U.S. Senate seat for Dan Sullivan."
While his campaign downplays the importance and accuracy of polling in Alaska, Begich is well aware of the challenge he faces.
"One thing that people know about me, I will campaign like a mad dog," Begich said in an interview. "I will be everywhere, talk to everybody."
As the darkness of Alaska's winter approaches, with moose hunting season over and Alaskans shopping for big screen TVs or planning Hawaii trips with the $1,884 oil dividend checks they all get from the state, Begich rose on a recent fall Saturday and went to meet Korean-American voters.
From there he shuttled across town to speak with students eating pizza at the University of Alaska Anchorage. He then did a radio interview, crashed a wedding and ended up at an Asian and Pacific Islander get-out-the-vote rally. "Tongans for Begich" campaign bracelets were passed out.
The next morning found Begich at an African-American church, where some 30 hands shot up when the pastor asked how many had met him — compared with just a few for the governor. Next was a speech to a commercial fishing group, then a candidate forum and finally a Hispanic rally at a Mexican restaurant.
Sullivan, a former official in the Bush administration, had no public events that weekend and refused requests for an interview about his campaign. But he has the backing of voters such as Bev Rhymer, a stay-at-home mom and rental manager who said, "Just about everything Obama tries to do I feel is really detrimental to our country" and that she appreciated Sullivan's background as a Marine officer who was now in the Reserve.
Begich might also be suffering from what even supporters said was a bad decision to run a television ad that tried to attack Sullivan's record as state attorney general by linking him to a horrific crime in which an older couple was killed and their toddler grandchild sexually assaulted. The fact-checking website PolitiFact gave the ad a "Pants on Fire" rating, and Begich pulled it from the air after the lawyer for the victims' family demanded he do so.
Begich benefits, though, from an unprecedented ground operation in the Last Frontier. He has 16 field offices across the vast state, from the panhandle forests to the Bering Sea coast, dwarfing the Sullivan operation. One, in the fishing town of Dillingham, population 2,400, is in a laundromat.
Campaign phone calls to voters are being made in the indigenous Yup'ik Eskimo language. Begich has put together a squadron of rural staffers, local people, going door to door to get their neighbors registered, spreading the campaign slogan of "True Alaska" from the mountains to the tundra. Whether it's enough to beat Sullivan's advantage in places such as the Mat-Su, the home of the Palin clan, and the Kenai Peninsula remains to be seen.
"What's going to be key is who gets their supporters to turn out," said Alaska pollster Moore. "Even in elections as momentous as this, only a fraction of people show up to vote."
Photo: SenateDemocrats via Flickr