Latest California Polls Show Democrats Well Positioned To Win State Regardless Of Candidate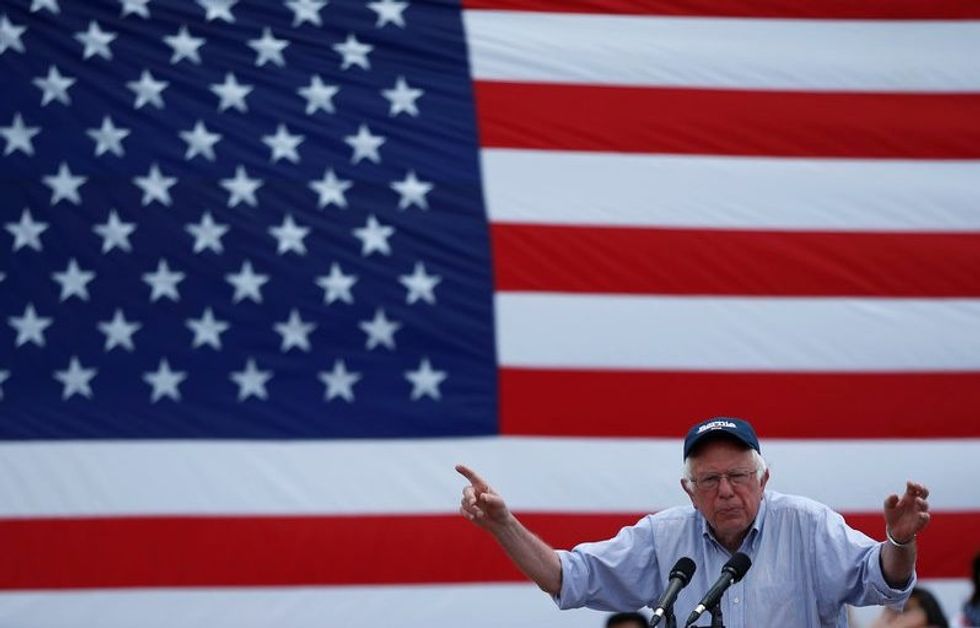 The latest polls out of California are showing the same trends that have defined the Democratic primary campaign thus far, with younger voters overwhelmingly supporting Bernie Sanders and older voters backing Hillary Clinton. The determining factor in the upcoming Tuesday primary will be voter turnout.
The good news, for the Democratic Party, is that regardless of who wins the party's nomination, California voters who feel Sanders is too liberal or that Clinton is too tied to the establishment won't flee into the arms of Donald Trump, contrary to doomsday predictions made by the racist billionaire and the punditocracy.
Clinton started off the Democratic nomination race with a huge lead nationally and in the Golden State. In February 2015, she commanded 73 percent of the likely vote, according to the California-based Field Research Corporation. Her lead has since evaporated, with 47 percent of likely California voters supporting her and 45 percent support her rival, putting Sanders within the margin of error.
A deeper dive into the numbers reveals that the levels of support the two candidates command effectively cancel each other out. Among male voters, Sanders leads Clinton 48 to 39 percent. Among female voters, she led 49 to 40 percent. Nevertheless, Sanders continued to receive the overwhelming support of young voters, with more than two-thirds of voters under the age of 40 supporting him.
Among likely Democratic voters, 88 percent would support Sanders should he win the nomination and run against Trump. Only six percent of Democrats would defect and vote for Trump. In a Clinton-Trump matchup, 83 percent would support her in the all but likely chance that she runs against Trump, while only eight percent would vote for the orange-colored man.
A poll by PPIC shows a similar level of voter retention regardless of the Democratic nominee. Eighty-five percent of Democratic voters said they would support Clinton or Sanders if the election were held today. Among independents, Sanders polled at 61 percent, keeping with his strong support from political independents, while Clinton polled at 51 percent.
Another unknown is the voting preferences of 2 million first-time voters that have registered in the state in the past 6 months, part of a push by governor Jerry Brown, who recently endorsed Clinton, to get more Californians involved in the election. Among first time voters, Sanders receives 60 percent support, according to the Field Research Corporation poll. A large numbers of California's newly registered voters are also Hispanic, a crucial demographic in the general election and one which Sanders and Clinton currently split in California.
Clinton is favored to win the primary. But polling predictions have often failed to pan out on primary day, especially in this election cycle. While polling site Real Clear Politics shows that she has averaged a 6 point lead over Sanders, the latest polls show him within the margin of error. The Clinton campaign desperately wants to avoid a repeat of the Indiana primary, which she was all but guaranteed to win, but which come primary day went to Sanders in a historic upset.
But, according to FiveThirtyEight, Clinton is still practically unbeatable, with a 94 percent chance of winning the primary. In addition to maintaining a marginal lead over Sanders, and picking up the endorsement of California's well-liked governor, Clinton also counts the support of 36 of California's 53 congressional representatives and both of the state's senators, Dianne Feinstein and Barbara Boxer.
At stake are the 475 delegates the state carries, which could effectively seal the nomination should Clinton perform well. She is just 73 delegates shy of winning the nomination, including super delegates who have pledged to support her. Of course: regardless of the outcome Tuesday, Bernie Sanders continues to state that he will stay in the race until the Democratic National Convention, where he says he will make an electability argument to superdelegates.
Photo: U.S. Democratic presidential candidate Bernie Sanders speaks in East Los Angeles, California, U.S. May 23, 2016.  REUTERS/Lucy Nicholson