Law Firm's Interview Notes Shed Light On Christie Staff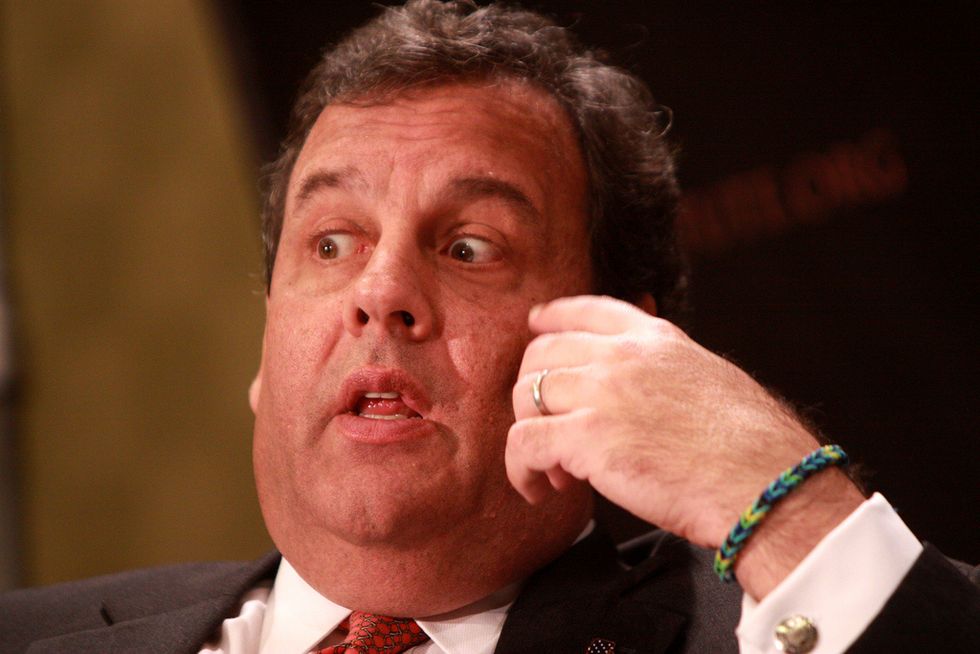 By Melissa Hayes, John Reitmeyer and Michael Linhorst, The Record (Hackensack, N.J.)
TRENTON, N.J. — More than 400 pages of documents made public Monday present a detailed picture of New Jersey Gov. Chris Christie's intertwined government and political operations, a network run by people so close to him that he became physically ill when reading a story in The Record that showed they were involved in the George Washington Bridge scandal.
Page after page of interview notes detail how staff in Christie's administration worked to secure Democratic endorsements on behalf of his re-election campaign. It was an operation that helped Christie win by 22 points, earn a majority of Latino and female voters, garner 32 percent of Democrats and set him up for a potential presidential bid in 2016. Now Christie's political future is in question after members of his inner circle were tied to the politically vindictive lane closures at the bridge last September.
The documents released Monday — the work of the lawyers Christie hired to review his office's involvement in the lane closures — also show that members of the administration suggested legal counsel for two key figures embroiled in the controversy: one a top aide, the other the governor's campaign manager.
Christie's lawyers, Gibson Dunn & Crutcher, have sent the interview materials to Reid Schar, the attorney for the New Jersey Legislative Select Committee on Investigation, and to the U.S. Attorney's Office, both of which are investigating the lane closures.
"We will review them and determine our next step," Assemblyman John Wisniewski and Sen. Loretta Weinberg, who lead the legislative committee, said in a joint statement. "We have made clear that we reserve the right to request additional materials and, as necessary, to issue subpoenas if we believe further information is required."
Christie's team of lawyers interviewed 75 individuals — many of them staff members in the State House or on the campaign — and compiled a report that cleared the governor of having any prior knowledge of the lane closures.
Critics called the 344-page report a whitewash.
The interview memos used to prepare that report contained vague summaries and few direct quotes and appear to omit explanatory details. The summaries include nearly 370 instances where those being interviewed were unable to recall details about events they were asked to discuss.
But Monday's documents also included key pieces of information that were downplayed or left out of the report altogether.
For example, some of the interviews show how a key aide in the governor's office coordinated with Christie's campaign to penalize mayors who did not endorse the governor, by instructing State House staff not to return phone calls or schedule meetings. The interviews also detail weekly meetings and conference calls between staff in the Office of Intergovernmental Affairs who served as liaisons to local elected officials and the campaign.
After one employee questioned whether it was proper for staff to be working to secure endorsements from the same mayors they worked with in their State House jobs, Christie's campaign manager got the governor's deputy chief counsel to sign off on the work so long as it was done after hours. This detail was also left out of the Gibson Dunn report.
Gibson Dunn released only its summaries of interviews Monday, including its meetings with Christie, Lt. Gov. Kim Guadagno, governor's press secretary Michael Drewniak, chief of staff Kevin O'Dowd and the chief counsel at the time, Charles McKenna. Michael DuHaime, Christie's campaign strategist, and Reginia Egea, head of the authorities unit, which oversees the Port Authority, also were interviewed.
The notes provide some documentation for details and findings included in the report Gibson Dunn released last month. That report said Bridget Anne Kelly, the governor's deputy chief of staff at the time, and David Wildstein, a Christie appointee at the Port Authority who had since resigned, carried out the lane closures.
After announcing he had fired Kelly on Jan. 9, Christie said he was also cutting ties with Bill Stepien, his campaign manager, because he didn't like Stepien's tone in emails about the Fort Lee mayor, which The Record had also obtained.
Kelly, Wildstein and Stepien did not consent to interviews requested by Gibson Dunn. But the accounts of others who worked in the State House or on the campaign paint a picture of how endorsements were secured and what happened to local officials who didn't support Christie.
For example, Richard Constable, commissioner of the state Department of Community Affairs, acknowledged in his interview that Kelly, who oversaw the Office of Intergovernmental Affairs (referred to as "IGA") and worked with local officials, wanted him to get her approval before meeting with mayors.
"He recalled being told to clear meetings with elected officials through IGA and was told by Kelly not to meet, for example, with Jersey City Mayor Fulop," Constable said, according to the notes of his interview.
Mayor Steve Fulop has alleged that Christie's administration canceled a series of meetings, organized by Stepien, after he decided not to endorse the Republican governor. Fulop's allegations are not explored in the Gibson Dunn report. Fulop was not interviewed by the team of attorneys, which was led by Randy Mastro, a former federal prosecutor who worked in New York Mayor Rudy Giuliani's administration.
The notes on Constable's interview reflect on a point the report made clear when it was released last month, specifically that Constable denied Hoboken Mayor Dawn Zimmer's allegation that, during a May 2013 televised town hall event in Monmouth County, Superstorm Sandy aid was linked to a redevelopment project. Constable said Christie never linked aid for Sandy to politics.
The Constable interview also revealed that Port Authority Chairman David Samson checked with him in August 2013 about whether he had plans to continue serving in the administration if Christie won a second term.
The notion that Samson — who led Christie's transition team in 2009 — played a role in the governor's administration beyond his position at the Port Authority is also made clear in the summary of an interview with O'Dowd. He said Christie "tasked Samson with talking to various Cabinet members in the administration to determine their second-term plans if the governor was re-elected and that O'Dowd assisted Samson in this process," according to the interview notes.
Samson has since resigned from his position at the Port Authority and declined the Gibson Dunn team's request to interview him.
Zimmer has alleged that Christie wanted her to fast-track a development proposed by a company that Samson's law firm was representing.
Richard Rebisz, an intergovernmental affairs employee assigned to communities hit by Sandy, told interviewers he did not talk to Zimmer about her decision not to endorse Christie, but that Christina Renna, a supervisor in intergovernmental affairs, told him "not to bend over backwards for Mayor Zimmer."
In her interview with investigators, Renna said she believed Stepien kept track of mayors who were not in favor with intergovernmental affairs.
"IGA staff would receive mandatory directives along the lines of 'Do not rush to return this mayor's phone call,' " the memorandum on Renna's interview says. "Sometimes IGA staff received a directive along the lines of 'no need to call to check in' with a local elected official, which was enough to send a message to the local elected official."
While the Gibson Dunn report summarily dismissed Zimmer's allegations — saying "the subjective perceptions she may have do not match objective reality" — it did not mention that the Hoboken mayor tried to hire Christie's top campaign strategist for her 2013 re-election bid.
The documents show that Zimmer approached duHaime, a former Hoboken resident who worked on Christie's 2009 and 2013 campaigns and consults with the Republican Governors Association, in late 2012 or early 2013 about her re-election bid. DuHaime did not end up working for the mayor but did approach her about endorsing Christie. Zimmer's election was months before she spoke to Lt. Gov. Kim Gaudagno, a meeting in which the mayor alleges the administration tied Sandy aid to her city's approval of a development.
A spokesman for Zimmer said Monday the mayor was celebrating Passover and could not be reached for comment.
When Christie gathered his top staff, Samson and his campaign chairman, Bill Palatucci, at Drumthwacket, the governor's mansion in Princeton, on Jan. 8, there was a discussion over whether Kelly and Stepien should hire attorneys because of all the media attention the incident was drawing, according to O'Dowd's interview notes.
Someone — O'Dowd does not recall who — suggested they hire attorneys Walter Timpone and Kevin Marino. Kelly and Stepien went on to retain those attorneys, though Kelly has since replaced Timpone with Michael Critchley, a top criminal defense lawyer in the state.
Christie told his investigators about the Jan. 8 meeting and said he and his staff decided it was best not to talk to Kelly or Stepien, but the notes on his interview make no mention of the discussion about whether they should retain legal counsel.
Gage Skidmore via Flickr