Lawyer For Man Beaten At Dodger Stadium Says Team Failed To Provide Enough Security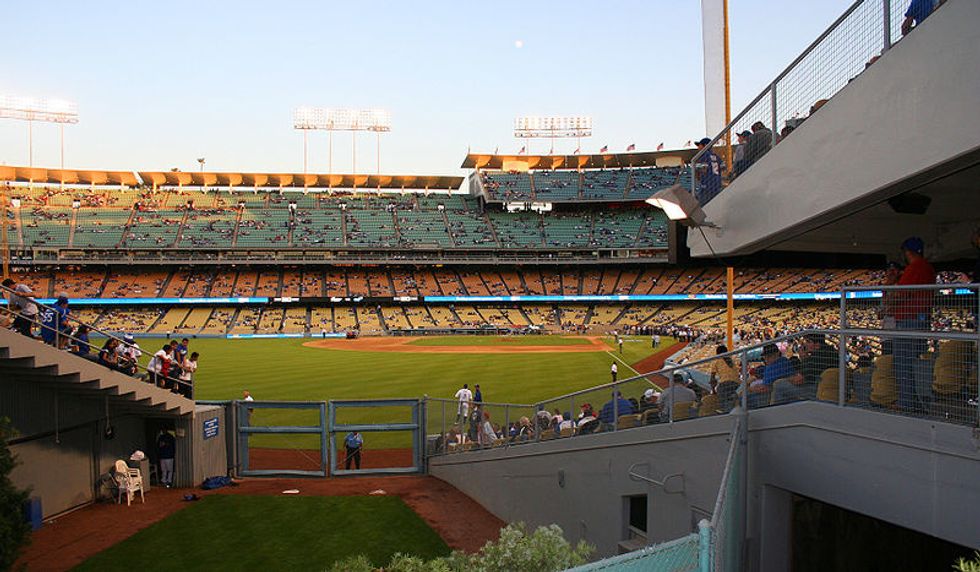 By Corina Knoll, Los Angeles Times
LOS ANGELES — Bryan Stow would not be confined to a wheelchair, would not need 24-hour care, would not bear scars on his head had the Los Angeles Dodgers put more money into security at Dodger Stadium, his attorney said.
In his opening statement Thursday in the trail of a lawsuit filed on behalf of Stow and his two children, Thomas Girardi accused the team of whittling down the quality of its security staff, thereby creating an environment where Stow, a San Francisco Giants fan, could be attacked on opening day when the crowd numbered 56,000.
"There is a great deal of hostility in games like this," Girardi said. "There is a difference in going to the Hollywood Bowl and watching a night of the symphony versus going to one of these games."
The lawsuit accuses the Dodgers and former owner Frank McCourt of failing to provide proper security and lighting on the night Stow was beaten unconscious. Stow suffered severe brain injuries that required part of his skull to be removed.
The paramedic had driven with friends from Santa Cruz for the March 2011 game. Wearing Giants gear, the group was taunted during the game.
Girardi said no usher was present in their section that night and that just 19 uniformed Los Angeles police officers were inside the stadium.
After the game, Stow was severely beaten in a Dodger Stadium parking lot. The two security guards that should have been in Parking Lot 2 were absent, Girardi said. The Dodgers had an obligation to make sure the area was reasonably safe, he said.
"But it costs money," he said.
An attorney for the Dodgers said the team had actually increased its spending for security on opening day in 2011 to $66,604, nearly $15,000 more than the previous year.
In fact, Dana Fox said, the largest security force ever for opening day at Dodger Stadium was on hand. The blame, he said, should be placed on Marvin Norwood and Louie Sanchez, the Rialto residents who pleaded guilty to the attack earlier this year.
"They caused the injuries, it doesn't matter that they've already gone through the criminal justice system," Fox said. "They still need to be held accountable in a civil court."
A cross-complaint was filed by the defendants against Norwood and Sanchez. Fox also noted that Stow had been observed delivering his own taunts and that a toxicology report revealed his blood alcohol level was as high as 0.2 percent at the time of the altercation.
He called it a "testosterone- and alcohol-fueled flash fire fight" involving "men in a parking lot who exchanged words and then didn't let it go."
Fox also noted the Dodgers' fan code of conduct, which is displayed in a video played at the game. It directs fans to contact an usher if someone is disturbing them and also provides a hotline number, as well as a phone number to text a complaint.
Calling Stow's injuries tragic, the attorney reminded the jury that they would witness emotion on the stand.
"But you all committed to setting aside sympathy when it comes to this case," he said.
Photo via Wikimedia