Lazy Monday: Trump Tweets Fox Headlines All Morning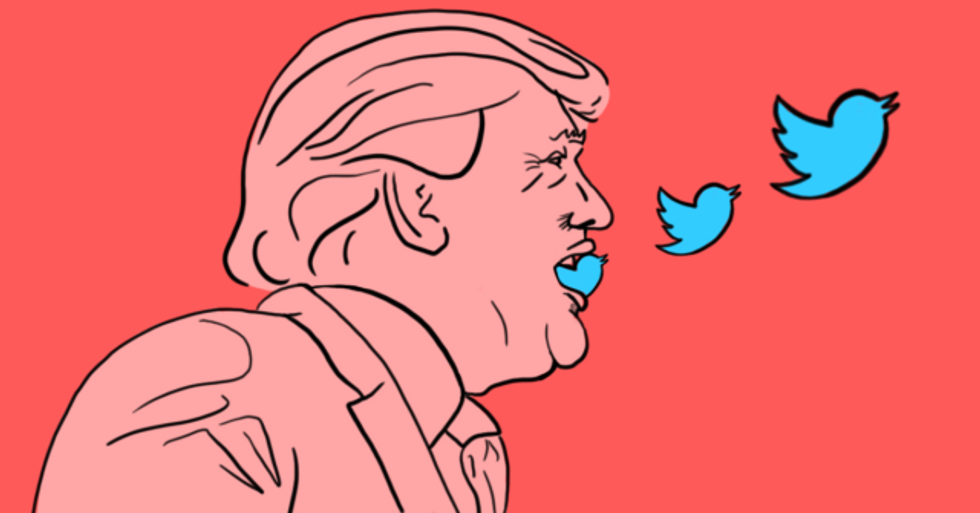 According to his official White House schedule, Trump has nothing to do all morning. So, given all his options, Trump chose to combine two of his favorite activities Monday morning: obsessively watching Fox News and playing on Twitter.
There's no shortage of issues Trump could be working on. For example, Trump read the National Climate Assessment , a comprehensive review by federal scientists that warns of the catastrophic consequences of inaction on the topic.
But instead of working for the good of the country, Trump lounged about watching television and repeating chyrons word for word to his followers.
At 11:46 AM, Fox News ran a segment about Iran stockpiling more enriched uranium, with a chyron across the bottom of the screen reading "Iran to defy uranium stockpile limits."
Exactly three minutes later, Trump tweeted, "Iran to defy uranium stockpile limits."
This is fine dot gif

Left, Fox's America's Newsroom, 11:46 a.m.
Right, Trump, 11:49 a.m. pic.twitter.com/ucozjPq8mj

— Matthew Gertz (@MattGertz) June 17, 2019
According to his schedule, Trump took a break from watching Fox News for a 12:30 PM lunch with Vice President Mike Pence, who Trump recently refused to endorse .
In the afternoon, Trump will resume his schedule of doing nothing nothing, according to the official White House schedule.
Trump's laziness is a well-known staple of his tenure in the White House. In early 2019, he paid $50,000 to install a room-sized golf simulator in the White House. He spends an obscene number of weekends away from the White House, often to golf at Trump-branded properties.
In fact, Trump has spent a full 22 percent of his days in office at a golf course , costing taxpayers more than $100 million .
If Trump replicates his morning activity Monday afternoon, his Twitter followers should expect more updates on whatever Fox News is reporting.
As for the business of the country, apparently that can wait until Trump decides to put down the remote and log off Twitter.
Published with permission of The American Independent.