LBJ's Civil Rights Act Irrevocably Changed U.S. Landscape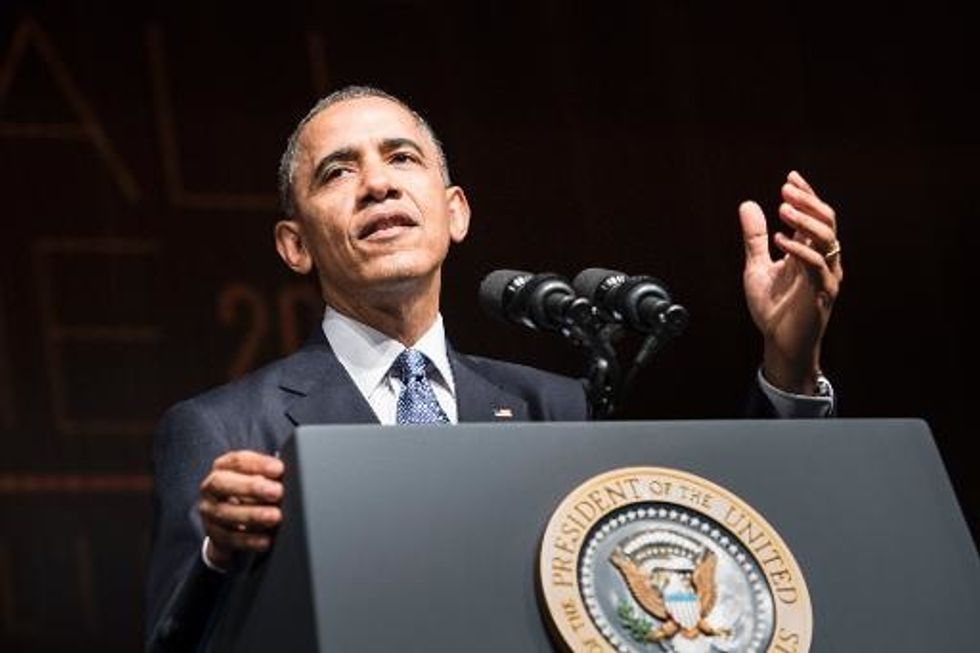 Last week, President Obama and civil rights luminaries went to the Lyndon B. Johnson Presidential Library to celebrate the 50th anniversary of the Civil Rights Act. That legislation, signed in July 1964, was a stunning achievement, a herald of a dramatic transformation in the nation's social and cultural landscape.
Yet the anniversary comes at a confusing moment in America's racial journey. While a generation is growing up associating presidential power with a black man, evidence of a pernicious, race-infused backlash is inescapable. And bigotry played a role in the unjust shootings of two young black men, Trayvon Martin and Jordan Davis, who were almost certainly victims of racial profiling.
Few suggest, anymore, that the election of President Obama is evidence of a "post-racial" America in which no one notices skin color or takes into account racial and ethnic heritage. In fact, Obama's rise has fueled the fears and hatred of a small but vocal minority who believe their America — a country run by and for white heterosexual Christians — is disappearing. If you think I'm exaggerating, just read Pat Buchanan's 2011 screed, Suicide of a Superpower: Will America Survive to 2025?
It is easy enough to be pessimistic. Harvard political scientist Robert Putnam, who has conducted research on diverse communities, told me he was surprised that Obama's election had seemed to revive racism rather than quelling it. That revival plays itself out quite vividly in our national politics, where a retrograde faction of the Republican Party dedicates itself to the notion that, if racism still exists, white people are its victims.
Still, it would be foolishly myopic to argue that little has changed in the half-century since President Johnson arm-twisted the Civil Rights Act into history. I'm old enough to remember a landscape that was much more hostile to black Americans, that conspired to limit us in ways too myriad to count. Black and brown millennials don't know what it means to be refused service in a restaurant, to be shoved to the back to the bus, to be turned away at a hotel because of skin color, to be ushered to a separate (and often filthy) restroom. And their white counterparts would rightly find such policies absurd.
The America that elected Obama is a very different place from the nation over which Johnson presided. Not only do black Americans eat in any restaurant they can afford, but they also star as celebrity chefs on TV. Black men and women preside over corporate boardrooms, head major non-profit institutions and reign as single-name cultural icons.
Yes, there are still major disparities in health and wealth, incarceration rates and even school suspensions. Much work remains before full equality is more than a distant mountain peak. But we ought to be able to discuss the road ahead without pretending that we've not made any progress at all. To do that would be to disparage the work of our civil rights heroes and to deny ourselves the inspiration we need to keep plodding along.
Besides, pessimism breeds defeat. It infects its victims with a self-limiting lethargy that fails to take big risks, to reach for the skies, to dream big dreams.
Last month, for example, USA Today profiled high-school senior Kwasi Enin, a first-generation Ghanaian-American who was accepted by all eight Ivy League colleges, an extremely rare accomplishment. Enin has a lot on the ball, but the fact that his parents, as immigrants, likely focused on America's opportunities — not its race-based limitations — undoubtedly played a role in his remarkable story. That didn't shield him from any racism prompted by the color of his skin, but it certainly gave him the confidence and the gumption to think he could succeed.
A half-century after Johnson pushed through a law that helped to transform a nation, racism is hardly dead. But it's a shadow of its former self, a limited force no longer able to define the lives of the nation's citizens of color. That's change we can believe in.
(Cynthia Tucker, winner of the 2007 Pulitzer Prize for commentary, is a visiting professor at the University of Georgia. She can be reached at cynthia@cynthiatucker.com.)
AFP Photo/Brendan Smialowski