LeBron Goes From Playmaker to Peacemaker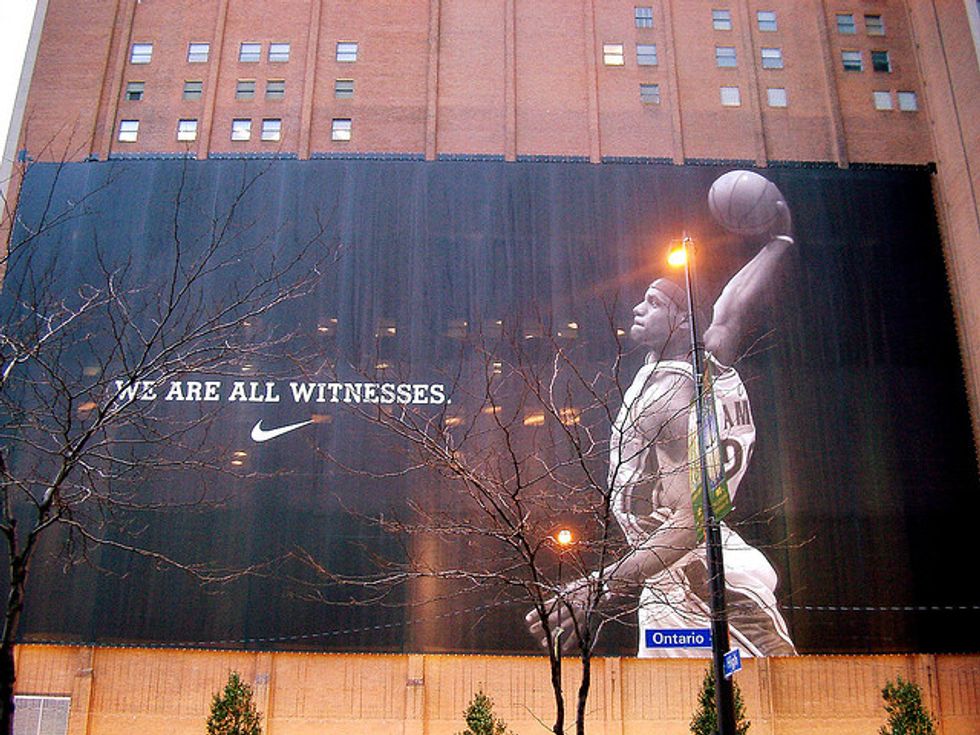 By David Whitley, Orlando Sentinel (TNS)
LeBron James is being likened to Superman. A better comparison would be Spider-Man.
Superman can get triple-doubles at will in the NBA playoffs. Spider-Man could probably score 37 points against the Hawks, too. But it's the words he lives by that matter these days.
"With great power comes great responsibility," his surrogate father, Uncle Ben, counseled young Spider-Man.
We're seeing that in the way James is handling the crisis in Cleveland. The city has been on edge since Saturday when a judge acquitted a policeman in the shooting deaths of two unarmed African-Americans. It's a drama that's become painfully familiar.
Protesters gather. Justice is demanded. TV crews swoop in to see if the city explodes.
"Violence is not the answer," James said almost as soon as the acquittal was read.
You'd hope and expect influential local athletes to say something like that. Some do in times of crisis, but others have jumped to conclusions and at least tacitly inflamed high-profile situations.
Look no further than the five St. Louis Rams who came out of the tunnel in pregame introductions last year sporting the "Hands Up, Don't Shoot" pose. It was to protest the shooting of Michael Brown in nearby Ferguson, Missouri A show of solidarity was fine, but the manner the Rams chose further divided a racially-torn city.
There was plenty of reason to suspect Brown did not have his hands raised or said, "Don't shoot." A Department of Justice investigation eventually concluded Brown attacked the policeman, who acted in self-defense.
The Rams were initially hailed as a latter-day Muhammad Ali, bravely speaking truth. But did their actions lessen any tensions, much less promote a just result?
Or look no further than James himself. He tweeted a famous picture of his entire Miami Heat team wearing hoodies in 2012 as the Trayvon Martin controversy was starting to explode.
Again, a show of concern for Martin's family and the handling of the case in Sanford was entirely appropriate. But James' accompanying hashtag — #WeWantJustice — revealed his mind already was made up.
Spurred by players like James, the NBA players union called Martin's death a murder and demanded the arrest of George Zimmerman.
Maybe Zimmerman was a racist killer, maybe he wasn't. That argument will live on forever.
But players were convicting him of murder, and it was still a year before his trial. Nobody knew the actual evidence or was in a position to accurately judge the case.
That's why I wondered how James would react this time. The initial police incident sounded inexcusable. Cops cornered fleeing suspects and fired 137 bullets into their car.
The shooting victims were suspected of trying to buy drugs. They fled when police tried to pull them over. About 100 officers pursued the car for 20 miles with speeds reaching 100 mph.
Police thought the pair had fired at them. They were wrong. But as with all these cases, the facts were complicated and demanded a detached study if you truly want justice.
That's what LeBron said he'd do. In the meantime, he pleaded for peace and said he'd do all he could to keep Cleveland from turning into another Ferguson or Baltimore.
"Sports just does something to people," James said. "You just feel a certain way about rooting for a team that you love, get your mind off some of the hardships that may be going on throughout your life or maybe that particular time or period. It just does that."
By extension, players have an inordinate influence on people's lives.
Superman has pretty much become the most powerful person in Ohio. It's good to see he's up to that responsibility.
Photo: Craig Hatfield via Flickr