Ledecky Edges Franklin For 200m Free Title At U.S. Swim Championships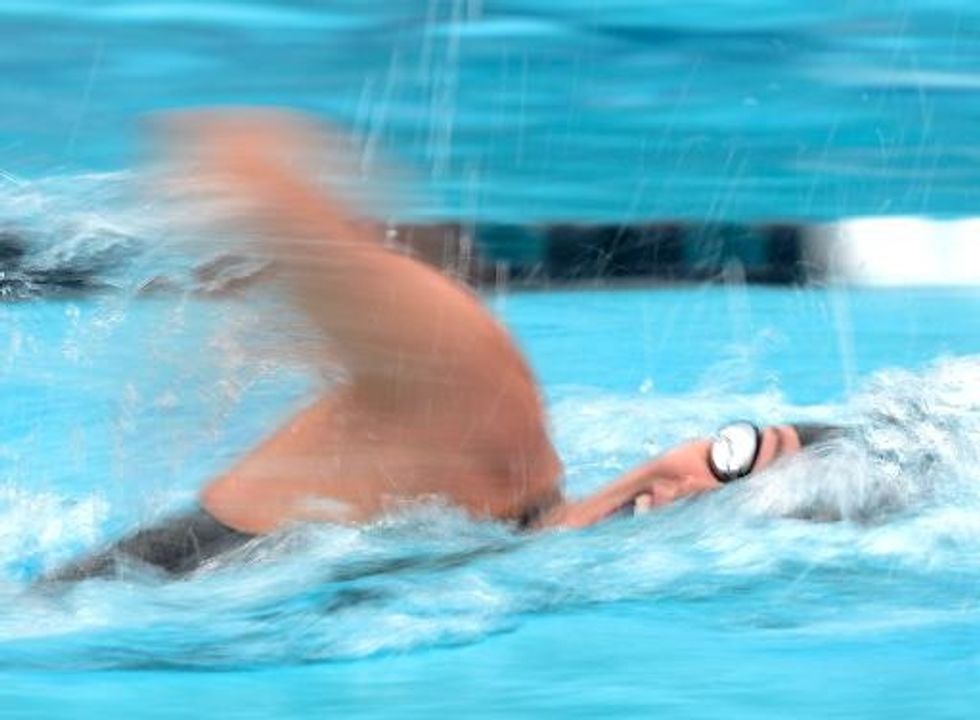 By Rebecca Bryan
Irvine (United States) (AFP) — Katie Ledecky edged world champion Missy Franklin to win the 200m freestyle Thursday in a rare meeting of America's teen swimming queens at the U.S. championships.
Ledecky clocked the second-fastest time in the world this year of 1min 55.16secs, just a day after winning the 800m free.
Only Sweden's Sarah Sjostrom at 1:55.04 has gone faster this year.
The 17-year-old Ledecky lowered her own world records in the 800m and 1,500m free in June, but with her performance on Thursday she showed she's not just a distance star.
Franklin, a four-time Olympic gold medalist who claimed the 200m free as part of a six-gold haul at the world championships last year, had no answer when Ledecky powered home on the final lap, taking second in 1:56.40.
Leah Smith in 1:57.57 and Shannon Vreeland in 1:57.73 rounded out the top four, who all booked berths for the Pan Pacific Championships August 21-25 in Gold Coast, Australia.
Results at this week's California meet and the PanPacs will determine the U.S. team for the 2015 World Championships in Russia.
Olympic great Michael Phelps, on the comeback trail after a near two-year retirement, will try to qualify for the PanPacs on Friday in the 100m butterfly.
Ledecky said the chance to compete for the United States internationally in the 4x200m free relay was the main reason she set her sights on the 200m.
Racing Franklin is an added benefit.
"I was trying to think how many times I've gotten to race her, it's probably only four or five times," Ledecky said of the 19-year-old Franklin.
– Friendly rivalry –
Don't look for any trash talking between the young rivals.
"No! We don't talk smack," said Ledecky, sounding sincerely shocked. "No way! That's not what we're about."
Instead they are a mutual admiration society.
"Watching Katie in the 800m and 1500m is a treat for everyone," Franklin said. "But to be able to race her in the 200m is awesome.
"I'm still learning how to swim against her," Franklin added. "I'm really excited to have her in that event pushing me."
Franklin came out on top in the second half of a demanding double with a victory in the 200m backstroke.
She's the world record-holder as well as world and Olympic champion in the event, but had focused in her first collegiate racing season more on freestyle.
So the win was a confidence builder, as was finding she had the "mental strength to tackle a day with four 200s."
– Lochte hurting –
Five-time Olympic gold medalist Ryan Lochte opted out of a similar double, scratching from the men's 200m free final to focus on the backstroke.
Swimming in unfavorable lane one after qualifying seventh-fastest, world champion Lochte took the race out fast but was overhauled by Olympic gold medalist Tyler Clary, who won in 1:54.73 — third-fastest in the world this year.
Ryan Murphy was second in 1:55.99 and Lochte third in 1:56.47.
"That was probably the stupidest way to swim a 200 back," Lochte said. "I felt good the first 100. After that it kind of hit me — it's going to get ugly."
Matt McLean won the men's 200m free in 1:46.93, with Conor Dwyer second in 1:47.35, Reed Malone third in 1:47.41, and Michael Weiss fourth in 1:47.87.
While the top four in the 100m and 200m freestyles booked their Pan Pacific Championship spots, only the first-place finishers of Thursday's other events were assured of a trip to Australia.
Micah Lawrence triumphed in the women's 200m breaststroke, withstanding the fast early pace and powering past Breeja Larson on the final lap to win in 2:23.05.
Kevin Cordes, who clocked a U.S. Open record 2:07.86 in Thursday's heats, backed up that swim with a wire-to-wire victory in the 200m breaststroke, although his winning finals time was a slower 2:09.48.
AFP Photo/Harry How
Interested in sports news? Sign up for our daily email newsletter!