Legal Counsel In Scott Walker Administration Loses Job Over Explicit Email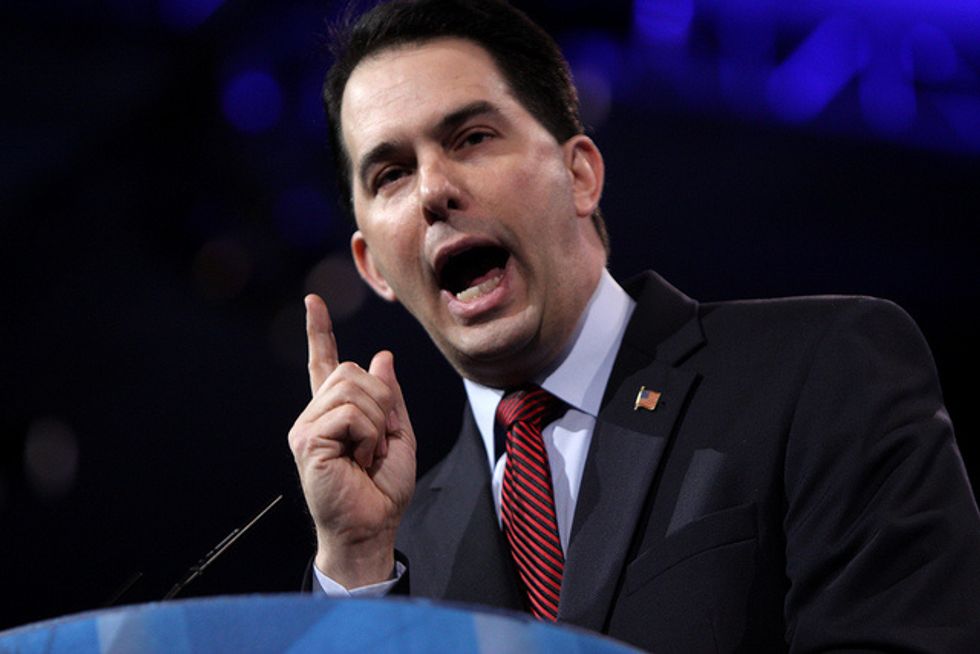 By Jason Stein and Patrick Marley, Milwaukee Journal Sentinel
MADISON, Wis. — The chief legal counsel of the Wisconsin Department of Transportation has been forced out of his job after the release last week of a sexually explicit joke he emailed to former aides of Gov. Scott Walker.
In the email written in the form of a fake news release, John Schulze joked about venereal diseases, oral sex and legalizing prostitution to provide jobs for welfare recipients.
The joke turned up in a recently unsealed cache of 4-year-old emails involving the criminal appeal of a former Walker aide during his time as Milwaukee County executive, but the joke itself actually appears to date back to 1998, when Schulze was doing another stint as a state employee.
DOT spokeswoman Peg Schmitt confirmed that Schulze had left the agency on Friday, two days after the joke was released in the court records. That news was first reported by the Madison weekly newspaper Isthmus.
"It came to our attention last week that an email sent by a Department of Transportation employee before his joining the administration contained inappropriate and offensive content. The email is in poor taste and there is no room for this poor conduct in Governor Walker's administration," Walker spokesman Tom Evenson said.
The 16-year-old joke, emailed under the subject line of "look what I found on an old zip drive," contained a made-up story of Senate staffers who had contracted venereal diseases while on an official fact-finding trip.
"1) I cannot believe I sent this over the state email system 2) I am one funny dude," Schulze wrote in March 2010 to a half-dozen Republicans, including aides to Walker at the time in Milwaukee County and his campaign for governor.
John J. Schulze Jr., who started his legal job with the DOT in May 2013, made just over $109,000 a year, according to state payroll records. In 2011, Walker and legislative Republicans shifted the position of agency chief legal counsel in state government from a civil service job to a political appointment.
That change meant that the Walker administration was free to fill the DOT position with a loyal lawyer as opposed to one deemed to be the most qualified. It also gave the administration more leeway to be able to force Schulze out last week.
Schulze did not respond to requests for comment.
Previously Schulze served as an administrator for the state Public Service Commission _ another political appointment _ and as corporate secretary for American Transmission Co., according to his LinkedIn page.
Before that he served in the Wisconsin state Assembly and Senate as a staffer and as an aide to then-GOP Govs. Tommy Thompson and Scott McCallum.
At the time that he resent the email in March 2010, he was working for American Transmission Co.
The fake news release mentions Walker's former chief of staff at Milwaukee County, Jim Villa, another former Senate staffer.
" 'Arrrgh! God, it hurts when I pee,' shouted Villa from a ground floor state Capitol restroom. 'I thought Clymedia (sic) was a flower!' " the email reads.
The fake news release also references another Senate staffer who was willing to pay more for sex with a transsexual than with a transvestite.
"Believe me, there is a big difference," the staffer is quoted as saying.
The Schulze joke was among the roughly 28,000 emails released through the criminal appeal of Kelly Rindfleisch, a former deputy chief of staff to Walker in Milwaukee County who was convicted of campaigning on public time.
In 2010, the Milwaukee Journal Sentinel reported that Schulze was among those writing for the anonymous scottforgov.com blog, which regularly skewered Walker's 2010 Republican primary opponent, former U.S. Rep. Mark Neumann, and his Democratic gubernatorial foe, Milwaukee Mayor Tom Barrett.
Brian Fraley, a former head of the now defunct Senate Republican Caucus, was among those copied on the email along with Rindfleisch, who also served as a GOP staffer in the Legislature.
"I am glad you cleaned up your act by the time I hired you, man I can't type that with a straight face," Fraley wrote back. "Schulze, this isn't even in the top 10 worst things you've ever done."
Fraley, who also couldn't be immediately reached for comment, is now the managing editor of Right Wisconsin, which along with the Milwaukee Journal Sentinel is owned by Journal Communications Inc.
Photo: Gage Skidmore via Flickr