Could Leonardo DiCaprio Finally Win Coveted Oscar?
@AFP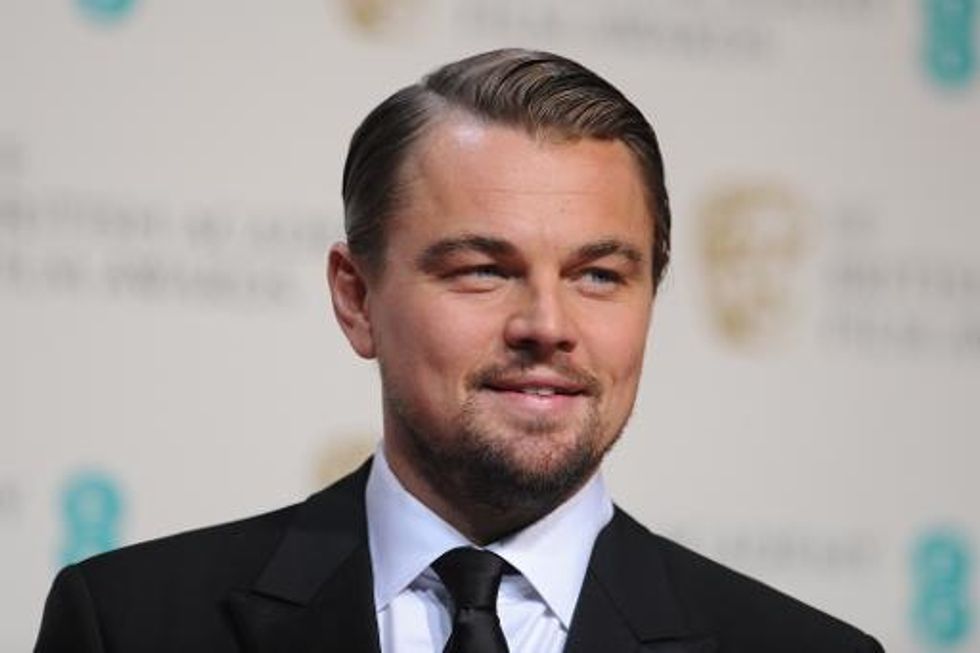 Los Angeles (AFP) – Could this finally be Leonardo DiCaprio's year?
Twenty years after his first Oscar nomination, the 39-year-old actor is hoping that he may at last win one of Hollywood's most prized statuettes come Sunday night.
Matthew McConaughey has long been the frontrunner for the best actor Oscar for his turn in "Dallas Buyers Club" — but DiCaprio is increasingly cited as a possible come-from-behind winner.
Critics have lavished praise on the actor for his portrayal of financial crook Jordan Belfort in Martin Scorsese's "The Wolf of Wall Street," fueling speculation that Oscar voters could finally give him the Academy Award.
DiCaprio portrays the debauched and drug-fueled New York trader from his early days through his relentless rise to the top of Wall Street in the 1990s, and then his disgrace at the hands of FBI investigators.
The hilarious scene where DiCaprio struggles across the floor to get to his car, his limbs paralyzed by an overdose of Quaaludes, risks becoming one of his defining screen moments, along with the prow-of-the-ship "Titanic" scene with Kate Winslet.
"Look, there's a lot of disgusting behavior in this movie," the 39-year-old — who took home a Golden Globe for the role — acknowledged at a recent lunch for this year's Oscar nominees.
"We wanted this to be a cautionary tale, and we wanted to accurately portray this darker nature of our culture."
While DiCaprio has never won an Oscar, he was first nominated at the age of 19, for 1993's "What's Eating Gilbert Grape?", and then again for 2004's "The Aviator" and 2006's "Blood Diamond".
But his work in films including "Romeo and Juliet" (1996), "Gangs of New York" (2002), "The Departed" (2006) and "Shutter Island" (2010) was overlooked by the Academy of Motion Picture Arts and Sciences.
The bitterest pill to swallow was doubtless "Titanic" (1997), which won 11 of the 14 Oscar categories in which it was nominated — but DiCaprio did not even earn a best actor nod.
– Competition –
"Now that DiCaprio is on the brink of the big 4-0, it's time to do the right thing and honor one of the finest actors of our generation with an Oscar while he's still in his prime instead of some paunchy supporting role a decade later," said Marlow Stern of The Daily Beast. DiCaprio will be 40 on November 11.
"Leo is arguably the biggest movie star in the world giving the biggest performance of his career in the most talked-about film of the year. That looks like Oscar to me," added Tom O'Neil of Gold Derby, a Hollywood prize forecast website.

Fans agree: the Internet is awash with videos condemning or making fun of the Academy's perceived snubs of DiCaprio over the years.
One of the latest: a clip showing the famous Quaaludes scene, but with DiCaprio dragging a golden statuette behind him.
Joey Berlin, head of the Broadcast Film Critics Association (BFCA), was more cautious about DiCaprio's chances.
"I believe Leo has been honored to receive Oscar nominations and I don't believe he has been 'snubbed' by the Academy," he told AFP.
"Winning an Oscar is incredibly rare and difficult and many screen legends never won one. Leo is a great star and he may win this year, but just to be nominated again is very special."
In a normal year, DiCaprio's "Wolf" portrayal would have made him a near shoo-in for the best actor Oscar. But this year is not typical, with a bumper crop of films and performances vying for the votes of the Academy's 6,000 voters.
Two Hollywood legends, Robert Redford and Tom Hanks, failed to win best actor nods for shipwreck movie "All is Lost" and Somali pirate thriller "Captain Phillips" respectively. Hanks was also overlooked for his performance as Walt Disney in the making of Mary Poppins movie, "Saving Mr Banks".
In the end, DiCaprio is up against McConaughey, as well as Chiwetel Ejiofor from "12 Years a Slave", Christian Bale for "American Hustle" and Bruce Dern for black-and-white road movie "Nebraska".
DiCaprio took home the Golden Globe for best actor in a musical or comedy in January, while McConaughey won the Globe for best drama actor.
McConaughey — who lost over 40 pounds to play AIDS sufferer and activist Ron Woodroof in "Dallas Buyers Club" — remains the favorite, having also won the best actor prize from the Screen Actors Guild (SAG).
AFP Photo/Carl Court