Lesbian Couple Urge U.S. Judge To Overturn Pa. Ban On Their Out-Of-State Union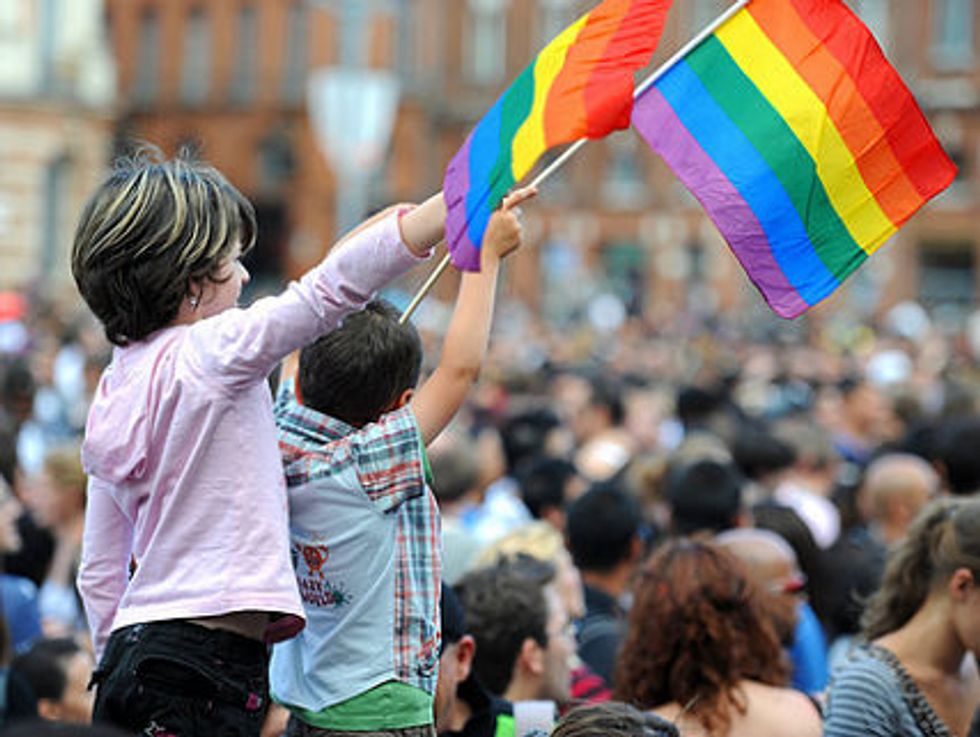 By Jeremy Roebuck, The Philadelphia Inquirer
PHILADELPHIA — The legal fight over marriage equality arrived in a Philadelphia federal courtroom Thursday, as a lesbian couple urged a U.S. judge to overturn parts of a 1996 state law barring recognition of their out-of-state union.
But as U.S. District Judge Mary McLaughlin weighed arguments Thursday, her interest seemed to center on one question: How far did the U.S. Supreme Court intend to go last year when it struck down portions of the federal Defense of Marriage Act?
The high court's majority opinion in U.S. v. Windsor appeared on one hand to maintain the authority of individual states to define marriage within their borders. However, the opinion, written by Justice Anthony M. Kennedy, also contained an impassioned critique of laws that impinged on the rights of any couple to marry, describing those laws as humiliating and degrading.
"It is so abundantly clear that Pennsylvania law is facially discriminatory and the argument for it is irrational," said Michael Banks, a lawyer for Cara Palladino and Isabelle Barker, the Northwest Philadelphia couple at the center of the suit. Banks argued that current state statute amounted to lawmakers' deciding, "We are going to impose our discriminatory views — our bigotry — on other people via fiat."
Joel L. Frank, an attorney representing Pennsylvania Gov. Tom Corbett, shot back.
"Windsor reaffirmed the authority of each state — including Pennsylvania — to define marriage as it sees fit," he said. He noted that the high court let stand a portion of the federal law that allows states to disregard same-sex unions granted outside their borders.
The roughly three-hour hearing occurred before a backdrop of rapid shifts in the landscape of marriage-equality law.
Since the Windsor decision last year, federal courts in eight states, including Texas and Arkansas, have overturned bans on same-sex marriage. Many of the judges have stayed their orders pending review by appellate courts.
Unlike the other recent cases, Thursday's suit avoided a direct appeal for legalization of gay marriage. Instead, it focused on the limited goal of state recognition of same-sex unions legally granted outside Pennsylvania.
Palladino, 48, and Barker, 42, sat in the front row of a courtroom packed with supporters and marriage-equality activists.
At the end of the hearing, Barker turned to her wife with a tentative smile before the couple walked out of the courtroom hand in hand.
Married in Massachusetts in 2005, they moved to Pennsylvania shortly afterward. They work at Bryn Mawr College and are raising a 5-year-old son.
"We're just living our lives and looking for a court to back us up," Palladino said Thursday. Barker added: "There's something very powerful about the right to have protection as a legally married couple."
Throughout Thursday's proceedings, McLaughlin peppered lawyers with questions — inquiries that appeared at times to catch both sides off guard.
Lawyers for Palladino and Barker had made much in the run-up to the hearing of what they described as their unique legal theory, which relies upon the "Full Faith and Credit Clause" of the Constitution.
That provision requires each state to respect the public acts, records and judicial decisions of other states — an obligation the couple's legal team argued extends to out-of-state marriages.
McLaughlin appeared to dismiss that theory, calling it "tough" to argue that the requirement extended to honoring another state's laws.
When it came time for Corbett's lawyers to argue, McLaughlin asked whether they would rather skip the speechifying and "quit while they were ahead."
Later, Frank, Corbett's lawyer, appeared flummoxed when the judge repeatedly asked him for a rational defense of the same-sex marriage ban.
"I'm trying to focus on reasons for the law and whether it passes muster post-Windsor," she said.
The split between the two halves of Windsor — its apparent preservation of states rights wrapped in a sweeping broadside on human rights — divided the lawyers through much of Thursday's hearing.
Banks' argument often focused on broad proclamations of liberty and equality. Lawyers for Corbett, meanwhile, kept their case focused almost entirely on whether the court had jurisdiction.
"They blur the line between what the law is and what they believe it should be, and are asking the court to do the work of the state legislature," Frank said.
Though McLaughlin, an appointee of former President Bill Clinton, offered no indication Thursday of when she might rule, her opinion could become one of the first to address Pennsylvania's marriage laws since the Supreme Court's decision.
It is one of at least five similar challenges to some portion of the state's same-sex marriage ban wending through state and federal courts.
A second federal case — filed in Harrisburg by 25 plaintiffs, including same-sex couples and their children — seeks to overturn the ban.
Meanwhile, in Commonwealth Court, Corbett's administration is seeking to void scores of marriage licenses issued last year by officials to gay and lesbian couples in Montgomery County.
A separate suit filed by 21 of those couples asks a state court to recognize their unions.
Pennsylvania is the only state in the Northeast that does not recognize same-sex unions, which are now supported by nearly 57 percent of voters, according to some recent polling.
Despite the domino-like U.S. District Court rulings striking down same-sex marriage bans since Windsor, McLaughlin warned everyone not to read too much into the momentum.
"Much has been said about being on the right side of history, but that's not why we're here," Banks said before McLaughlin cut him off.
"I'm just here to interpret Windsor and the other federal court cases," she said. "I'm not here to be a historian."
Photo by Guillame Paumier/Flickr