Before Lewandowski, CNN Said Contributors Getting 'Paid' By A Campaign 'Would Not Be Permitted'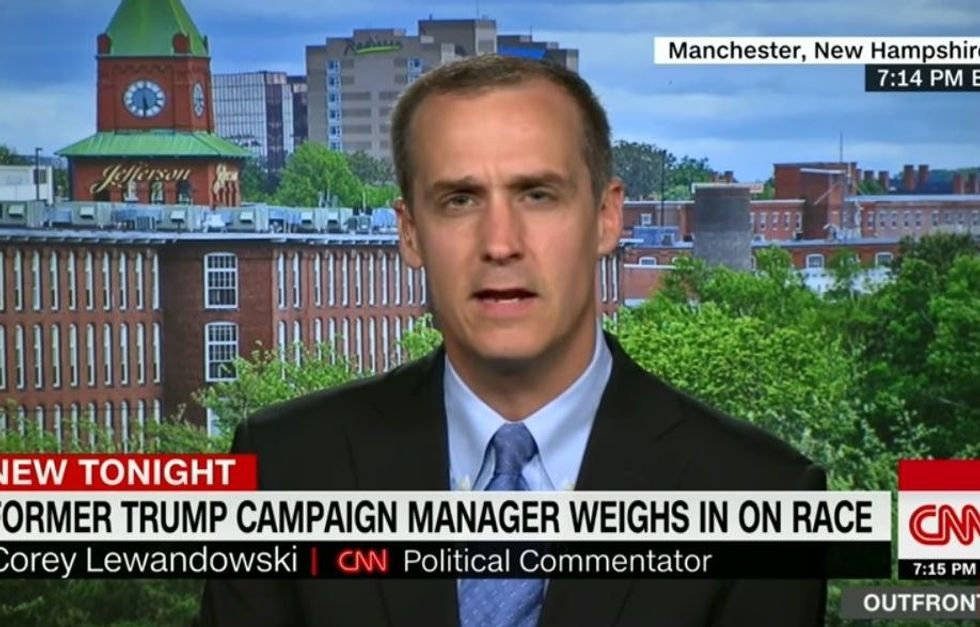 Published with permission from Media Matters for America. 
CNN's decision to continue employing Corey Lewandowski, who is being simultaneously paid by Republican presidential nominee Donald Trump's campaign, clashes with its own years-long stated policies. The network has previously said that a person being "paid" by a campaign "would not be permitted to be a CNN contributor."
Trump's recently filed Federal Elections Commission report revealed that Lewandowski received$20,000 for "strategy consulting" in August through his company Green Monster Consulting LLC. CNN hired Lewandowski as a paid contributor in late June after he was fired from the Trump campaign. The new payment from Trumprenewed criticism of CNN for continuing to employ the Trump insider, who is reportedly still advising the Republican nominee.
The Trump campaign has claimed the disbursements are for "monthly severance payments," but a spokesperson did not respond to a New York Times question about "why the payments were not described as severance to the F.E.C."
CNN's defense of its Lewandowski employment clashes with its own stated policies toward contributors over the years.
In 2011, the New York Daily News raised questions about whether Democratic pollster Cornell Belcher could simultaneously work for President Obama's campaign and CNN. The news network responded by stating that if a contributor gets "paid" by a campaign, that person "would not be permitted to be a CNN contributor":
Belcher did not respond to requests for comment, but a CNN spokeswoman tells us the pollster is currently "not being paid by the Obama campaign. If he were," she added, "he would not be permitted to be a CNN contributor."

Presumably, Belcher will cease to appear on CNN when his work for Obama's campaign begins.
In 2010, Media Mattersdocumented that the Republican National Committee paid $12,000 to CNN contributor Alex Castellanos for "consulting." Castellanos said he returned the payment because it went against "CNN's preference and policy."
In October 15, 2009, the Republican National Committee paid $12,000 to CNN contributor Alex Castellanos, a payment that apparently violated CNN's stated policy. When contacted last week by Media Matters, Castellanos said he was initially unaware of the payment and returned it last year when he "found out."

"I was not aware of the payment because ours is a large business and an employee who handles and processes payments for me dealt with the RNC transaction," Castellanos said.

"CNN's preference and policy is that I don't work for the RNC or political candidates. When I found out that I was being paid by the RNC, I returned it," Castellanos said. "I wish I could keep it. I would like to add to the economic recovery."
The New York Timesreported at the time that CNN said contributors could continue working for the network as long as they weren't getting paid by candidates or political parties:
Mr. Castellanos, who previously drew criticism from Democrats for owning a firm that produced advertisements for the Chamber of Commerce and health insurance companies, was named this week as an image consultant for the Republican National Committee.

On Tuesday, a CNN spokeswoman said the appointment would not disqualify Mr. Castellanos for working as a paid commentator because his job for the R.N.C. was an unpaid position. The spokeswoman, Edie Emery, said CNN had allowed Democratic political advisers like Paul Begala to continue working as long as the jobs they did for the party or candidates were unpaid.
In July, CNN temporarily suspended its contributor contract with Donna Brazile after she became the interim chair of the Democratic National Committee. Brazile is reportedly being compensated by the DNC for serving as interim chair.
CNN is overturning years of precedent by employing Lewandowski — yet another reason the network should cut ties with him immediately.