Life Sentence To Be Sought For Suspect In Seattle University Shooting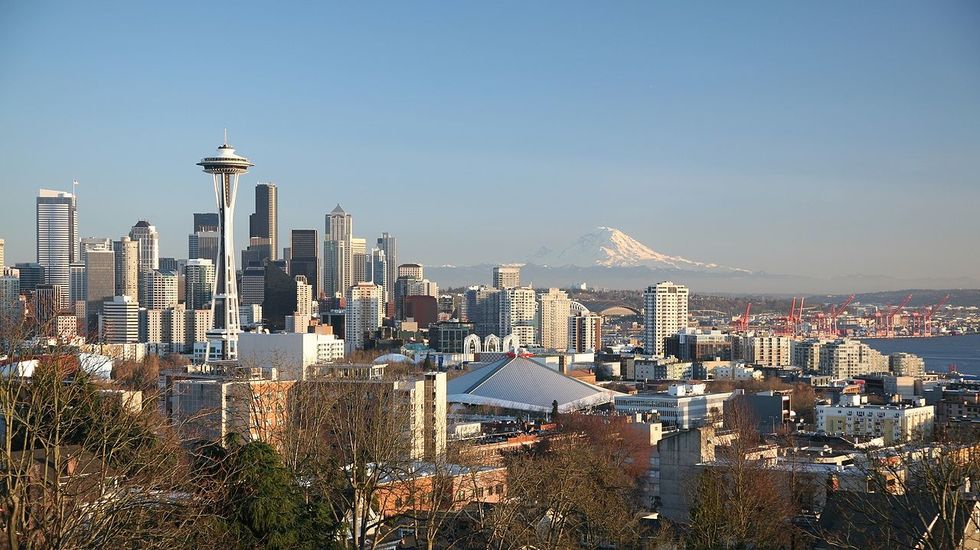 By Christine Clarridge and Jennifer Sullivan, The Seattle Times
SEATTLE — Sometime before Aaron Rey Ybarra unleashed a barrage of gunfire last week that left one student dead and two wounded at Seattle Pacific University, he stopped taking his mental-health medications to sharpen his rage, according to King County Prosecutor Dan Satterberg.
"He wanted to feel the hate," Satterberg said Tuesday at a news conference to announce his office would be seeking a sentence of life in prison for the 26-year-old Mountlake Terrace man.
In the weeks before Thursday's shooting, Ybarra contemplated which school to target, considering Washington State University, Eastern Washington University and Central Washington University before settling on the small Free Methodist university closer to home, according to Satterberg.
He even visited the SPU campus a week or so before the shooting and was shown around by "a helpful academic counselor and friendly students," Satterberg said.
In a journal recovered by police, Ybarra wrote that he admired the mass shootings at Columbine High School and Virginia Tech and considered the suicidal killers his role models, said Satterberg. In his final journal entry the morning of the shooting, Satterberg said Ybarra wrote of his excitement: "I just want people to die, and I'm going to die with them!"
Ybarra has been charged with one count of premeditated first-degree murder, two counts of attempted first-degree murder and one count of second-degree assault. All of the charges carry firearms allegations that could increase the sentences.
If convicted as charged, Ybarra could face a sentence of 69 to 86 years, Satterberg said. However, under what he called a "rarely used" provision of state sentencing law, prosecutors will seek an exceptional sentence "designed for this type of outrageous act of public violence," he said.
According to the law, a judge can impose a life sentence if a jury finds that the "offense involved a destructive and foreseeable impact on persons other than the victim."
Satterberg, in a prepared statement, said the shootings reverberated far beyond the SPU community.
"The truth is that crime of random and senseless violence took a toll well beyond the student who was killed, those who were injured, and their immediate families," he said. "Though it is impossible to measure, I believe that our entire community suffers a profound loss each time there is an incident of mass violence."
Ybarra's defense attorney, Ramona Brandes, has not disputed accounts of the shooting, but maintains Ybarra suffers from mental illness and was unaware of his actions "until he heard a girl screaming."
She said Tuesday a decision on whether to mount a mental-illness defense has not been made.
"We have to look at his symptoms he manifested in the past, his treatment and his jail records to determine whether his mental illness arises to the level of a defense. These are choices he's going to be involved in," Brandes said. "He wasn't on his meds and he committed an action that is incomprehensible. Had he been on his meds, would this have happened? We'll continue asking that for all time."
Ybarra drove his pickup to SPU and parked near Otto Miller Hall around 3:30 p.m. Thursday, according to charging documents. He was armed with a double-barreled shotgun, 50 rounds of ammunition and a large hunting knife, the documents say. The shotgun was loaded with lead birdshot, with smaller pellets typically used to hunt birds, prosecutors say.
According to the charging documents:
Ybarra encountered a group of students outside the hall and fired without provocation, fatally wounding 19-year-old Paul Lee, of Portland. The pellets from that shot caused minor injuries to another student, Thomas Fowler Jr.
"Ybarra then turned his gun on a female student, but the lower barrel of the shotgun malfunctioned and would not fire," prosecutors wrote.
He reloaded the top barrel of the shotgun and entered Otto Miller Hall.
Ybarra pointed his shotgun at a student who was studying near the front door with headphones on, oblivious to what was happening. For unknown reasons, he decided not to shoot him.
He then turned his attention to another student, Sarah Williams, 19, who was coming down a flight of stairs.
"Without warning, he shot her from a few feet away," charging documents say.
Williams remains hospitalized.
While Ybarra was reloading, Jon Meis, a student-safety monitor, rushed from his office, sprayed pepper spray into Ybarra's eyes, grabbed the shotgun and took it to his office.
Meis then returned, tackled Ybarra, disarmed him of the hunting knife and, with the help of another student, held him until police arrived.
Satterberg called Meis a "reluctant and humble" hero. He also characterized him as a "role model."
"He recognized the danger, he saw a moment where the shooter was reloading, and quickly moved in with pepper spray," Satterberg said.
In his first public statement since Thursday's shootings, Meis on Monday credited "God's grace" for his actions in subduing the gunman.
Satterberg said Ybarra's gun was legally purchased years ago from a Kenmore shooting range where he previously worked. He said Ybarra was legally allowed to own a gun, as there was no evidence he had been involuntarily committed for 14 days or more.
Brandes, the defense attorney, said she was disappointed to read of Satterberg's remarks at Tuesday's news conference.
"I am disappointed in Satterberg making a media statement characterizing this in a morality term of evil when he knows the defendant suffers from mental illness. It's documented he suffers from mental illness; it's documented he wasn't taking his medications. People who suffer from mental illness, it's really unfair to make those kinds of broad sweeping moral judgment. They're struggling with an illness that we as a society don't understand, don't properly treat and don't give access to treatment. We don't monitor the treatment."
But despite his mental illness, as the video below will highlight, Ybarra still managed to get his hands on a gun.
Brandes said she doesn't understand the need to push for an exceptional sentence because the charges already carry a lengthy prison term if he's convicted.
Pierce County Prosecuting Attorney Mark Lindquist, who used the same exceptional-sentence provision against those accused of rendering aid to police killer Maurice Clemmons, said it's an appropriate call.
"The SPU shooter is, in my opinion, another poster boy for the destructive impact on the community," said Lindquist.
In the case of those who assisted Clemmons — who killed four Lakewood police officers in 2009 — jurors had no problem accepting prosecutors' contentions that the crime's impact was enormous and went beyond the victims and their families, said Lindquist.
However, it remains to be seen whether the 2005 law holds up under scrutiny from the state Supreme Court, where appeals from several of the Clemmons defendants are under review.
"Not many crimes meet the legal standard necessary to argue they had a destructive impact on the community at large, but mass shootings fit perfectly," he said.
Photo: Daniel Schwen via Wikimedia Common
Video via NDN