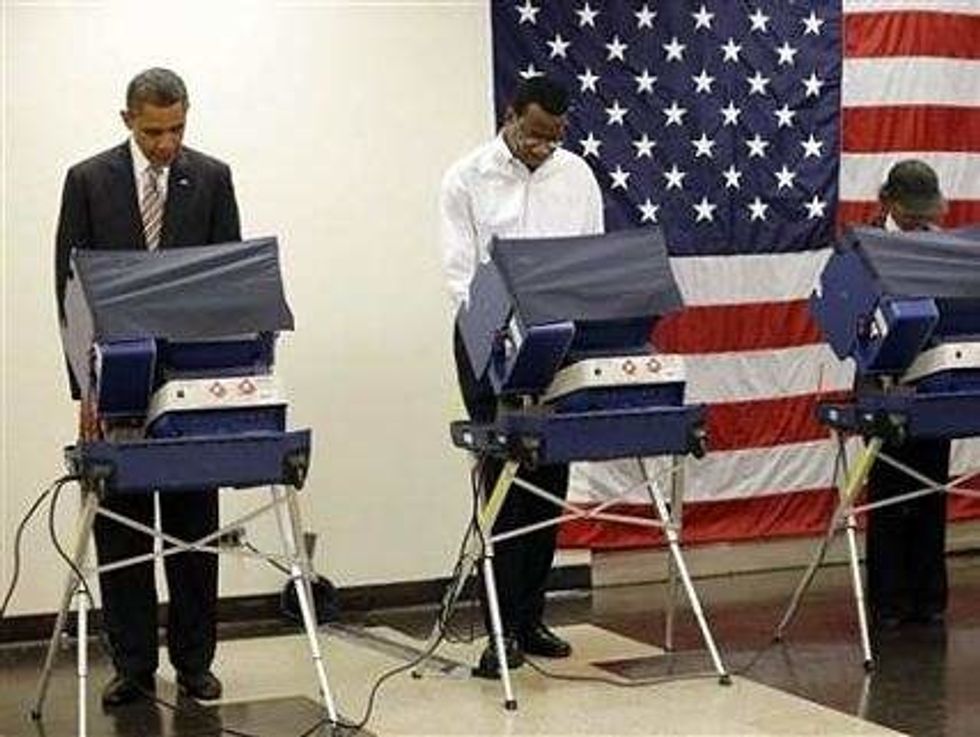 Today The New York Times reported that on Monday approximately 20 percent of the traffic to its website visited Nate Silver's polling model FiveThirtyEight — which currently gives the president a 90.9 percent chance of being re-elected. Why can't people wait until tonight for the results of this race when hopefully we'll know for sure in just a few hours?
For many people, too much is on the line — the health care of 40 million, tax rates for the rich, the defunding of Planned Parenthood.
By this time on Election Day in 2004, exit polls had leaked suggesting John Kerry would defeat George W. Bush. This compounded the grief of the eventual loss. So we'll be careful not to pass on any information that hasn't been confirmed. The campaign is continuing into the last hours of voting with both Mitt Romney and Joe Biden making hastily planned trips to Ohio.
We will say that despite confusion and long lines, a strong turnout bodes well for the president. Just how well, we'll have to see.
Check back for more updates throughout the night.
-@LOLGOP
***
6:48 EST
In a few hours we'll know who will be the president of the United States after January of 2013 — or we won't.
Because of the provisional ballots being cast in Ohio and Pennsylvania and the general mayhem around the aftermath of  Superstorm Sandy, we may not know who the winner of this election is for month.
So what do we do for the next few hours? Or the next few days?
To mock the ridiculous exit polls that are often wrong and rarely tell us anything, I've been making up my own exit poll results:
19% of voters think Dick Cheney created Mitt Romney in his laboratory.
99.9% of Romney supporters are voting against their own interests.
33% had Romney voters had a hard time finding the exit to the polls without Fox News' instruction.
What are your fake exit poll results?
– @LOLGOP
***
7:01 PM EST
First results in. Mitt Romney has won Kentucky and Indiana, a state the president won in 2008. The president has won Vermont. Senator Bernie Sanders (I-VT) has been re-elected.
Virginia is too close to call.
Georgia and South Carolina too early to call.
Good news from Virginia:
Dems telling reporters they beat their turnout targets in the key Virginia precincts they're watching #Election2012
— Greg Sargent (@ThePlumLineGS) November 7, 2012
Good news from Nevada:
Higher turnout will benefit Dems, perhaps, if most of surge coming in Dem-rich Clark. In '08, Clark was 67% of electorate. So far: 70%.

— Jon Ralston (@RalstonReports) November 7, 2012
– @LOLGOP
***
7:30 PM EST
The polls are now closed in West Virginia, North Carolina and Ohio.
Mitt Romney has won West Virginia. Joe Manchin (D-WV), the senator who won Robert Byrd's former seat, has been re-elected.
North Carolina and Ohio at this point too close to call.
NBC just called South Carolina for Mitt Romney.
-@LOLGOP
***
8:00 PM EST
CNN reports several states going for the president: Connecticut, Delaware, Washington D.C., Illinois, Maryland, Massachusetts, Rhode Island and 3 of 4 Maine's electoral votes.
Mitt Romney has picked up Oklahoma.
Several states are not yet called.
Obama: 64 electoral votes to Romney's 40.
-@LOLGOP
***
8:04 PM EST
According to a report by CNN's Peter Hamby, the Romney campaign's internal polling showed President Barack Obama leading Mitt Romney by five points in Ohio on Sunday.
The numbers represent a startling rise for President Obama; both the Romney campaign's internals and the public polling have suggested a closer race.
The poll helps to explain the Romney campaign's decision to make a last-minute effort to win Pennsylvania (despite the fact that the Keystone State has sided with the Democrat in every election since 1988).
– Henry Decker
***
8:15 PM EST
CNN has called Georgia for Mitt Romney.
Florida is razor tight. Romney leads by under 100,000 votes.
The exit polls are showing that the auto bailout is a key issue in Ohio. 59 percent of voters approve of the bailout. 3/4 of voters who approve of the bailout voted for the president. Will "Let Detroit Go Bankrupt" be remembered as the four words that cost Mitt Romney the presidency?
– @LOLGOP
***
8:20 PM EST
Joe Donnelly, the Democratic candidate in Indiana, is leading Richard "a child from rape is God's will" Mourdock.
Bill Nelson (D-FL) has defeated Rep. Connie Mack to keep his Senate seat.
On CNN, David Gergen says the second round of exit polls was even better for the president than the first.
***
8:33 PM EST
Romney now leads 73-64 in electoral votes according to CNN.
The president had a double-digit lead in Ohio with 20 percent of the vote in.
-@LOLGOP
***
8:36 PM EST
According to The Associated Press, Democrat Chris Murphy has defeated Republican Linda McMahon in Connecticut's Senate race. McMahon massively outspent Murphy throughout the campaign, and seemed to have a legitimate chance at pulling an upset until the final weeks, when Murphy pulled away.
Between Murphy, Bill Nelson in Florida, and Angus King in Maine, the Democrats have now won three races that Republicans once hoped could help them regain control of the Senate.
– Henry Decker
***
8:47 PM EST
No swing states have been called yet, which suggests we have a long night ahead.
CNN is reporting that the president is crushing Romney in the counties in Florida he needs to win big.
James Carville, who predicted an "ass-whoopin'" earlier today, is a bit less giddy now. He tells CNN that he'd rather be Obama than Romney. When isn't that true?
Romney still leads in Virginia and trails in Florida and Ohio. If he picks up Virginia, he definitely needs one of the other two or this race is over.
Latest count: Romney 82 to 64.
The mood on Fox News is somber but Karl Rove is still predicting a Romney win. What would you be doing if you'd spent $300 million of the richest men in America's money to do just a little better than John McCain did?
-@LOLGOP
***
9:07 PM EST
Big news. Elizabeth Warren will replace Scott Brown in Ted Kennedy's old Senate seat.
Also, the Republicans have maintained control of the House of Representatives.
Mitt has lost his first two home states, Massachusetts and Michigan. The president still leads in Ohio and Wisconsin — two crucial states in his firewall.
It's time to make a note about Paul Ryan. The difference between Sarah Palin and Paul Ryan is that John McCain won Alaska. What did Ryan offer Romney besides credibility with his base? If this election goes to the president, Republicans will be wondering why they didn't pick Senator Rob Portman.
-@LOLGOP
***
9:25 PM EST
NBC News is now projecting that President Barack Obama has won Pennsylvania.
The Romney campaign made a late push for the Keystone State, but Mitt Romney ultimately became the fifth consecutive Republican to fail to win Pennsylvania despite making a late push for the state.
Without Pennslyvania, Romney's electoral math becomes very tenuous. He now must win Ohio's 18 electoral votes to have any realistic chance of winning the presidency.
-Henry Decker
***
9:34 PM EST
Tammy Baldwin, Joe Donnelly and Claire McCaskill are still leading in their Senate races. Baldwin would be the first lesbian senator. Donnelly and McCaskill were beneficiaries of their opponents—Richard Mourdock and Todd Akin—making ridiculous comments about rape. Mourdock and Akin's legacy will be to remind Republicans that women do still have the right to vote.
CNN has the Senate at locked at 41-41.
Romney leads in the electoral college 152-153
The president is leading in Colorado, Ohio and Wisconsin.
UPDATE: Fox News is predicting that Joe Donnelly has defeated Richard Mourdock. The sitting Senator Richard Lugar, who Mourdock defeated in the primary, would have been re-elected easily.
-@LOLGOP
***
9:51 PM EST
According to NBC News, Elizabeth Warren has defeated Republican incumbent Scott Brown in the Massachusetts Senate race.
Warren's win is a major victory for liberals, and for Senate Democrats in general. Having lost Republican seats in Massachusetts and Indiana, the Republican Party's dreams of winning a Senate majority are now almost completely dead.
-@LOLGOP
***
10:21 PM EST
Republicans have lost two huge Senate races and any chance of winning the Senate.
Outside interests spent millions to defeat Sherrod Brown in Ohio to no avail. With only about 50 percent of the vote counted, CNN has called the race for Brown. Republicans, however, spent almost no money to elect Todd Akin after he made his infamous legitimate rape comments.
– @LOLGOP
Claire McCaskill has defeated Todd Akin in the Missouri Senate race.
Republicans viewed Missouri as an almost guaranteed pickup, until Akin gave the race away with his ignorant comments on "legitimate rape."
Notably, during the Republican primary for the Senate nomination, McCaskill and the Democratic outside group Majority PAC ran ads attacking Akin's opponents, believing that Akin would be the easiest candidate to beat in a general election. In retrospect, this was one of the savviest political moves of the 2012 campaigns.
– Henry Decker
***
11:08 PM EST
Tim Kaine has defeated George Allen in Virginia's Senate election. Kaine's victory is another major win for Senate Democrats, who are on track to hold or even expand their majority in the upper chamber — a feat that seemed impossible just weeks ago. Not many Virginia voters were expected to split their tickets, so the result bodes poorly for Mitt Romney's prospects there. If President Obama wins Virginia, then he will cross the 270 electoral vote threshold and be re-elected as president.
CNN is now projecting that Mitt Romney will win North Carolina and its 15 electoral votes. The win, which was far narrower than many Republicans expected, is Romney's first swing state victory of the night and keeps his slim electoral hopes alive.
– Henry Decker
The president is about to wrap this up.
With California, Iowa and Wisconsin now called for the president, Mitt Romney's paths to victory pretty much now all involve unskewed unicorns and magic math.
Even if the president doesn't win Florida and Ohio, where he leads, or Virginia if he's close, he still has a path for victory.
Democrats have also retained control of the Senate with Tim Kaine defeating George Allen in Virginia.
– @LOLGOP
***
11:34 PM EST
CNN and Fox News have called Ohio and the election for President Obama.
However, Karl Rove is pushing back against the decision. As a man who one of the the largest single fundraisers for the Republican Party, the conflict of interest is palpable. You can almost imagine a scenario where there are a bunch of billionaires waiting to get ahold of him as soon as he's done talking on Fox–so he has to keep this thing going.
The Romney campaign reportedly has no plan to concede yet.
Photo credit: AP Photo/Pablo Martinez Monsivais