LOL Of The Week: From Golden Boy To Sacrificial Lamb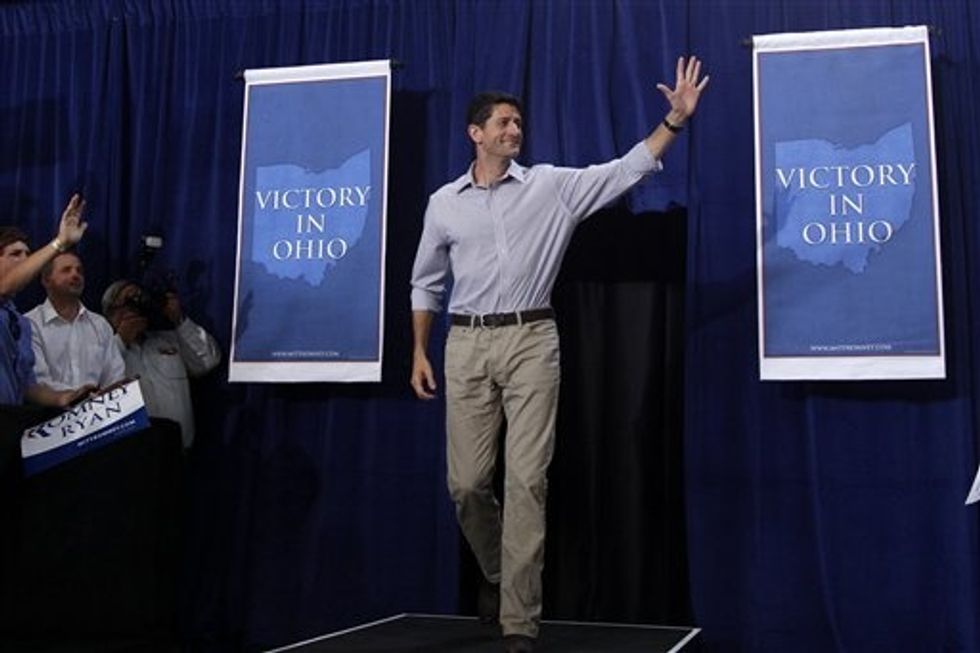 Not counting his sweet government health care, his months of vacation time and his anachronistic job security (unless slimy Eric Cantor slides out from under him), Speaker John Boehner has a terrible job.
Sure, though his candidates received fewer total votes than the Democrats in the recent election, he kept his large majority in the House of Representatives, and likely will until at least through 2020—thanks to the ridiculous gerrymandering that followed the 2010 election.
But this only means his caucus—even with the defeat of poster nudniks Allen West and Joe Walsh—is more settled in its extremism. His members' only fear? A more extreme Republican beating them in a primary.
That will only happen if they do something crazy, like vote for higher tax rates on rich people, which the president has vowed to make them do.
Meanwhile, Boehner is facing the reality that if his party loses Texas as they have California, it will cease to be a national party in a decade or two. This is what's known as an existential problem. Thus, he's going to need some Republicans to vote for some immigration reform sooner rather than later. That's not going to be easy.
But first, he needs to deal with the messy matter of the expiring Bush tax cuts and the "sequester" on spending that would directly affect the bottom line of Republicans' favorite corporate sponsors.
The speaker knows he's facing a president who just won an electoral college landslide and garnered nearly five million more votes than his party's "electable" candidate. And this president is threatening to ramp up his killer campaign machine to push for the end of the Bush tax cuts for the rich, a policy already supported by about 6 out of 10 voters.
So what can Speaker Boehner do?
Throw Paul Ryan—the losing running mate of the "electable" candidate—into the fire.
Yes, Boehner named Paul Ryan to be a part of the "fiscal cliff" "negotiating" team.
LOL.
This is perfect poetic justice. Paul Ryan voted for every Bush policy that blew the surplus, he was behind the showdown that led the downgrading of our debt and his budget proposal is so toxic that he had to be hidden during the last weeks of the campaign. Who else would Boehner want to negotiate on his behalf?

Of course — you might say — Ryan is the Chairman of the House Budget Committee, he'd have to be a part of any serious deal.
True. This is why many of the Paul Ryan fan club took a break from watching the director's cut of Atlas Shrugged II to say Ryan should resign his House seat if Romney lost. Thus he could avoid tough votes—like the one that's going to be required if the Democrats and Republicans come to a deal to avoid all the cuts and tax breaks expiring.
Now instead of just having to take tough votes, he's going to have to sell his fellow Republicans on them.
I'm still shocked the stock market didn't tank when Boehner named Ryan. If they can't get a private equity guy in the White House, a negotiated "austerity bomb" is second on their Christmas list.
But since Boehner named Ryan, Politico's Ben White declared that the "fiscal cliff is already over" and the markets rallied:
Nearly every signal from Republicans suggests they understand they have lost the war over taxes going up on the wealthiest Americans and are just trying to figure out how to get the least objectionable deal that includes real spending cuts and a trigger for tax and entitlement reform.
Nearly every signal? So what this means is that Paul Ryan is going to agree to a deal that levies temporary tax rate increases on the rich in exchange for tax reform in the near future. This means that a majority of Republicans—it will have to be a majority or Boehner won't bring it to a vote—will vote for a temporary tax increase on the mere promise of reform, risking a career-ending primary challenge from Grover Norquist or the Club for Growth.
Don't count on it—and that's not a bad thing.
Paul Ryan represents the completely self-assured Republican mentality that comes with an inability to process his own failings or defeats. He honestly thinks he lost only because "urban" people who apparently have no opinions about policy went to the polls. He can't agree to raising tax rates for any period of time—and the president cannot agree to anything less.
Of course, I've been wrong about Paul Ryan before. I said Mitt Romney wouldn't pick him as his running mate. He did. I said he'd be worse than Sarah Palin. That's debatable—but at least Palin won her home state in 2008. And I said that Ryan's disgrace would make the GOP more amenable to a balanced deal. I don't see that happening — unless we go over the "cliff."
What I do know is that Romney wouldn't have done any worse with Ohio senator Rob Portman on his ticket. Sure Portman has tight Bush connections, but is he any worse than Bush/Cheney rubber-stamp Ryan? Certainly it would have made Ohio even closer and it could have preserved Paul Ryan's golden-boy status.
Now Ryan is damaged goods, whether he knows it or not.
The only question now is if Speaker Boehner sent him into the fray to take a fall or to blow the damned thing up. Ben White is betting on the former. I'm obviously no Nate Silver, but I'll take the latter.
Either way, it's a win for Boehner and another loss for Ryan.
Photo credit: AP Photo/Mary Altaffer