LOL Of The Week: Texas Explosion Illuminates The Glaring Hypocrisy Of Rick Perry And Ted Cruz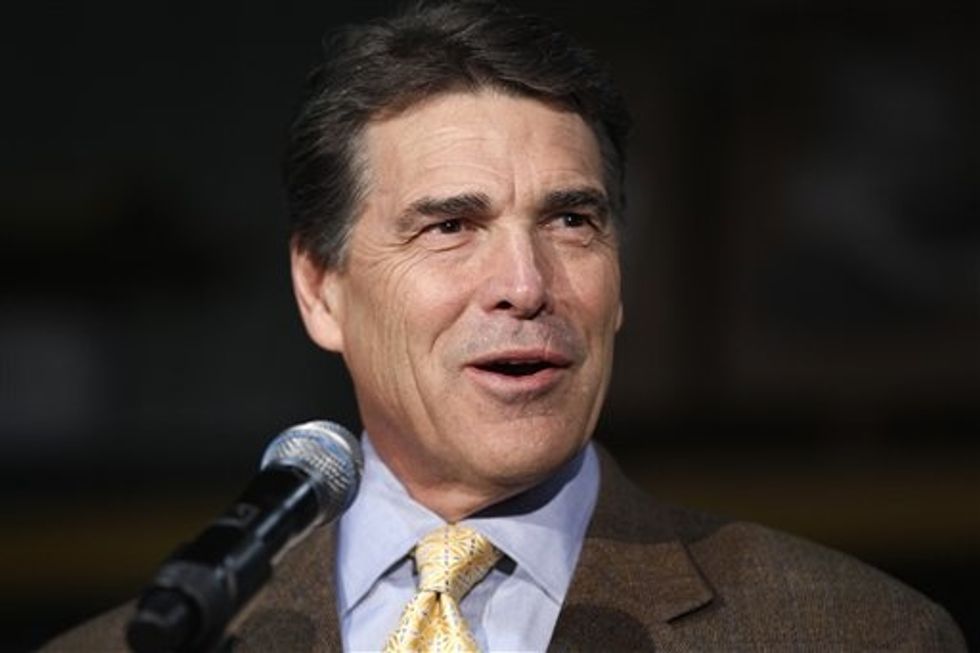 Of course, there's nothing funny about the fertilizer plant explosion in West, Texas that claimed the lives of at least 14 — many of them first responders — and injured more than 100.
Texas governor Rick Perry immediately declared McLennan County a disaster area and asked for an emergency declaration from the president, noting, "It is unfortunate for us that we face both natural and manmade disasters too often in this state."
Since 2009, Texas has far more Federal Emergency Management Agency-declared disasters — 75 — than any other state. This nearly constant need for federal intervention belies Governor Perry's nearly constant bellicose rhetoric attacking big government.
Actually, much of what's going on in Texas belies Perry's nearly constant rhetoric attacking big government. The governor likes to brag about a "Texas miracle" without mentioning how taxpayers have subsidized much of it — indirectly through tax breaks to the oil industry and directly via military and government spending. As of 2011, private sector jobs had grown 9 percent since 2000, while public sector jobs were up by 19 percent.
In April of 2009, as the nation faced the worst economic crisis since the last Republican Depression, Perry blasted Washington's big government overreach. "We've got a great union," Perry said. "There is absolutely no reason to dissolve it. But if Washington continues to thumb their nose at the American people, you know, who knows what may come out of that?"
What had Washington done to deserve Perry's thinly veiled secession threat? It had passed the economic stimulus that saved millions of jobs and prevented a greater Depression, as anyone who can read a graph can clearly see:

Perry used that money to balance his state's budget — something he often bragged about as he attacked Washington's "insatiable desire to spend our children's inheritance on failed stimulus plans."
But Perry is happy to spend federal money when headline-grabbing disaster strikes his state specifically. But he does stick to his "principles" when it comes to Texas' ongoing health care disaster.
Texas has the highest uninsured rate of any state in the union. Families USA estimates that in 2010, 57 Texans died each week for lack of health insurance. How does did Perry respond to this emergency? By turning down millions in health care just to punish the state's Planned Parenthood organization. He also joined state Republicans in cutting family planning funding, a choice that could easily end up costing taxpayers more than $100 million.
And Perry could instantly cover as many as 1.8 million Americans and save a huge chunk of those 57 lives needlessly lost every week, if he would just say yes to Medicaid expansion.
But he won't.

Perry's hypocrisy isn't nearly good enough for Texas's junior senator, Tea Party darling Ted Cruz.
Cruz defeated Perry's favored candidate in the GOP primary by attacking the big-spending establishment that didn't spend enough time pretending they were the only people who had ever read the Constitution.
One of Cruz's first stands as a senator was to vote against aid to the victims of Hurricane Sandy. Why?
"Emergency relief for the families who are suffering from this natural disaster should not be used as a Christmas tree for billions in unrelated spending, including projects such as Smithsonian repairs, upgrades to National Oceanic and Atmospheric Administration airplanes, and more funding for Head Start," he said in a statement.
What Cruz didn't note is that the extra appropriations in the bill were mostly demands — some would say bribes — that red-state senators negotiated for their states to pass the aid that had been blocked by the last Congress.
Cruz's stand after the Sandy aid — which took exponentially longer to arrive in the affected blue states than it typically does when a disaster strikes a red state like Texas — is in sharp contrast to the statement he made after Wednesday's explosion in West.
"It's truly horrific and we are working to ensure that all available resources are marshaled to deal with the horrific loss of life and suffering that we've seen," Cruz said.
LOL. All available resources. Hmmm. So the blue states shouldn't do to Texas what Republicans did to the northeast after Sandy?
Paul Abrahams calls this a "teachable moment" and thinks help for Texas should be tied to numerous demands, including Cruz being forced to lead the fight for aid on the Senate floor and Texas being forced to accept Medicaid expansion. Basically, in exchange for help, Texas would be forced to do something it hates doing — saving the lives of the uninsured.
But President Obama has already pledged help to the region and Democrats likely will rush to do what they believe the federal government exists to do — provide the help no one else can.
Both Rick Perry and Ted Cruz fiercely oppose "big government" — except in cases when it may cost them votes. And this leads to the darkest part of both Perry's and Cruz's hypocrisy in attacking federal government overreach.
Cruz has falsely accused the Environmental Protection Agency (EPA) of "trying to use a lizard to shut down oil and gas production." Perry has built his career on attacking the EPA. If God wanted us to protect the environment, why would he have created Republicans?
We're not sure how many of Texas' recent disasters were caused by climate change, but it's certainly making the state a tinder box.
The government that deals best with disasters is the one that avoids them.
Sources say the plant that exploded was last inspected by OSHA in 1985, when it received a $30 fine for storing ammonia. A plant in Texas can expect to be inspected every 126 years, even worse than the appalling national average of 99 years.
For most of the last two decades, Texas has elected nothing but Republicans who want to get government out of the disaster-prevention business in statewide votes. And it's often done so in a highly undemocratic manner. In the last two presidential elections, Texas has been 48th and 47th out of 50 states in voter turnout.
If turnout improves dramatically, voters in Texas could take a major step to improving their own well-being by sending disasters like Perry and Cruz back to the private sector.
AP Photo/Charles Dharapak