London Mayor Decries UK State Banquet For Trump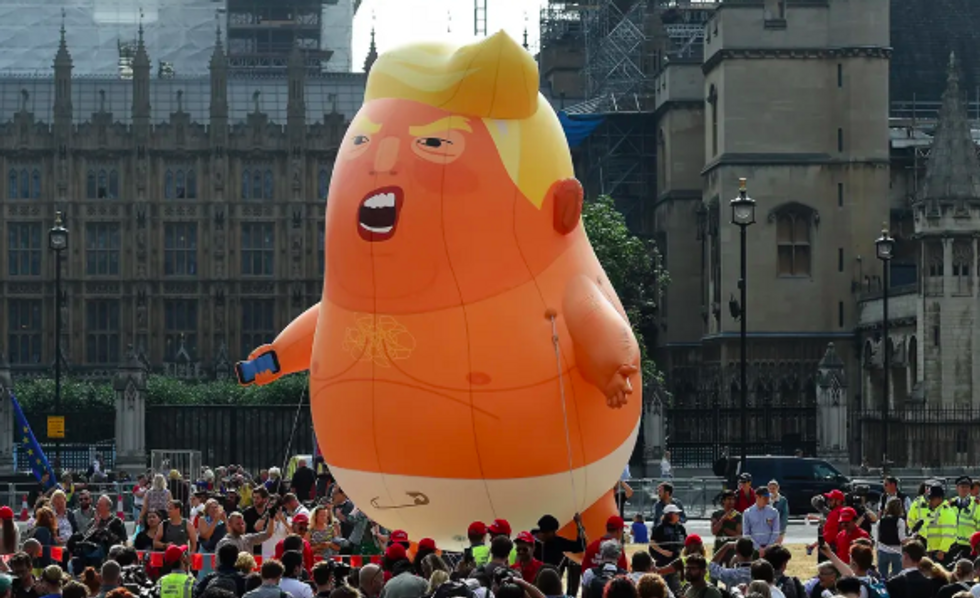 London Mayor Sadiq Khan is opposed to the United Kingdom hosting Trump for a state visit.
"Of course we should have a close relationship with the president of the United States, but we shouldn't be rolling out the red carpet, we shouldn't have a state banquet," Khan said Friday in an interview with British talk radio station LBC.
Citing Presidents George W. Bush and Barack Obama, the only two presidents to make state visits to the U.K., Khan said, "President Trump is not in the same class as those two."
Trump is scheduled in June for his first state visit to the U.K. since taking over the presidency.
Trump's visit in July 2018 was downgraded to a mere "working visit," and he skipped a trip to London and Buckingham Palace.
Reports from early in his presidency indicated that Trump wants a gold-plated carriage to take him to the royal residence. But it is more likely that he will be greeted by an unflattering inflatable blimp in the shape of a crying baby Trump.
The mayor and other officials gave a green light to the blimp during Trump's last visit, and he was not pleased.
"I guess when they put out blimps to make me feel unwelcome, no reason for me to go to London," Trump complained to the Sun newspaper last year.
Khan has been an outspoken critic of Trump's racism, and Trump has used his platform to wage petty feuds on the city official.
After a terrorist attack in London in 2017, Trump repeatedly attacked Khan during one of his frequent Twitter meltdowns. A representative of the mayor dismissed Trump's ridiculous antics, noting that taking care of London residents was more important than addressing childish taunts.
Trump, unlike other American presidents of either party, is likely to face a cold and hostile reception in the U.K., despite the "special relationship" he claims exists between both countries.
Trump wrecks alliances instead of building them up, and American credibility and dignity loses ground thanks to his actions.
IMAGE: The "Trump baby" balloon taking off in London during the US president's last visit to the United Kingdom in July 2018.