Los Angeles Approves 67 Percent Minimum Wage Increase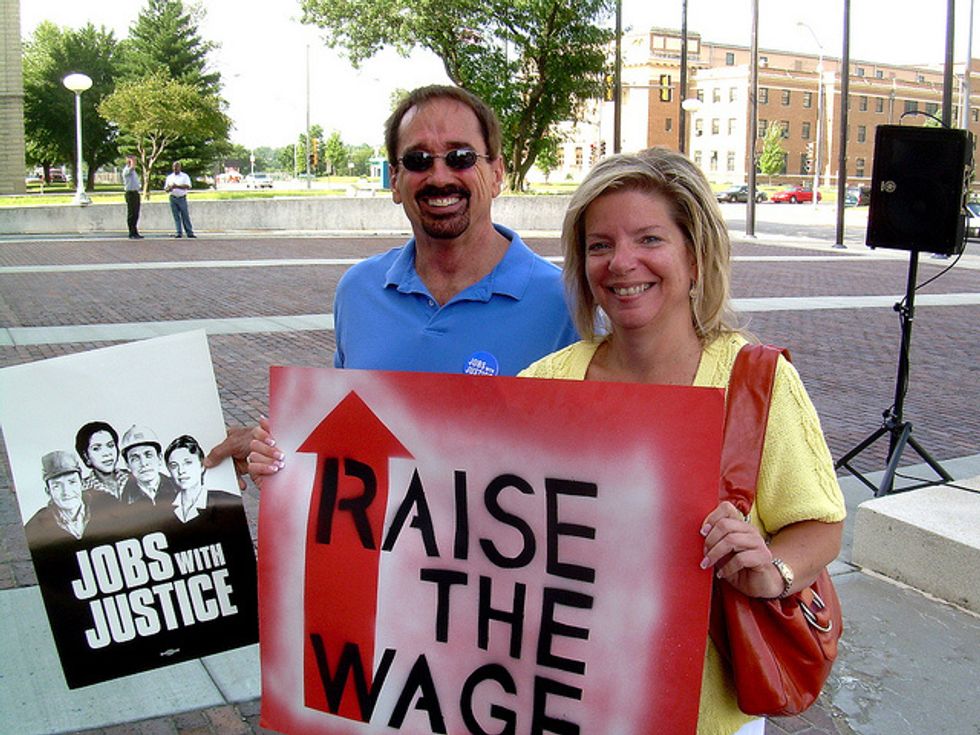 Los Angeles has become the fourth-largest city to approve a minimum-wage increase.
Following in the footsteps of San Francisco, Chicago, Seattle, and Oakland, low-wage workers will see their pay rise by 67 percent. Their hourly wage will go from $9 to $15 by 2020, with gradual increases every July 1, starting next year.
The Los Angeles City Council's 14-1 approval is a victory for wage activist groups composed of labor unions, immigrant groups, and community activists, as well as the newly elected councilmembers who had scored another big victory last year with a $15.37 minimum wage for workers at large hotels, reported TheWashington Post. That win was used to leverage this increase, extending a similar increase to the city's 3.88 million people.
"We're leading the country; we're not going to wait for Washington to lift Americans out of poverty," Los Angeles mayor Eric Garcetti said in an interview. "We have too many adults struggling to be living off a poverty wage. This will re-­establish some of the equilibrium we've had in the past."
According to TheNew York Times, the increase to $15 is unprecedented. An increase to $12 an hour would have roughly the same purchasing power as the minimum wage in the late 1960s, the most recent peak.
Economists are divided on the issue. According to a study by the UC Berkeley Labor Center, which examined the potential ramifications of a raise to $15.25 by 2019, a "ripple effect" is likely, meaning the pay of workers who earn more than the minimum wage could also increase. Most would be adults (median age of 33), and this would overwhelmingly benefit people of color, who represent over 80 percent of affected workers; a majority of Latino workers in the city will receive a pay increase. Half of the affected workforce is concentrated in just four industries: food services, health care and social assistance, retail and administrative, and waste management services.
Yet a study commissioned by the Los Angeles Chamber of Commerce said that the increase would force employers to cut jobs and raise prices, or even move their businesses to a more affordable location.
With measures to increase the minimum wage faltering on the national level, activists have concentrated on local municipalities. Although many coastal cities have gotten media coverage of their efforts, the movement is not restricted to just those locales. Kansas City, Missouri, has had a series of rallies on the issue, although local leaders there are concerned that any legislation would violate the state law. Santa Fe and Albuquerque, New Mexico have also enacted wage increases, according to data from National Employment Law Project (published as a graphic in TheNew York Times).
The move by the Los Angeles City Council has put pressure on New York lawmakers. The country's largest city by population, New York City does not have a separate minimum wage apart from New York State, but Mayor Bill de Blasio is supportive of the increase. In a statement, he said, "Los Angeles is another example of a city that's doing the right thing, lifting people up by providing a wage on which they can live. We need Albany to catch up with the times and raise the wage."
The Los Angeles Times has published a comprehensive rundown on the increase.
Photo: Two activists in Kansas City rally for a minimum-wage increase in the city. (uusc4all via Flickr)