Los Angeles Is 'Epicenter' Of Cartel Money Laundering, U.S. Official Says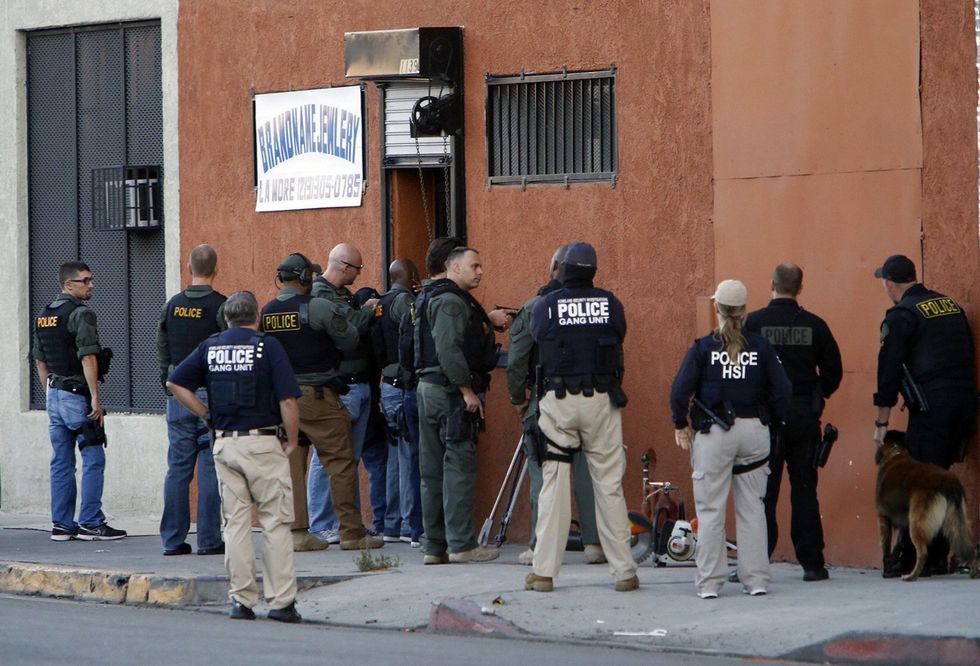 By Victoria Kim and Joe Mozingo, Los Angeles Times
LOS ANGELES — Federal agents launched a series of raids in the downtown Los Angeles fashion district on Wednesday and seized an estimated $65 million in cash and other assets they allege were part of a widespread attempt by Mexican drug cartels to launder narcotics profits.
Nine people were arrested in raids targeting 70 locations, many of them businesses in the fashion district.
Federal officials said they believe the drug organizations have used numerous businesses in the garment district to convert their vast earnings into pesos, turning Los Angeles into a hub for "trade-based money laundering."
"Los Angeles has become the epicenter of narco-dollar money laundering with couriers regularly bringing duffel bags and suitcases full of cash to many businesses," Robert E. Dugdale, the assistant U.S. attorney in charge of federal criminal prosecutions here, said in a statement.
Wednesday's seizures included piles of cash and money stashed in bank accounts around the world, federal authorities said.
Agents with the FBI and Immigration and Customs Enforcement infiltrated several peso brokerages operating in Los Angeles, officials said. The undercover officers delivered bundles of cash, sometimes shrink-wrapped in grocery bags, to storefronts in the fashion district, even telling business owners that the money came from drug trafficking.
Operations that launder drug money through legitimate trade have soared since Mexico restricted the use of American dollars in 2010, forcing the cartels to convert their dollars to pesos without tipping off authorities.
Black market peso brokers suddenly found themselves in high demand. The brokers contact legitimate Mexican importers who want to buy goods in Los Angeles. If an importer wants to buy $30,000 worth of shirts, for example, the broker directs a drug contact in the United States to pay the bill to a shirt wholesaler in dollars. The importer in Mexico then pays the broker in pesos, who takes a cut, and pays the rest to a cartel.
In the most harrowing scheme detailed in the three indictments released Wednesday the Sinaloa cartel allegedly directed ransom money to be delivered to Q.T. Fashion Inc., a maternity apparel wholesaler on East 12th Street.
The ransom involved a drug distributor who had fallen into debt to the cartel when U.S. agents intercepted a shipment of 100 kilograms of cocaine he was responsible for. He was allegedly kidnapped and tortured at a ranch in Sinaloa until he could pay off the debt. His family and friends delivered at least $140,000 in bulk cash to the Los Angeles business, according to the indictment.
Q.T. then sent clothes to a retail business in Culiacan, Sinaloa, prosecutors allege.
The indictments also accuse three other businesses — Yili Underwear, Gayima Underwear, and Pacific Eurotex Corp. — of laundering drug trafficking proceeds.
Photo: Los Angeles Times/MCT/Al Seib
Interested in national news? Sign up for our daily email newsletter!