'Lost My Cool' Says Lawmaker Who Threatened Journalist
@AFP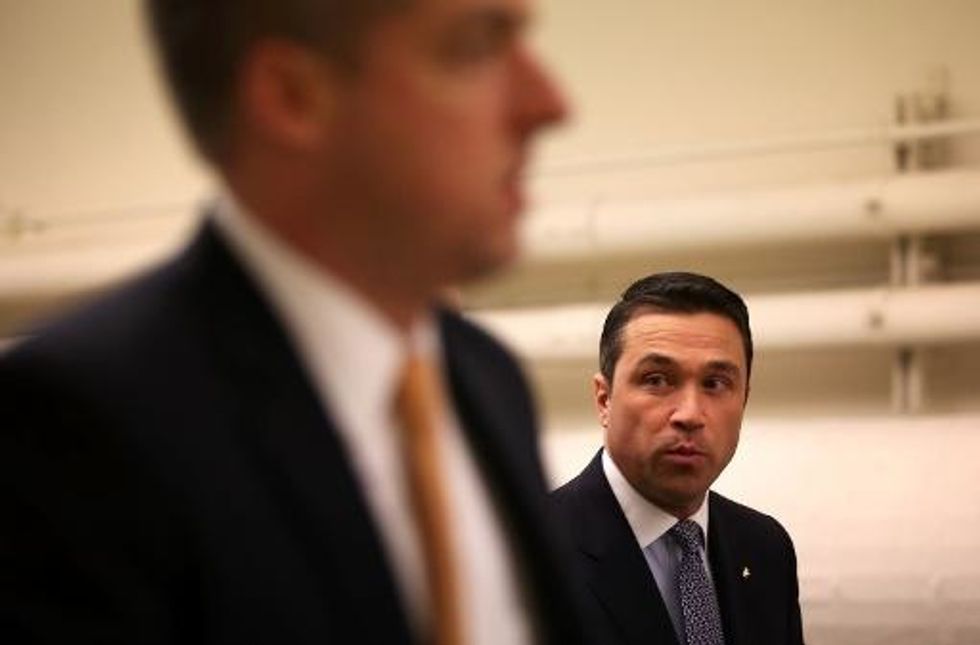 Washington (AFP) – Embattled congressman Michael Grimm apologized Wednesday after threatening to break a reporter in half and throw him off a balcony after he was asked about a campaign finance probe.
The New York Republican lost his temper during an interview with NY1 News television immediately after President Barack Obama's State of the Union address on Tuesday.
"He called to apologize. He said that he overreacted," reporter Michael Scotto, the target of Grimm's outburst, said on NY1. "I accepted his apology and I think we're going to move on from here."
The confrontation unfolded in an unlikely locale: a television stand-up spot in the rotunda of the Cannon House Office Building in the U.S. Capitol complex.
"I'm not talking about anything that's off topic. This is only about the president's speech," Grimm said, after the journalist asked him about an investigation into campaign finances.
Grimm stepped off screen but, after Scotto noted on camera that the lawmaker refused to discuss the investigation, Grimm returned for a physical altercation that was largely captured on video.
"Let me be clear to you, you ever do that to me again I'll throw you off this f***ing balcony," Grimm said in video broadcast by the cable station, which confirmed the comments.
Pressed by Scotto why the question was off limits, Grimm responded: "You're not man enough. I'll break you in half. Like a boy."
Shortly after the altercation the congressman issued a defensive statement accusing the journalist of taking a "cheap shot."
After NY1 News demanded an apology and New York Mayor Bill de Blasio reportedly described Grimm's behavior as "absolutely inappropriate," Grimm sang a different tune on Wednesday.
"I was wrong. I shouldn't have allowed my emotions to get the better of me and lose my cool," Grimm said in a new statement, adding that he will be inviting Scotto to lunch soon.
Earlier, station political director Bob Hardt said it was "extremely disturbing" that a lawmaker would issue such threats.
Grimm, a former US Marine and FBI special agent, "verbally took the reporter to task … because I expect a certain level of professionalism and respect," he said. "I doubt that I am the first member of Congress to tell off a reporter, and I am sure I won't be the last."
Scotto said Wednesday that even in the heat of the moment he did not think Grimm was going to toss him over the railing.
"Sometimes you get a lot of push-back, and I got that last night," Scotto said.
Grimm, 43, is a two-term congressman from Staten Island, New York.
Critics called on the House of Representatives leadership to sanction the lawmaker, but Speaker John Boehner's office did not say whether such action would be taken.
"Representative Grimm has apologized, and the speaker believes that was appropriate," Boehner's spokesman Michael Steel said.
AFP Photo/Alex Wong