Major Issues In Iran Talks Remain Unsettled, Diplomats Say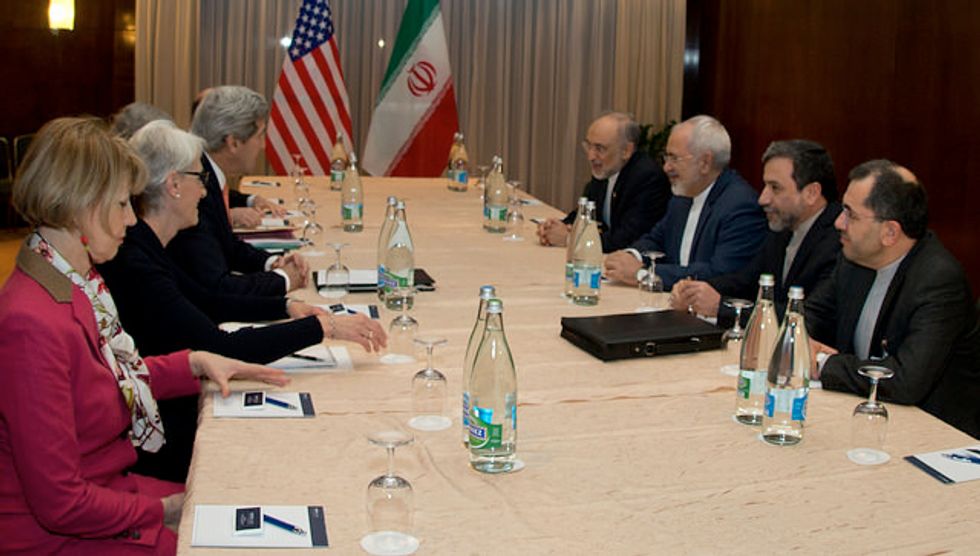 By Paul Richter, Tribune Washington Bureau (TNS)
LAUSANNE, Switzerland — With a deadline only days away, negotiators seeking a deal to curb Iran's nuclear program continue to debate the most important issues and haven't begun circulating a draft agreement, a senior State Department official said Thursday.
As the current round of negotiations entered a fifth day, officials from Iran and the six world powers engaged in the talks said the schedule for the meetings remained unclear.
On both sides, senior Iranian and Western officials struck a cautious tone on the outlook for the talks, which are aimed at completing the outline of a deal by March 31 and the final terms by July.
"We are pushing tough issues. But we made progress," Secretary of State John Kerry told reporters.
A senior European official, however, said his government was unhappy with the terms now on the table and would object to the deal in its present form.
And Mohammad Javad Zarif, Iran's foreign minister, said the group was "still a distance" from the deal.
"We still need to do a lot of work," he told reporters.
The United States, France, Britain, Germany, Russia, and China have been negotiating for 18 months to put together a deal that would ease sanctions on Iran's economy if it agrees to restrictions aimed at preventing it from gaining nuclear weapons capability.
The negotiators have alternated between gloomy and optimistic predictions. Only two days ago, Ali Akbar Salehi, head of Iran's nuclear program, said he was "very optimistic" that the group was on the verge of completing the outline of a deal.
The State Department, seeking to deflect speculation that key details have been settled, said in a statement that "the fundamental framework issues are still under comprehensive discussion; there is no draft document being circulated."
The negotiators are believed to be closing in on a deal of ten to 15 years' duration that would allow Iran to keep 6,000 to 8,000 centrifuges out of its current inventory of about 19,000. The deal would also cap the size of Iran's stockpile of enriched uranium to try to ensure that Tehran couldn't accumulate enough high-grade uranium for one bomb within a year's time.
While the Europeans and Zarif are sounding gloomy, "it could be posturing," said Ray Takeyh, an Iran specialist at the Council on Foreign Relations in Washington.
Many people close to the talks contend that while many points are still in dispute, the group is close enough that it could come to an agreement within days. The current quest for the outline of an agreement means that not all of the complex details need to be resolved.
The most important outstanding issues are the schedule under which major powers would lift sanctions and what restrictions would be placed on Iran's research and development during the course of a deal, diplomats said.
But to settle those two issues, the group might adjust the terms of their agreement on other matters that have been debated, diplomats say.
Photo: Secretary of State John Kerry continued his meetings in Montreux March 4 with Iranian Foreign Minister Zarif. Under Secretary Wendy Sherman and Energy Secretary Ernest Moniz in the meetings. (US Mission Geneva via Flickr)