Malala Relives Horror Of Taliban Shooting In Autobiography
@AFP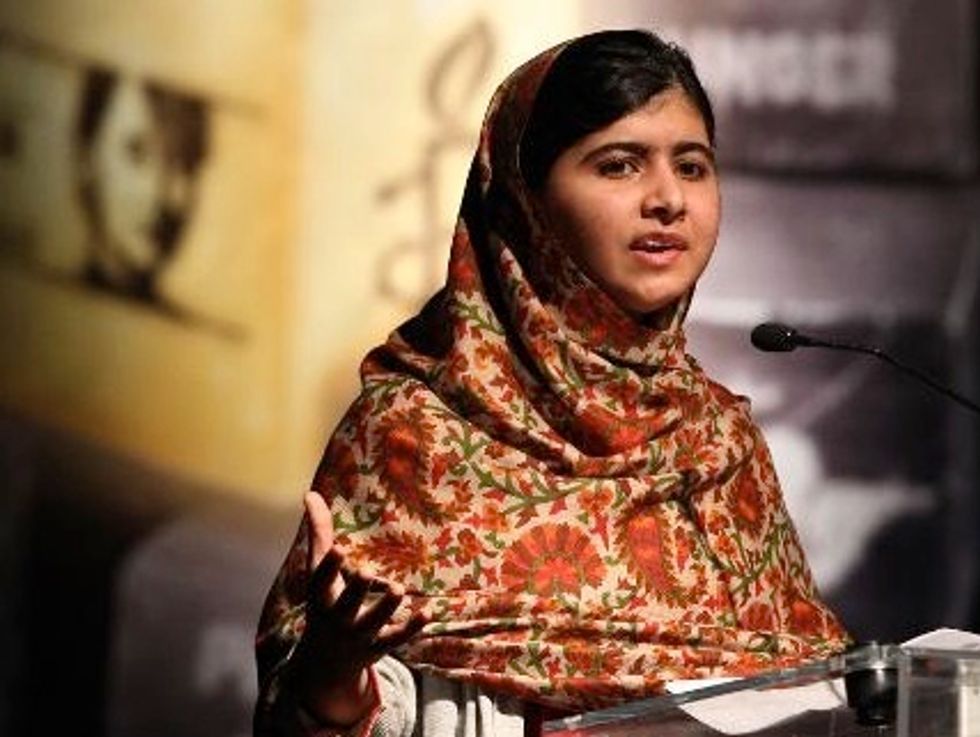 London (AFP) – Pakistani schoolgirl Malala Yousafzai tells of the moment she was shot by the Taliban for campaigning for girls' education in her new autobiography out Tuesday, amid speculation that she may be about to become the youngest ever winner of the Nobel Peace Prize.
Co-written with British journalist Christina Lamb, "I Am Malala: The Girl Who Stood Up for Education and was Shot by the Taliban" tells of the 16-year-old's terror as two gunmen boarded her schoolbus on October 9, 2012 and shot her in the head.
"My friends say he fired three shots, one after another," she writes.
"By the time we got to the hospital my long hair and Moniba's lap were full of blood."
The book describes Malala's life under the Taliban's brutal rule in northwest Pakistan's Swat valley in the mid-2000s, hints at her ambition to enter Pakistani politics, and even describes her father's brief flirtation with Islamic fundamentalism as a youngster.
Now living in Britain's second city Birmingham, where she was flown for specialist treatment after the shooting, it also tells of her homesickness and her struggle to adjust to life in England.
A competitive schoolgirl who loves to be top of the class, the book reveals she is a fan of Canadian pop sensation Justin Bieber and the "Twilight" series of vampire romance novels.
Malala had become well-known in Pakistan as a young campaigner for girls' right to attend school after the Taliban took control of Swat in 2007, speaking out against the militants' ban on female education and their bombing of local schools.
She describes how she received death threats in the months before the assassination. "At night I would wait until everyone was asleep," she writes. "Then I'd check every single door and window."
She adds: "I don't know why, but hearing I was being targeted did not worry me. It seemed to me that everyone knows they will die one day.
"So I should do whatever I want to do."

The book describes public floggings by the Taliban, their ban on television, dancing and music, and the family's decision to flee Swat along with nearly one million others in 2009 amid heavy fighting between the militants and Pakistani troops.
Later it details her surgeons' frantic battle to save her life and her panic at waking up in a hospital thousands of miles from home.
The book is full of praise for Malala's father Ziauddin Yousafzai, describing how he worked to set up his own school and risked his life by speaking out against the Taliban.
She angrily rejects criticism that he pushed her too hard to campaign alongside him — "like a tennis dad trying to create a champion" — or has used her as a mouthpiece "as if I don't have my own mind".
The book reveals that Malala's father briefly considered becoming a jihadist when he was a teenager and going to fight in neighboring Afghanistan following the Soviet invasion in 1979.
She also acknowledges that she, like her father, has been the target of considerable criticism at home, with many regarding her as a stooge of the West.
Malala goes on to describe the family's homesickness and her views on life in England, including her horror when she first saw scantily-clad girls going out at night in Birmingham, and her amazement at seeing men and women socializing openly in coffee shops.
She has struggled to make friends at her English school, she reveals, and still spends hours talking to her friends in Swat using Skype.
However, she adds there is also much to like about life in England — "people follow the rules, they respect policemen and everything happens on time," she writes. "I see women having jobs we couldn't imagine in Swat."
She frequently namechecks the late former prime minister Benazir Bhutto as a heroine, and makes clear her ambition to one day return to her homeland and become a politician — despite continued threats from the Taliban that they will attack her again if given the chance.
"I was spared for a reason — to use my life for helping people," she writes.
Malala is among the favorites for this year's Nobel Peace Prize, which will be awarded on Friday.
AFP Photo/Peter Muhly