Malala Yousafzai Tells President Obama That Drones Are 'Fueling Terrorism'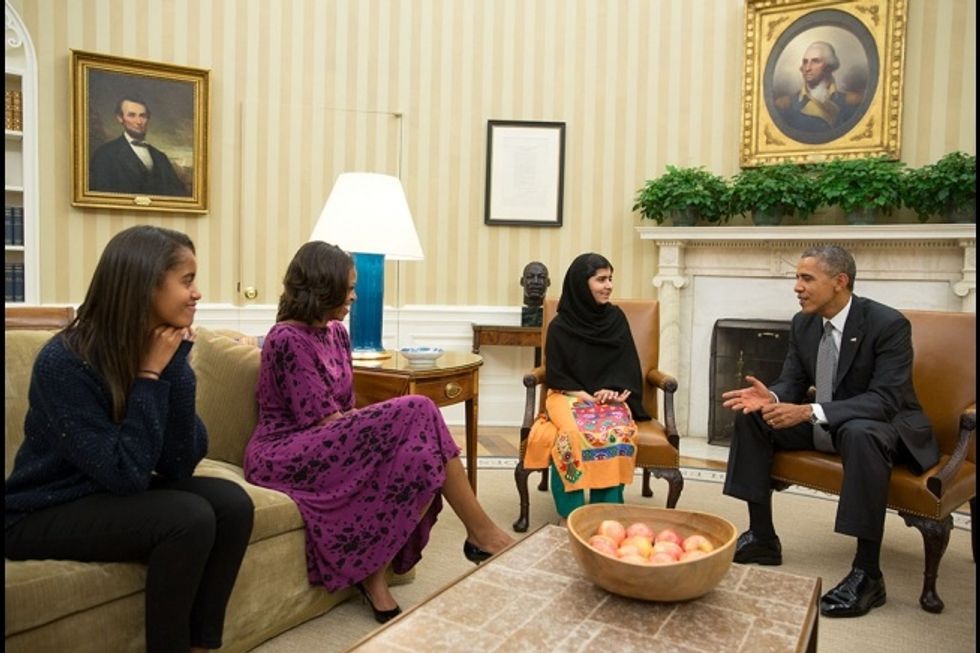 Malala Yousafzai, the 16-year-old Pakistani activist who was shot by the Taliban one year ago, met with President Obama, the First Lady, and their daughter Malia Obama at the White House on Friday. And the fearless young activist came with a strong message for the president: Put an end to drone strikes.
Yousafzai told the Associated Press after her meeting with the president: "I thanked President Obama for the United States' work in supporting education in Pakistan and Afghanistan and for Syrian refugees. I also expressed my concerns that drone attacks are fueling terrorism. Innocent victims are killed in these acts, and they lead to resentment among the Pakistani people. If we refocus efforts on education it will make a big impact."
Malala's words may have come as a surprise to President Obama, who expected to discuss her dedication to educating youth in Pakistan. Prior to her visit, the White House issued a statement praising Malala for her "inspiring and passionate work on behalf of girls' education in Pakistan…The United States joins with the Pakistani people and so many around the world to celebrate Malala's courage and her determination to promote the right of all girls to attend school and realize their dreams."
President Obama has fallen under pressure from all corners of the political spectrum for his increased reliance on drone strikes in Yemen and Pakistan, resulting in civilian deaths.
"Simply put, these strikes have saved lives," Obama said of his use of drones during a speech at the National Defense University in May. "By narrowly targeting our action against those who want to kill us, and not the people they hide among, we are choosing the course of action least likely to result in the loss of innocent life."
According to data from the New America Foundation, Obama has approved over 300 drone strikes in the region, resulting in nearly 200 civilian casualties.
Malala knows this as well as anyone; she is from Mingora, a city only a couple of hours outside of Abbottabad, where Osama bin Laden was found and killed in his compound in 2011. Mingora is located in close proximity to areas that are reportedly under continuous drone surveillance.
Official White House Photo/Pete Souza