Manafort's 5 Big Lies In Special Counsel Filing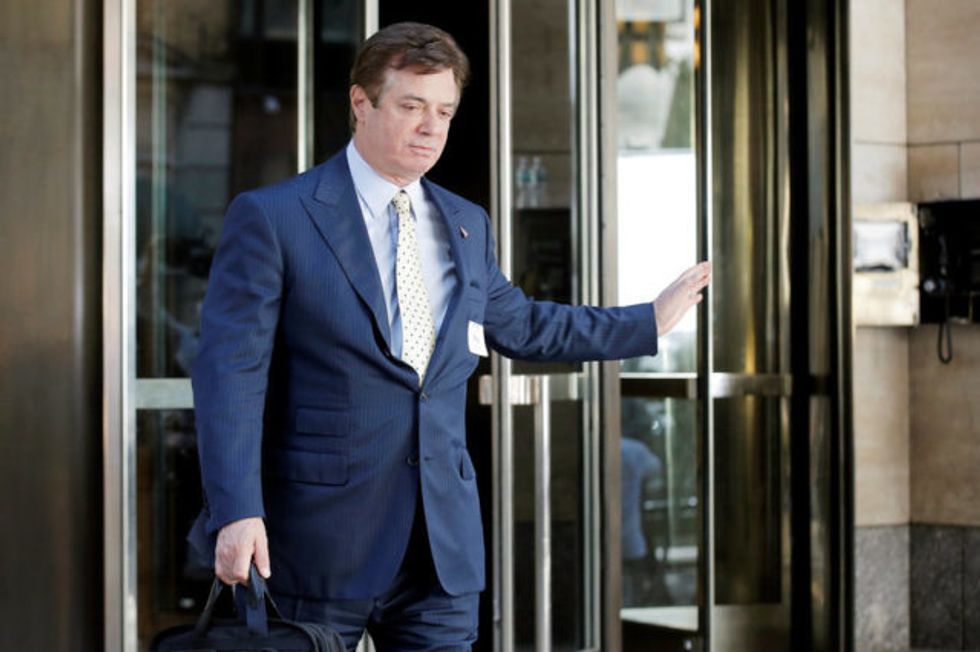 Reprinted with permission from AlterNet.
When Special Counsel Robert Mueller declared that President Donald Trump's former Campaign Chair Paul Manafort was in breach of his plea deal, observers were immediately asking: What did he lie about?
Now we know. In a new court filing on Friday night, Mueller spelled out the subjects about which he believes Manafort was lying.
Some parts of the filing were redacted, leaving much of the context a mystery, but it gives a clear outline of the issues that torpedoed the agreement. Why Manafort reportedly lied, however, remains obscure.
1. Manafort's interactions with Konstantin Kilimnik
Kilimnik is a political operative and past associate of Manafort who has worked in Russia and Ukraine, where Manafort served on the campaign of former President Viktor Yanukovych. Yanukovych was ousted from power and now lives in Russia.
Mueller alleges that Manafort lied about some aspect of his communications with Kilimnik, but the details are redacted. The filing claims the special counsel has electronic communication and travel records that prove Manafort lied.
2. Kilimnik's role in Manafort's efforts to obstruct justice
Manafort has been charged with and pleaded guilty to attempting to obstruct justice and influence witnesses to lie so he could thereby escape prosecution on charges that he violated the Foreign Agents Registration Act. In interviews with the special counsel, Manafort claimed that he hadn't conspired with Kilimnik to engage in this obstruction, according to the filing. However, Manafort had already pleaded guilty to so conspiring with Kilimnik as a part of his plea deal. The document says when confronted with this contradiction, Manafort admitted that his plea was accurate.
3. A financial transfer of $125,000 to an unnamed firm that worked for Manafort
Mueller's filing says Manafort made "several inconsistent statements" about a transfer of a $125,000 he made to his own firm as part of a repayment of a debt. However, many of the key details of these lies are redacted.
4. Another unnamed investigation conducted by the Justice Department
The filing says that Manafort provided "pertinent" information about another unnamed Justice Department investigation before he pleaded guilty. However, after his plea, Manafort reportedly changed his story in a way that sought to exonerate himself from any wrongdoing. According to the document, once Manafort's lawyers pointed out that he had contradicted himself, he reverted to his earlier story.
5. Manafort's contacts with the Trump administration
In the section of the filing that relates most closely to President Donald Trump (though the section on Kilimnik may pertain to alleged Russian "collusion"), Mueller charges that Manafort lied about his interactions with the Trump administration. He claimed, the document says, that he had never been in contact with any administration officials while they were in the administration, but Mueller cites a text exchange, a witness's testimony, and his own personal electronic documents that allegedly prove otherwise.
Mueller believes, in fact, that Manafort was in contact with a "senior administration official" up until February 2018.
Cody Fenwick is a reporter and editor. Follow him on Twitter @codytfenwick.