Manchin, Toomey Unveil Bipartisan Background Check Compromise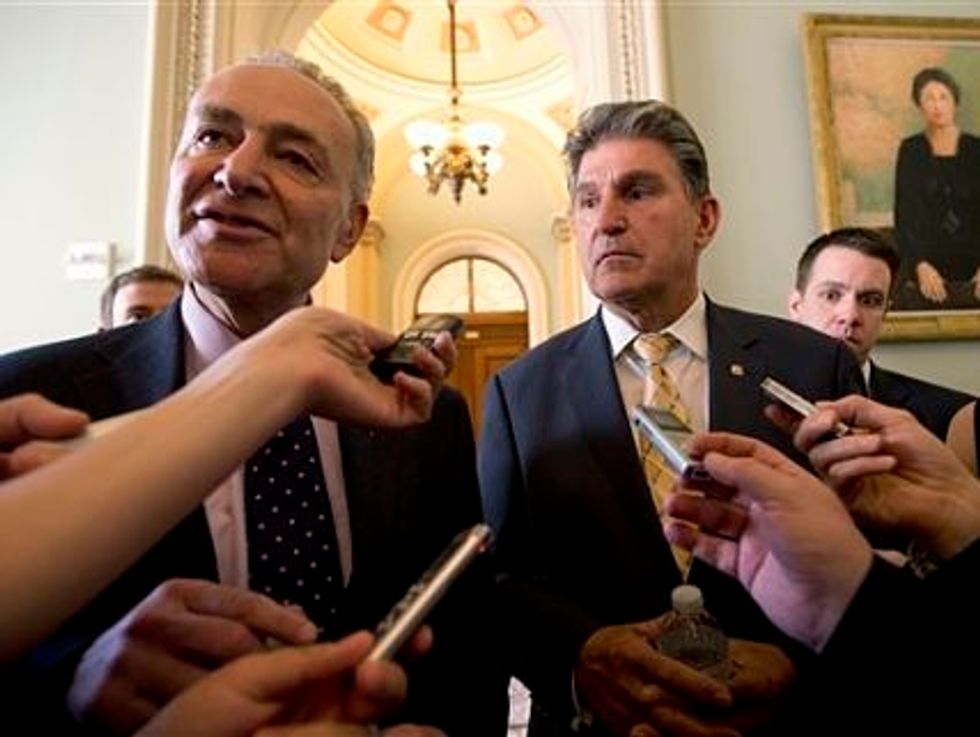 Senators Joe Manchin (D-WV) and Pat Toomey (R-PA) unveiled a bipartisan compromise on expanding gun sale background checks Wednesday, raising hopes that the Senate could pass the most ambitious gun reform legislation in two decades.
Toomey and Manchin's compromise bill would require background checks for all commercial gun sales, including gun show and online purchases. Licensed gun dealers would be required to keep records of the sales — a major sticking point for many Republicans such as Senator Tom Coburn (R-OK), who walked away from previous negotiations with Manchin over concerns that creating a paper trail would be the first step towards a national gun registry. Private transactions that are not for profit would not require background checks under the proposal.
Senator Manchin said that, although "This amendment won't ease the pain" felt by the victims of gun violence, "nobody here — and I mean not one of us in this great Capitol of ours — can sit by and not try to prevent a day like that from happening again."
Although Manchin and Toomey's compromise bill falls short of the universal background checks that reform advocates — including the White House — initially supported, it would still cover the vast majority of gun sales. Perhaps more importantly, it would also have a realistic chance of becoming law.
Toomey's active role in shaping the bill is crucial to its chances of passing Congress. Due to his reputation as one of the most conservative senators, Toomey could provide significant political cover for other Republicans to support gun reform efforts. To that end, Toomey stressed on Wednesday that he doesn't see background checks as any threat to law-abiding gun owners.
"We hear sometimes about background checks leading to an erosion of our Second Amendment rights," Toomey said at the press conference. "That simply hasn't happened. I am going to make sure it doesn't."
Toomey then went even further, noting that "I don't consider criminal background checks to be gun control. I think it's just common sense."
"If you pass a criminal background check, you get to buy a gun. It's no problem. It's the people who fail a criminal or a mental health background check that we don't want having guns," the senator added.
Whether gun reform legislation that expands background checks can pass the Senate is still an open question, but it now appears that the upper chamber will at least vote on the measure. At least 10 Republican senators have said they will not join a planned filibuster to prevent the bill from coming to the floor, clearing the path for Senate Majority Leader Harry Reid (D-NV) to schedule a vote to proceed on Thursday.
Moving the bill through the Republican-controlled House of Representatives will be a much trickier task. Still, Toomey said Wednesday that a "substantial number" of House Republicans support his and Manchin's general approach to background checks. Earlier Wednesday morning, influential representative Paul Ryan (R-WI) noted that "When Pat Toomey puts something out, I always pay attention," suggesting that the House majority will at least consider the compromise. Still, any gun reform bill would likely have to pass the House with a small minority of Republican support — in violation of the "Hastert rule."
Unsurprisingly, the National Rifle Association disapproves of Manchin and Toomey's proposal, despite the senators' "A" ratings from the group.
"Expanding background checks at gun shows will not prevent the next shooting, will not solve violent crime and will not keep our kids safe in schools," the NRA's statement on the proposal says. "The sad truth is that no background check would have prevented the tragedies in Newtown, Aurora or Tucson."
AP Photo/Manuel Balce Ceneta